Zoom & pan map
This article describes how to get around map: zooming and panning map.
Map Business Online zoom control allows you to change map scale (zoom map in or out).
Let's say you have found Redlands, CA and want to change map scale to City level. Just use Zoom control and move slider to City position. Note as you move slider it will show thumbnail image of corresponding zoom level. You can always read current slider position by hovering mouse over Zoom control slider.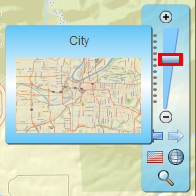 To fine tune map scale use + and – icons on zoom control.

Whenever map scale or center changes you can always come back to previous map with Zoom Back icon. Map Business Online remembers several previous map scales and centers. Zoom Forward icon works opposite to Zoom Back one.

You can always zoom to conterminous USA or World with following two icons on Zoom control.

There is also Zoom tool that you can use to draw box around area on map to zoom to that area.

Finally if mouse cursor is over map and not over dataset symbol or other objects then Map Business Online shows open hand cursor. Whenever hand cursor shows just press mouse button and move/pan map however you want.