Gatehouse Media Applies Collaborative Map Editing Across Departments
Background
GateHouse Media, LLC (GateHouse Media) is one of the largest local media companies in America. They specialize in matching local media advertizing content to specific audiences for businesses in retail, insurance and other industries. They gather, analyze, and recommend strategies for growing revenue through national sales accounts at large enterprises. If a retail chain needs to understand where their print and media ads are working and where they're not working, they call GateHouse Media.
The Challenge
GateHouse Media applies geographic analysis to thousands of print and online media placements so their customers can get marketing messages to a broad array of local audiences in an effective and affordable manner. Recently, GateHouse Media contacted MapBusinessOnline (MBO) to see if MBO business mapping software was up to the challenge of creating business visualizations of their various advertizing channels. Because their work requires intense cross department collaboration, shared map editing was a requirement for GateHouse Media. GateHouse Media work involves associate teams made up of people from marketing, accounting, sales, and operations.
The MapBusinessOnline Solution
By allowing GateHouse Media teams of users to share business map editing privileges the company gets these benefits from MapBusinessOnline team editing:
Cross departmental perspectives on problem solving and improving processes
Large data imports display meaningful views of media distribution and readership densities
Access to up-to-date US Census demographic data by market area of interest
Near instant communication as marketing and media data is updated using shared maps
Shared responsibility for success and failure, creating a more collaborative work environment
At GateHouse Media, the MapBusinessOnline team administration is managed by the National Advertizing Coordinator who works closely with the marketing and sales departments to provide mapping, competitive analysis, and relevant research for proposals built for advertisers and ad agencies. The map administrator sets up large location based datasets that describe all of the media ads by week and geographic area of interest. Demographic data for key metropolitan areas, usually by zip code or county, is added to enhance awareness of market size by population and income. Market areas of interest are color coded for quick identification and differentiation on the map. Demographic data layers are added to key market areas to develop a deeper understanding of market potential.
GateHouse Media develops map based proposals that illustrate the circulation distribution of their advertising publications for each advertiser, including their proximity to the advertiser's retail store locations. For those clients without actual brick and mortar retail hubs, like insurance companies or non-profits, MapBusinessOnline maps are used to show the circulation distribution of each newspaper by zip code within a specified radius of field associates' home addresses.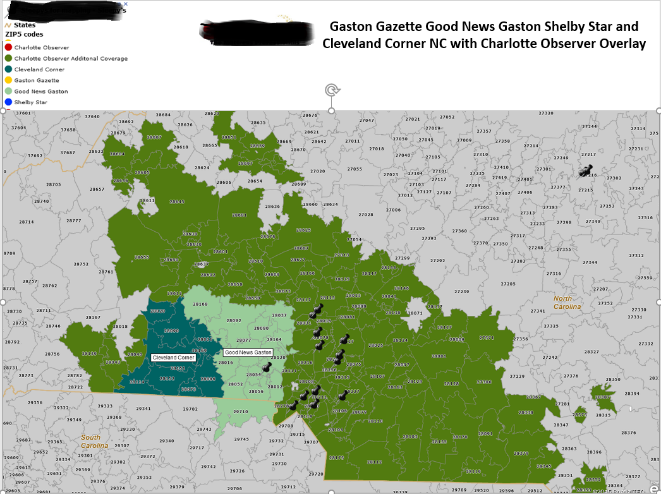 The ability to easily import large business data sets in Excel format into MapBusinessOnline and then gather location matchups by radius is a critical benefit. The resulting data subsets can then be exported out of MBO for use outside the map application. These map query results provide a clear snapshot for GateHouse Media clients to see where and why they should be advertising through GateHouse Publications around the nation.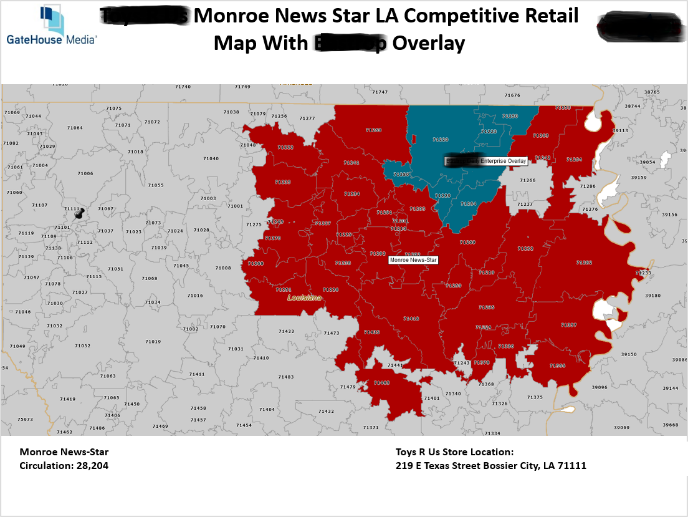 MapBusinessOnline Team Edition leverages associate focus and provides accurate and compelling reasons to advertise with GateHouse Media.
About GateHouse Media LLC: GateHouse Media Marketing offers full-service digital marketing agency services and has been growing steadily since its inception. GateHouse Media's core focus is in helping clients better manage their digital presence and online marketing strategy.
About MapBusinessOnline: A cloud mapping service since 2009, www.mapbusinessonline.com provides sales & marketing professionals with affordable and intuitive business mapping software solutions to business challenges. A variety of industries turn to MBO for sales territory maps, customer and prospect visualizations, market analysis, optimized routing, and collaborative map editing work flows. No other mapping software solves so much for so little.