Lendmark Financial Selects MapBusinessOnline for Market Analysis
Background
Ethan Andelman, Chief Marketing Officer with Lendmark Financial Services, LLC, understands the power of business mapping software. As Lendmark strives to make borrowing "easy, convenient, and affordable" for their United States consumer, Ethan's job is to make sure that Lendmark's solutions are conveniently available to consumers.
A graduate of James Madison University, with an MBA from University of Baltimore, Ethan started in direct marketing at Harte-Hanks Direct Marketing and then transferred that experience to the client side at a large financial services company. During his time there Ethan managed a large direct marketing organization. Direct Marketing experience often leads to an appreciation of business mapping software as a tool for digging deeper into results. The old adage holds true – a picture is worth a thousand words. Or in this case, a map is worth a thousand spreadsheets.
The Challenge
Because Ethan has a background in GIS mapping services, he recognizes how digital maps can provide unique perspectives on business-generated location data - views not possible from an Excel spreadsheet. His experience using MapInfo (now Pitney Bowes) and Microsoft MapPoint helped Ethan realize business mapping software's unique commercial advantages, such as:
Business data visualizations
Resource proximity analysis
Territory management
At Lendmark, Ethan needed to find the optimum geospatial software tool for Lendmark's loan-focused business, one that would support their marketing service requirements and fit within their software budget.
MapBusinessOnline, a cloud-based mapping software, included the advanced mapping features required and fit within Lendmark's budgetary restraints. Ethan decided to use MapBusinessOnline to develop a comprehensive location-based loan portfolio analysis – essentially a business map of Lendmark's entire USA-wide operation.
The loan map analysis would need to encompass these crucial components:
Marketing Support - All Lendmark Financial marketing campaigns and programs needed to be visualized geographically with results monitored.
Site Selection – Lendmark constantly reviews new and existing market areas to determine the need for more stores or perhaps relocating exiting stores.
Lead Distribution - Territory Maps - Loan leads are distributed to each of the almost 400 Lendmark branch locations. Each branch is strategically located and responsible for an approximate 20-mile radius.
The Solution
Using MapBusinessOnline Pro, Ethan developed his USA-wide loan portfolio analysis map. The overall '30,000 ft analysis view' is saved as a map template. Once an overall map template was in place, one-off investigation maps could then explore targeted areas. Over time, additional market analysis overlay data was added to the loan analysis. The current template map includes more than a dozen location datasets of relevant resources.
Lendmark's marketing map displays a growing customer base of US households optimized by variables such as market share and population density located in urban, suburban, and rural areas.
Ethan developed ZIP code-based trade areas or territories, each associated with one of the almost 400 Lendmark branch locations. He then appended each ZIP code-based territory label with the five most crucial elements supporting Lendmark's loan portfolio analysis:
Customer quantities by territory radius search
Proprietary indices of optimized customer conditions
Major competitors
Other resource elements that drive successful Lendmark trade-areas
Lendmark's market analysis map touches on almost all aspects of Lendmark's marketing processes. MapBusinessOnline supports critical Lendmark marketing and sales processes with zoomed-in or wide-angle views of the overall market.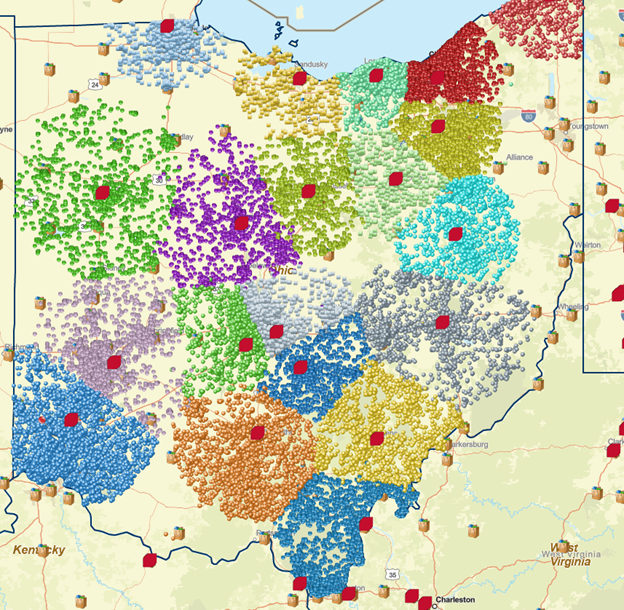 Figure 1 - Tracking Direct Mail by Territory
The Results
The Lendmark MapBusinessOnline loan portfolio analysis map now supports a variety of marketing and general business processes including:
New Branch Location Selection – Determine the viability of a new branch in a new area or near existing branches. Identify the number of competitors competing within existing or proposed trade areas. Review geographic obstacles such as highways or water barriers. The marketing analysis provides the map viewer with a '30,000 ft. perspective' of all trade areas including all marketing activities.
Direct Mail Campaign Visualization – Direct mail campaigns are tracked by territory or trade area, as points on the map. Campaign results showing deliverability and other metrics can be queried by branch managers.
Problem Area Resolution – Ethan's loan portfolio map takes advantage of MapBusinessOnline's ability to quickly turn on and off map layers, including ZIP5, ZIP3, and City Limits, allowing map viewers to focus on specific areas. Campaign issues occur and require investigation. Field Operations may have insight into particular areas and want to review marketing efforts versus metrics such as response rates. The marketing map lets Operations analyze local campaign results in detail.
Sharing Marketing Results – Public and private map sharing options allow Ethan to quickly adjust his market analysis template, save it as a new map, and share it as an interactive web map with constituents. He regularly customizes business maps for sharing with specific audiences. Shared maps can be password protected. Map viewers pan and zoom on the shared map, query data, look-up ZIP codes or addresses, and even route on the map.
Ethan explained, "MapBusinessOnline allows me to quickly collaborate with the field as well as make sure that our marketing programs are successful."
MapBusinessOnline Pro allows Lendmark to expand their data import allowance to support additional business data layers in its market analysis. He has generated sizeable center-point drive time queries, which are used in part to expose accurate drive times around natural or human-made barriers, which further optimizes locations.
Ethan puts MapBusinessOnline to the test constantly. He is an advanced business map user who applies MapBusinessOnline as a whole platform, combining the power of map layers with demographic analysis and large location data imports to generate a comprehensive market analysis that helps keep Lendmark at the forefront of the loan solutions market.