Sales Expansion Planning and Competitor Analysis with Business Listings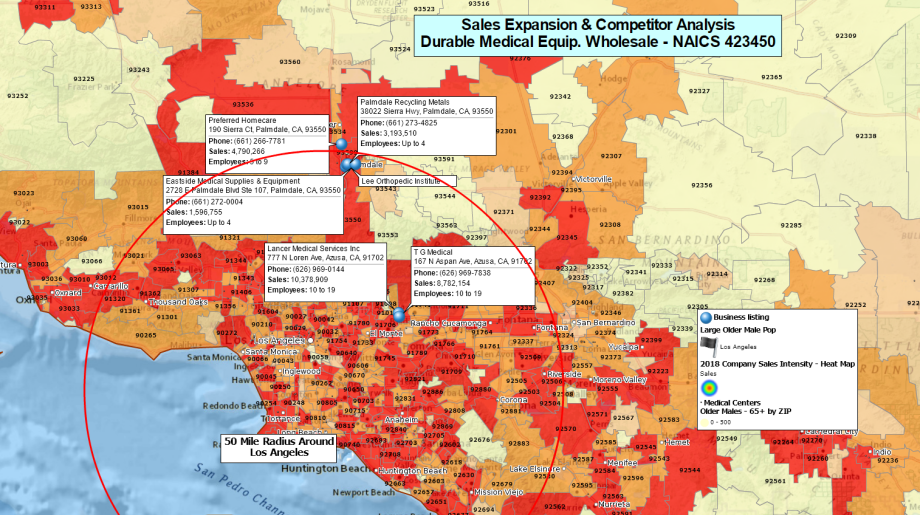 Durable Medical Equipment Wholesale (DME) is a vibrant and growing business nationwide. In the Northeast USA, Vanguard Medical Equipment has had a series of successful years and it was time to expand beyond New England. But where was the best place to open their next wholesale warehouse and delivery facility?
Vanguard sales and marketing managers worked together to determine what their best operating ZIP codes where in New England and why. Using a MapBusinessOnline heat map view and some demographic analysis they found that ZIP codes with the highest population of older males in communities with well-established medical centers performed the best. They then searched the country for the top three areas with high concentration of aging gentlemen within established medical communities. They found Los Angeles CA, Prescott, AZ, and Miami Fl. were the top target areas.
This analysis was done both through demographic analysis and filtering in the mapping application and visually. Other factors were considered too like sprawling road networks, and the competitor climate. They purchased a select set of business listings in NAICS industry code 423450 to get a sense of competition in key ZIP codes. This let them get a sense of sales volumes and employee counts in the most lucrative areas without having to purchase a large amount of business listings in extraneous areas.
See the Los Angeles, CA area in the sample map.