MapBusinessOnline newsletter – April 2018
MBO News - Armed Robbery, Portland Maine Area
Here in the Portland Maine area there have been a series of armed robberies targeting convenience stores and restaurants. Since March 20 there have been more than a dozen incidents. The robber is always covered in a mask, wearing gloves and a hood in surveillance videos. Although a gun was always present, no one has been hurt.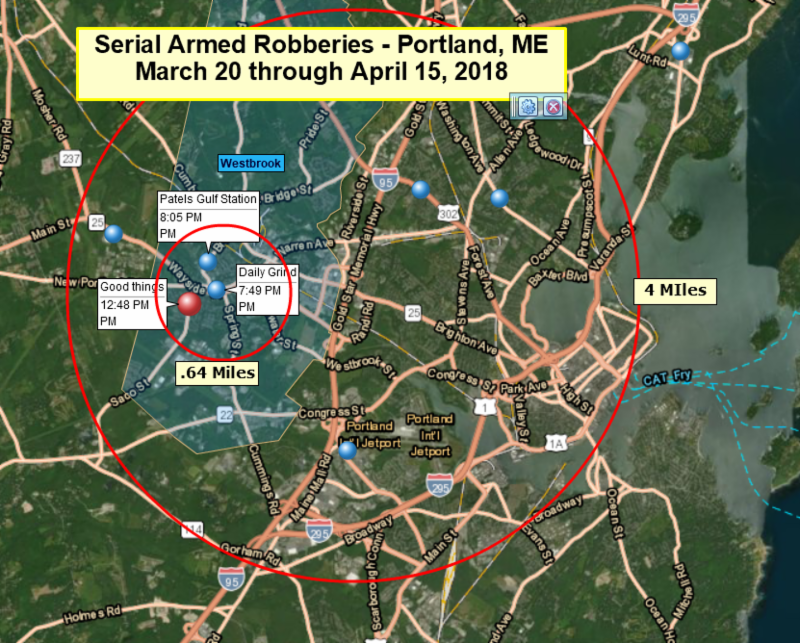 Robberies center around this Westbrook neighborhood (MBO city limit layer)
Here's a look at all locations and related data in MBO. Just the process of importing such data into mapping software is enlightening. It makes the viewer pay attention to details like when the robberies occurred and how many robberies occurred each day. Viewing the map one considers where the incidents are grouped and what that says about where the robber lives. It gets you thinking and I thought it likely the robber lived within that half-mile (.64) radius red circle. Hopefully the authorities are using maps to analyze the criminal patterns. As of Friday 4/13 the police arrested a suspect for at least one of the robberies. As it turns out, he lived within that circle. The Portland Press Herald article.
MBO News - MapBusinessOnline 5.2 Release
On April 18 we released MBO 5.2 which provides a new look and feel for the MapBusinessOnline toolbar and application window views. Users will find a much faster application map start-up speed. Less time waiting for your map! With this release, MBO now includes 4K resolution display support for those of you purchasing the latest and greatest monitors. As usual, the cloud-based MBO automatically includes new features. Enjoy!
MBO Discussion - Filter Your Data in the Data Window
Business mapping software allows users to import their data by address, ZIP code or lat/lon, to name a few popular approaches. Once your data is safely ensconced and selected in the drop down in the Data Window (upper left), you can filter it to display certain segments. The Data Window toolbar has a search function - it's the blank white bar into which you can type a few letters or a word or number and click the Binoculars. This will filter by the left-hand column of your data.
To conduct more advanced filtering, click the Funnel Icon button and drop down to select your data filter option - it could be any column in your data. Next use the right-side options to select a modifier for filtering tools (-/+, >, contains), and search for options by word or number. Once your results are displayed you could create a new marketing list using the Double Arrow button on the Data Window toolbar.
MBO - Let Us Build Your Business Map
While we focus our development team on making MapBusinessOnline the easiest and most advanced business mapping tool available, we also recognize that some companies with complex sales territories, haven't got the staff to learn, create and maintain their business maps. More and more enterprises have turned their map work over to MBO Business Map for Hire to build territories or map analysis supporting sales, marketing or strategic planning.
Let us review your business map requirement and we'll estimate the project scope which could include supplemental data, test cases, and map generation. Lead times and costs are reasonable. Join the OEM, manufacturing, retail, and sales organizations that trust their map requirements to MBO Business Map for Hire. References are available upon request under a mutual NDA.
MBO Tips & Tricks - City Limits & MSA's
MapBusinessOnline includes extra or premium layers for annual and team subscribers. Two of these layers are handy for representing metropolitan areas on the map. They are the city limits layer and the Metropolitan Statistical Area or MSA. MSA's approximate TV or Radio broadcast areas.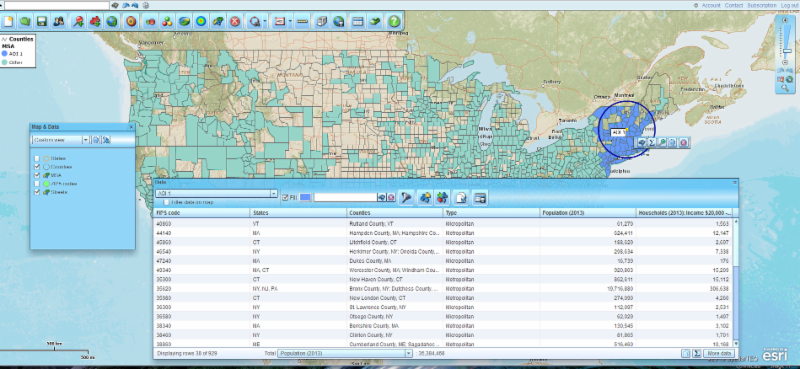 MSA map example
City Limits are exactly that - the boundaries of the city. In addition to maps that require either one of these specific map layers, one should consider using one of these layers as a light highlight of a metro area. For instance, you may add the City Limit layer to the map, scroll the transparency bar to very light with a light boundary and let that haze represent a general metro area. This can add a professional look to your business map.
Lightning Video - Creating and Editing Territories
This lightning video will walk you through creating and editing territories using on-map point and click mouse tools. Here's your video!
MBO Feature of the Month - 3 Digit Zip Codes
The ZIP codes we're all most familiar with have five digits - 04020 is ours. The USPS also uses 3-Digit ZIP codes. In our case that would be 040. 3-Digit ZIPs cover the wider area of all the 5-Digit ZIPs that start with those 3 digits. MBO includes a map layer option for 3-Digit ZIP codes in the premium map layer (Add Map Layers - button.) Sometimes 3-Digit ZIPs are a convenient territory base layer. Marketing users like to use 3-Digit ZIP codes to track direct mail campaign deliveries. 3-Digit ZIP codes can be set-up in territory import spreadsheets just like 5-Digit ZIP codes. As you import the 3-Digit sheet make sure to use the 3-Digit option in the MBO Territory Import window.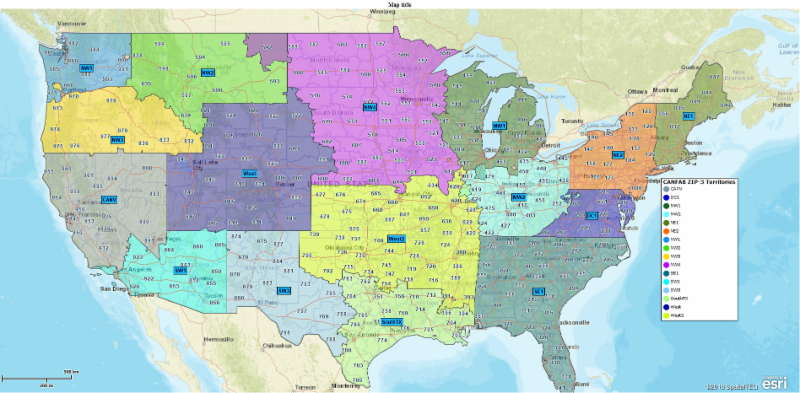 Territory Map using ZIP-3's
Share Your Map Story
As always we are interested in ways to make MapBusinessOnline the best mapping software possible. Send us your business mapping software application examples. There are many map users who would like to learn about your application of business mapping.
Referrals
Referrals to friends, relatives or business associates are the highest compliments we receive from our clients. We appreciate your referrals. Please check out our Refer and Get a Gift program.