MapBusinessOnline newsletter – August 2017
MBO Discussion - Are You Droning Yet?
"Data is the new oil," said Brian Krzanich, Intel Corp's Chief Executive Officer, at the May Association for Unmanned Vehicle Systems International's trade show in Dallas. He indicated a single autonomous car can generate the same amount of data as 3,000 people surfing the internet, while a small drone fleet could easily create 150 terabytes of data per day. "The data rate is going to explode on us in the next few years."
We're interested in the growing drone market. We think MBO can add value to many drone-based business applications both as a visualization platform and as a database management tool. If you are in a business that utilizes drone collected imagery or you would like to integrate drone aerial data into MBO, we'd like to understand more about your business analysis requirements.
MBO Community Application Examples - HVAC Competitor Map
Acme HVAC Controls, distributor of HVAC Control Devices, has a lot of competition. HVAC is a mature industry. The market is settled and tight. The installation and repair customers know what they require and they buy largely based on relationships and reliable part deliveries. Read More.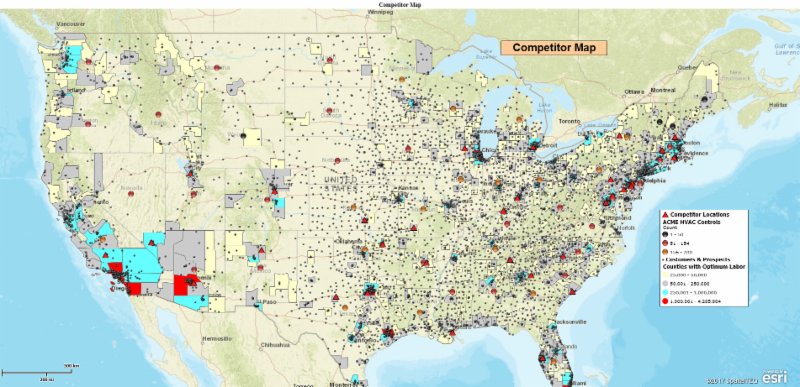 MBO Tips & Tricks - Demographic Data Sharing Options
MapBusinessOnline includes extensive layers of Census bureau demographic data (Canadian & UK data too). Users who desire to access that data and share it for free with constituents would use the Public MapShare option to share those maps. Your shared map viewers will have access to the data you've decided to embed in your shared map. There are many ways to approach the display of demographic info in your map:
Create a demographic color shaded layer by ZIP, county, state, Census tract, MSA or city limit layer and adjust the Map Legend layer descriptions
Append district or territory, region & division labels with up to five label fields of demographic data
Consolidate like demographic data layers in Calculated Data Columns - then append to the map as noted above
Create map objects and use the Summary tool to post up to ten layers as a map note
Import your own location-based demographic data
Using a combination of the above tools will provide view-only MapShare audiences with access to most of the key demographics they require to do their jobs.
Lightning Video - All About Map & Data
This semi-lightning video focuses just on the power of the Map & Data box. That's the light blue box that hovers over your map with the data layer checkbox. What is that thing?
Watch this video to learn more.
MBO Feature of the Month - Inverted Spatial Search
There's a new feature that allows the users to invert spatial searches. A spatial search is when you search for data within a circle, drive time or polygon object. After you've created your object MBO wants to know what data layer to search (unless there's only one data layer.) The next window presented is labeled: "Create or Edit a Marketing list." In the upper left of this window you will now see a check box for Invert. If you check this box the application will search for data outside of your object. Leave the box unchecked and MBO will look for data inside the object, as usual. Consider yourself spatially inverted.
Share Your Map Story
As always we are interested in ways to make MapBusinessOnline the best mapping software possible. Send us your business mapping software application examples. There are many map users who would like to learn about your application of business mapping.
Referrals
Referrals to friends, relatives or business associates are the highest compliments we receive from our clients. We appreciate your referrals. Please check out our Refer and Get a Gift program.