MapBusinessOnline newsletter – August 2020
Demographic Data in MapBusinessOnline
Demographic data is accessible from within MapBusinessOnline by map object, territory, or map layer, and includes estimates of population, income, expenditure values, and other demographic attributes, which are based on the US Census Bureau data.
When accessing your Demographic data selections the most recent two years listed are projections sourced through a third party because the Census Bureau is always a year or so behind in releases. For the earlier demographic category releases, currently starting at 2017, MapBusinessOnline accesses the Census Bureau's American Community Survey.
This Bureau of Labor Statistics website has many definitions that can be helpful around Consumer Expenditure categories in demographic data.
MapBusinessOnline customers use demographic data to:
Balance sales territories
Conduct market research including driving time & distance analysis
Create insightful demographic maps
Build retail expansion planning maps
Create congressional district maps based on demographic data
Target marketing and sales campaigns based on demographic population segments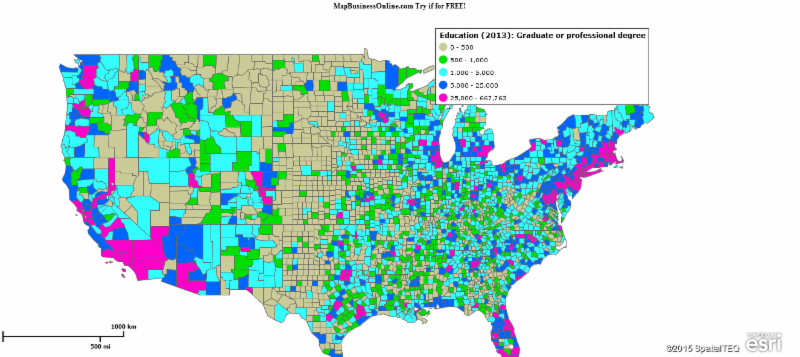 Late Renewal Discount Program Extended until October 1
We've all got a lot on our plates these days. It's easy to forget to renew MapBusinessOnline in the middle of a Pandemic. Relax. We've got you covered. MapBusinessOnline is extending the renewal discount for late renewals. If your subscription expires any time between March 1, 2020 and October 1, 2020, you can still renew it at a discount until December 1, 2020.
Send an email through the Contact button letting us know you want to renew and we'll set up a phone payment appointment at the renewal discount rate.
We'll get through this together.
MapBusinessOnline Map Viewer App Press Release
In keeping with MapBusinessOnline transition away from Adobe Flash Player, scheduled for cancellation by Adobe in December of 2020, last month we released an update to the set of Apps included with the free Map App download.
Use the Map App to access MapBusinessOnline today, including all of your saved business maps. It is a better user experience.
Now, packaged with the downloaded Map App is the new Map Viewer App. The Map Viewer is there for non-subscriber access to shared maps. Here's the process:
Have your non-subscribing recipient download and install the Map App
Prepare your map for sharing and save it
Email a map link to your constituent using the Map Share button
Any Map Share link you send them from MapBusinessOnline, when clicked will launch MapBusinessOnline to the shared map view.
It's easy! Read the Press Release Here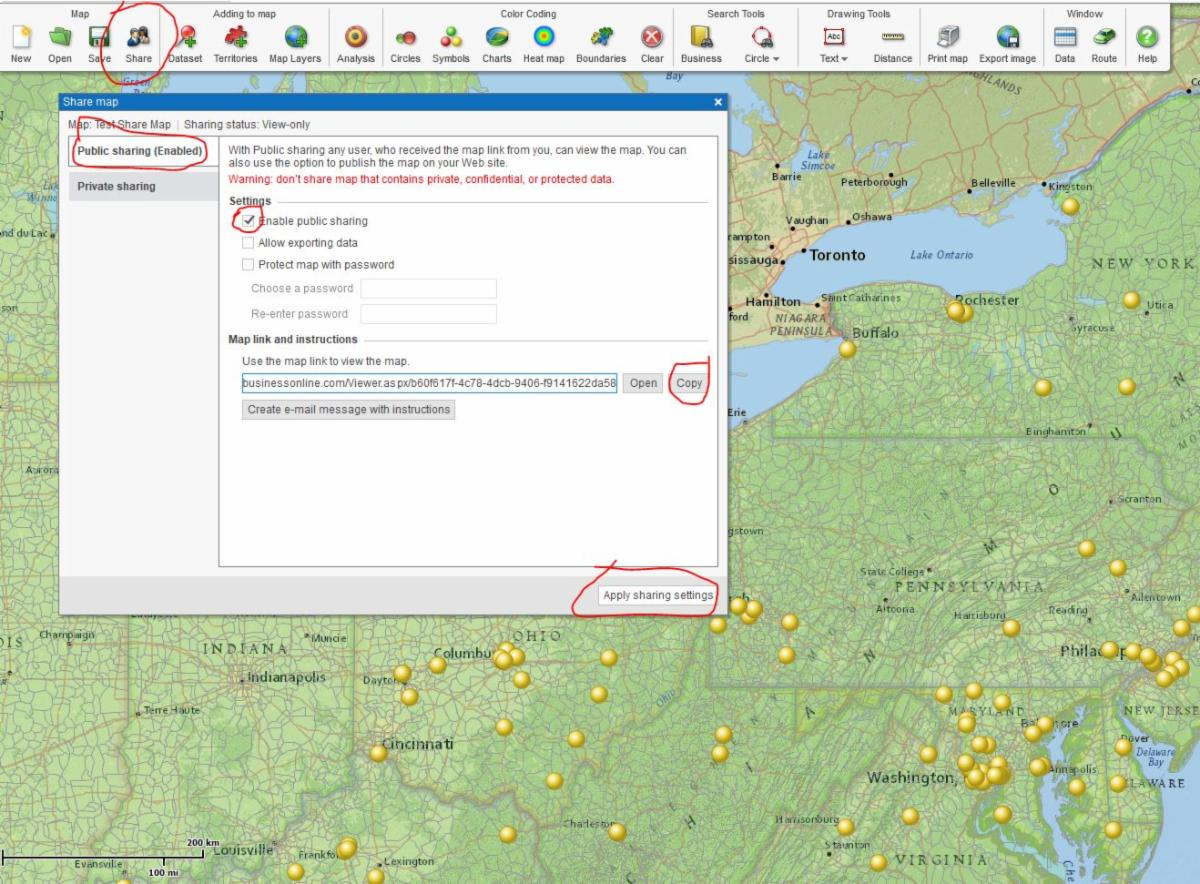 MapBusinessOnline Tips & Tricks
Map and Data is the box that controls the map layers and imported datasets on your MapBusinessOnline map. The box floats over the map and if you close it, you can open it from a light blue arrow button located in the middle of the far-left border of the map extent.
In addition to providing fill and border controls and access to Calculated Data Columns, both recently covered here, there are a few other editing functions to mention.
Change Imported Data Formatting – Your imported dataset's formatting can be adjusted through Map and Data. For instance, a user could change numeric data formatting from number to currency.
In Map and Data hover over the imported dataset, click the Edit Gear.
Choose Customize Data. You'll note the formatting adjustment options will vary by data type. Numbers offer more formatting options.
Click Change Data Columns to update
Map Adjustment Options – Map and Data includes a Menu Option called Map Options. Click Map Options to:
Add a Map Title
Change the map background color
Find your Map Legend when you close it
Delete drawn map objects
Change map units from miles to kilometers and back
Under the ZIP code tab change the ZIP code type – ZTCA or USPS
Fine tune territory options