MapBusinessOnline newsletter – December 2017
MBO - Let Us Build Your Business Map
While we focus our development team on making MapBusinessOnline the easiest and most advanced business mapping tool available, we also recognize that some companies, especially those with complex sales territories, may not carry the staff to learn, create and maintain their business maps. Accordingly, more and more enterprises have turned their map work over to the MBO Custom Map Group, to build territories or create map analysis supporting sales, marketing and strategic planning.
Come to us with your business map requirements and we'll estimate the project costs which could include supplemental data, test cases, final map generation, and tweaking. Lead times and costs are reasonable. Join the OEM, manufacturing, retail, and sales organizations that trust their confidential map requirements to MBO Custom Map Group. References are available upon request under a mutual NDA.
Map News Release - Enhanced SDK Tools
MapBusinessOnline announces the release of MapBusinessOnline (MBO) 5.0 Software Development Kit, commonly referred to as an SDK. The MBO SDK is designed to enable customer and third-party developer access to location data plotting, location data querying, and route calculation. The MBO SDK is a software programmer's tool. Read more.
MBO Discussion - Map Creation and Map Sharing
MapBusinessOnline non-team subscriptions provide a single user, a one-year or 90-day license for a business map user. That subscription lets the user log in from home or through alternate web browser access. Users can access the tool from anywhere using their credentials.
MBO includes the option to share interactive web maps (MapShare) with your constituents as part of the subscription price (up to 1200 map sessions per year included). Use MapShare to allow others to access your maps. These shared maps are query & view only but do offer the ability to create and edit optimized vehicle routes. Over time, if you find you've got a person on board who really needs to edit maps - they've shown themselves to be an 'edit worthy map geek', consider getting them a full subscription.
Annual MBO subscribers may share maps for co-editing with other full-year subscribers. Team subscriptions enable administrative tools controlling lists of full-featured users, adding or deleting users, and managing the levels of editing and data controls for each user. Team subscriptions are just right for organizations conducting collaborative map editing.
MBO Industry Overlays
Every industry has related location-based datasets that are useful for map work. Insurance adjusters might access USGS Flood Maps as an image overlay. Real Estate maps might include MLS listings as a point based overlay. Public safety maps could include hurricane weather maps as graphic overlays. MBO currently includes demographic overlays.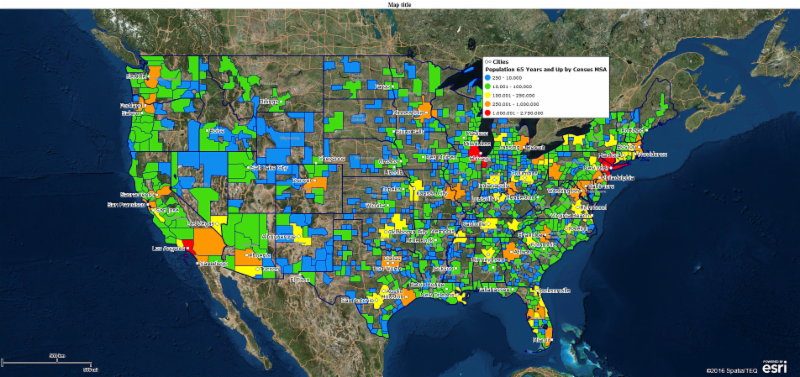 We want to know what your industry overlay choices would include. Please send your suggestions to sales@spatialteq.com or reply to this email.
MBO Tips & Tricks - Adding a Few Records to an Imported Dataset
If you just imported a spreadsheet into MBO only to find you've got another record to add, do not fret. Enter the address or lat/lon of the missed record in the address bar. Hit those binoculars to place the point on the map. The map will zoom into the point location and a dialogue will appear. Click the Save Location option in the middle of the mini-toolbar. Choose your data set in the drop down and click Add Location. Adjust field data as necessary and get on with your day.
Lightning Video - Applying Labels to Maps
Two weeks ago, I wrote a blog about labeling options within MBO. There are many sources of labels across the application. Labels improve your map's ability to communicate. Read More.
MBO Feature of the Month - Measure Distance Tool
One of my favorite MBO tools is the Measure Distance Tool currently located seven buttons in, from the right along the master toolbar. I use the measure tool to quickly determine as-the-crow-flies distances. This comes up a lot. How far is the house from the beach? How wide is that quarry anyway? How far did I walk yesterday? Is T-Wharf a quarter mile long? And how close is that liquor store to my mother in-law's house? These are important questions that sometimes demand a fast answer. Click the measure distance tool and try it.
Share Your Map Story
As always we are interested in ways to make MapBusinessOnline the best mapping software possible. Send us your business mapping software application examples. There are many map users who would like to learn about your application of business mapping.
Referrals
Referrals to friends, relatives or business associates are the highest compliments we receive from our clients. We appreciate your referrals. Please check out our Refer and Get a Gift program.