MapBusinessOnline newsletter – February 2018
MBO News - RealDatasets for Market Analysis
MapBusinessOnline announces a business partnership between SpatialTEQ and RealDatasets. Explore the ability to import NAICS data into MapBusinessOnline and identify market potential by geographic area. Read the press release here.
These low-cost NAICS industry sector datasets are designed to provide MBO users with a method for quickly and affordably identifying market potential by ZIP code, county or other map layered jurisdictions.
Industry Sector Database examples will include:
Pharmaceutical Mfg
Surgical & Medical instrument Mfg
New car Dealers
Tire Dealers
Furniture Stores
MBO Discussion - The Power of GeoData in Business Mapping
Business mapping software is a powerful visualization tool. But to really be powerful these applications need to visualize relevant location-based data. Importing and viewing customer, prospect, field data, or other business data into MapBusinessOnline creates new perspectives on your business reality.
By offering RealDatasets as an industry sector market analysis option, MapBusinessOnline is providing a window into your business future. We're helping you explore new potential markets for your products and services. You'll find a library of common industry sector datasets for your review. Let us know what additional datasets you'd like to access.
MBO - Let Us Build Your Business Map
While we focus our development team on making MapBusinessOnline the easiest and most advanced business mapping tool available, we also recognize that some companies with complex sales territories, haven't got the staff to learn, create and maintain their business maps. More and more enterprises have turned their map work over to MBO Business Map for Hire to build territories or map analysis supporting sales, marketing or strategic planning.
Let us review your business map requirement and we'll estimate the project scope which could include supplemental data, test cases, and map generation. Lead times and costs are reasonable. Join the OEM, manufacturing, retail, and sales organizations that trust their map requirements to MBO Business Map for Hire. References are available upon request under a mutual NDA.
MBO Tips & Tricks - Identify Your Business Sweetspot
Once you've downloaded a RealDatasets industry sector data file. You can import it into MBO for market analysis. But consider manipulating that data before you import. Each dataset contains five to seven columns of Employee Counts. If you know what employee size business buys the most products from your business, you can add a new column in Excel and create a formula that highlights that sweet spot.
We call this formula Indexing. An example formula noted below emphasizes certain employee count sizes. The example company sweetspot is for customers with employee sizes of 50-99 and, even better, 100-249. The formula over emphasizes those categories in column E. Column E is then used to color code ZIP codes on the map, alerting the map viewer to ZIP codes that match the sweetspot.
| | | | | |
| --- | --- | --- | --- | --- |
| A | B | C | D | E |
| Employ 1-24 | Employ 25-49 | Employ 50-99 | Employ 100-249 | Index |
| 0 | 3 | 4 | 1 | =(A2*1)+(B2*2)+(C2*3) |
| 2 | 1 | 2 | 0 | =(A3*1)+(B3*2)+(C3*3) |
Lightning Video - Applying labels to Maps
A few months ago, we wrote a blog about labeling options within MBO. There are many sources of labels across the application. Labels improve your map's ability to communicate. Read More. Here's your video!
MBO Feature of the Month - The Heat Map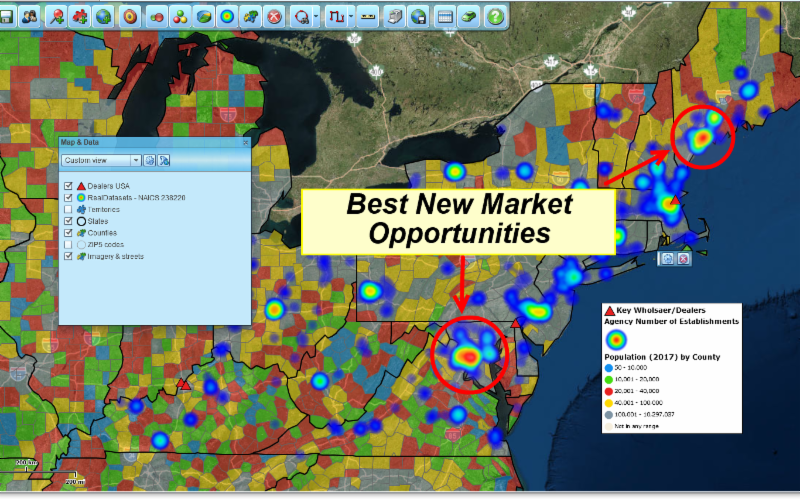 In keeping with the theme of RealDatasets & MapBusinessOnline, the most appropriate feature to refer to as this month's Feature of the Month would be the Heat Map ability of MapBusinessOnline. Heat maps are the most direct way to quickly display new market opportunities on a business map. MBO heat maps use numeric values in imported data to describe data intensity on top of a background map. In the case of RealDatasets that numeric value may be establishments per ZIP code, businesses with X number of employees, or sales values. The result is like colorful tornado weather map showing where your best opportunities are waiting.
Share Your Map Story
As always we are interested in ways to make MapBusinessOnline the best mapping software possible. Send us your business mapping software application examples. There are many map users who would like to learn about your application of business mapping.
Referrals
Referrals to friends, relatives or business associates are the highest compliments we receive from our clients. We appreciate your referrals. Please check out our Refer and Get a Gift program.