MapBusinessOnline newsletter – July 2018
Import Fully Addressed Data for More Accurate Results
People love to import their business data into MapBusinessOnline for the rich business visualizations. But often new users, anxious to get started, neglect using fully addressed data and instead opt to import based on just ZIP codes or cities. And almost as often, they are surprised at the lack of accuracy presented on the map.
Users should realize that an imported list of customers or resources by just ZIP codes will place points on the map at the "Centroid" or center point of each ZIP code. Duplicate records will stack up on that Centroid point.
For the most accurate visualization of your business data, please take the time to create fully addressed datasets with a column for Name, Address, City, State and ZIP code. Your map audience will be more satisfied and your map will be more effective.
Importing Your Business Data into MBO
MBO Release 5.2 - Congressional Districts & More!
In June MapBusinessOnline 5.2 was released with the following enhancements:
USA ZIP code updates including USPS changes and map layer corrections
Single Sign On (SSO) Login, Facebook and Google+ Login capabilities
US Congressional Districts Premium Map Layer for annual and team subscribers
Enhanced and improved MBO ZIP code territory filler process - faster and easier!
2018 demographic data projections from Geolytics
2018 updated school district map layers
MBO now supports 4k screen resolution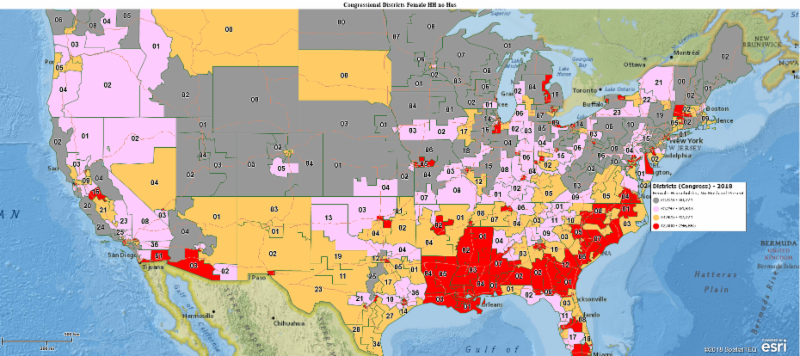 MBO Tips & Tricks - Creatively Filter Your Data
The Data Window includes the ability to filter the data you've imported. This capability comes in handy:
To search for and focus on certain aspects of your data
To count sets of like data
To collect data by ZIP, county or state
Click the Filter Icon on the Data Window toolbar. Choose your filter category. Then select a modifying action, such as =, &lt, &gt, or contains. Filtering data is just one more way to use MBO to gain a new perspective on your business. Here's a video on filtering.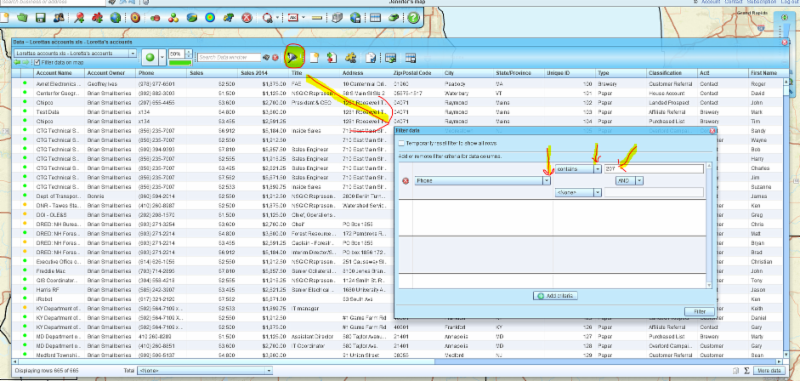 MBO Discussion - Data Confirmation
Every business generates or uses data in some form. It is likely that your team has to verify data for any number of processes. A business mapping application can help automate the process of data verification as long as the data has a location component. For instance, home care medical clients may require home address verification upon admittance. Requirements may vary by client type, intake facility, and diagnosis. But a mapping application can help set up a physical or digital process for address verification:
Shared map views across a password protected network
Point-to-point multi-stop optimized routing to efficiently route your intake agents to client locations
Simple address and postal code geocoding may be a "good enough" first step in an intake process
MBO Feature of the Month - Draw Tools
This is to remind users that MBO does include draw tools located seven buttons in from the right side on the master toolbar. MBO users apply these tools for reference notes, map sketches, and for free form territories that do not comply with standard map layers like ZIP codes or counties.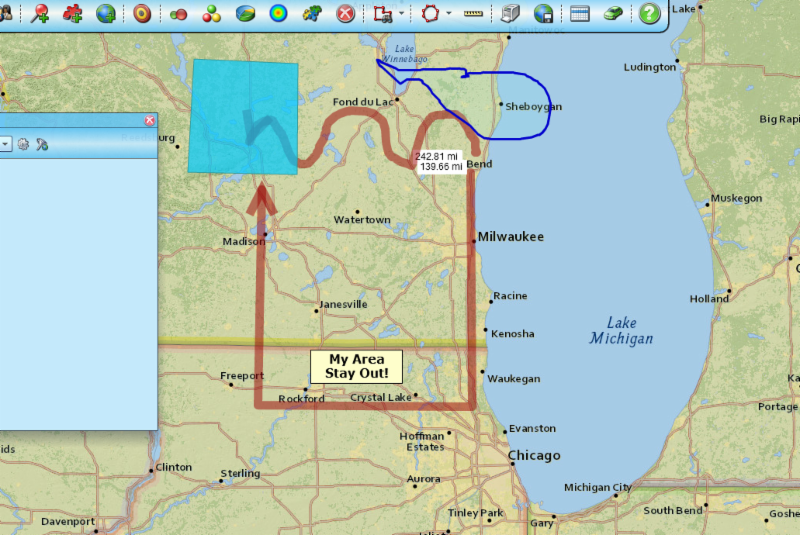 In the above sample map I drew in a suggested area of interest, made the line thick and transparent. The distance of the thick line is noted on the map. It also has a text component noted. Draw tools include straight lines, polygons, curves, free form, drive time polygons, text boxes and dropped points.
Commonly, users interested in draw tools have territories bound by highways, rivers, and mountain ranges all of which predated ZIP codes.