MapBusinessOnline newsletter – March 2018
MBO News - Recent Articles and Press Releases
MBO's been getting some news lately. Below are the latest news items of note:
MBO - RealDatasets Webinar Follow-Up
Last February 27 we presented a webinar on Identifying Market Potential using MBO and RealDatasets industry data. Here's a link to the webinar playback. Keep in mind, this is a market analysis example. Everyone's actual business application will contain data relevant to their particular market and will have an end goal of their very own. This video also contains tips and suggestions on how to build any business map.
Don't forget to check-out the geodata options at www.RealDatasets.com.
MBO Discussion - A Business Map to Support SWOT Analysis
Last week MBO posted a blog post about using business mapping in support of SWOT Analysis.
SWOT analysis maps are another place that www.RealDatasets.com geodata could come in handy. In addition to NAICS business sector data (Opportunuties) look for resource datasets that might help flesh out weaknesses and threats. Energy sources would be one resource dataset a transportation company might consider; perhaps appending that data with a year-over-year costs analysis going back three years. Trends are important in a SWOT analysis.
MBO - Let Us Build Your Business Map
While we focus our development team on making MapBusinessOnline the easiest and most advanced business mapping tool available, we also recognize that some companies with complex sales territories, haven't got the staff to learn, create and maintain their business maps. More and more enterprises have turned their map work over to MBO Business Map for Hire to build territories or map analysis supporting sales, marketing or strategic planning.
Let us review your business map requirement and we'll estimate the project scope which could include supplemental data, test cases, and map generation. Lead times and costs are reasonable. Join the OEM, manufacturing, retail, and sales organizations that trust their map requirements to MBO Business Map for Hire. References are available upon request under a mutual NDA.
MBO Tips & Tricks - Squeezing Detail into Large Format Printing
MapBusinessOnline provides a print feature, located in the Print Button, that lets a user save a map as a large format PDF for plotter printing. There are two process options. The first is to Print a Map that will center on map view. The second option is Print a Map area defined by a rectangle. To maximize your details - county names, city names use the first PDF option - Print a Map Centered on Map View.
This solution is for users who create large format PDFs but find details lacking - some county labels or city labels don't display. First try making your county or city label fonts as small as possible. Make sure your Auto Labels are set to display at the World level. We can usually get all the county or city labels to display. But it does require some experimentation and label adjustments. It's the nature of digital mapping that restricts label detail. The rule most mapping applications follow is - no text overlap.
Find the center of your map extent and place your cursor there. Now over zoom, way beyond a WYSIWYG print view zoom level. Zoom into the map while keeping your center the same. This may require a couple of test PDF saves at various zoom levels to get the level of data detail you're seeking.
Lightning Video - Marketing Maps
Last month, MBO posted a blog and recorded a video focusing on creating marketing maps. There are some suggestions in here that apply to all map creation. Be clear on your purpose for the map, import relevant layers, and don't turn on all layers - avoid overwhelming your map audience. Here's your video!
MBO Feature of the Month - The Highway Layer
Maps are created with a map audience in mind. Most map readers need less information than the map creator has available to share. This 'less is more' approach applies to the background map data of a business map. MapBusinessOnline includes multiple background maps from which to choose, but in some cases your map doesn't need the distraction of that full street level map or satellite imagery. Your map might benefit from no background layer. Try it.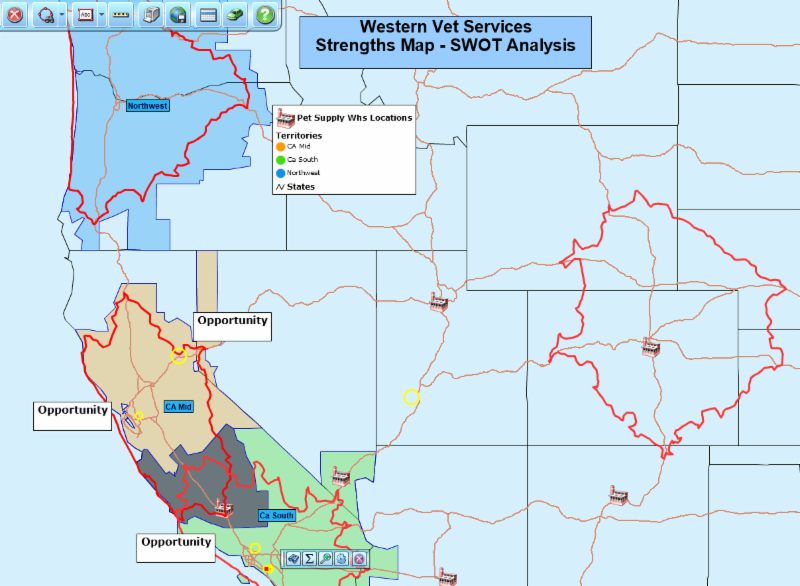 Now, having tried a no background layer, perhaps you feel the map needs an orientation layer, but not a full background map. Under Add Map Layers (7 Buttons in from the Left) choose the Highways layer. This view adds a sense of orientation that may be enough for your viewers to have an idea of what they are looking at, while focusing on the business issue at hand.
Share Your Map Story
As always we are interested in ways to make MapBusinessOnline the best mapping software possible. Send us your business mapping software application examples. There are many map users who would like to learn about your application of business mapping.
Referrals
Referrals to friends, relatives or business associates are the highest compliments we receive from our clients. We appreciate your referrals. Please check out our Refer and Get a Gift program.