MapBusinessOnline newsletter – November 2017
MBO - Team & Bulk Subscriptions
We get lots of inquiries for team subscriptions and enterprise-wide corporate MBO programs. We also notice that over time, companies may have accrued five or more single user MBO subscriptions without realizing it. Sometimes multiple use of MBO can sneak up on a business - especially if purchasing is somewhat decentralized. If you suspect that your company has more than four MBO users creating and sharing maps, you're business could benefit from a team subscription. Multiple seat and team purchases can lower software costs for a company while providing better map sharing capabilities for all map users. Many organizations are solving business problems through MBO collaborative map editing. Please let us know if you feel your company could benefit from a team subscription.
MapBusinessOnline for Salesforce.com
A reminder that MBO users can access MBO for Salesforce as part of their annual subscription. To encourage more Salesforce users to try MBO we'd like to offer a $20 Amazon gift card for the next five MBO reviews on the MBO Salesforce Appexchange page. Or refer a Salesforce user to MBO and collect on the referral program mentioned above.
MBO Life in the Big City
Map users love cities. Cites come in handy most often as metropolitan or rural community area definitions. An MBO ZIP code layer lists Cities in the Place Name column. MBO full subscribers will have extra Cities options in the Add Map Layer button. Those lucky users can bring in City points with labels or bring in City Limits with boundary areas defined - the city limits layer is editable, just like the ZIP code layer. In this way you can use city limits as territories or color code cities by demographic data. Cities points are often used as indicators of where you are on the map. Seeing a city name can give the map viewer an instant feeling of familiarity. There's another city point layer in the Public Data section of Plot Data if you require it.
And for you 90 day subscribers, don't fret, just build a spreadsheet of cities and states and import them. Cities - don't leave home without them.
What's New This Month in MBO!
This month MBO's SDK and API tools have been consolidated into one package for your development folks. If you're interested in MBO automation tools pass the attached SDK link onto the programmers at your business and have them review the tools. Contact us with questions, suggestions and applications.
US Census Bureau updates to 2014 Data - county and state payroll, employee, & number of organizations across various industries.
CanStat Canadian demographic data for 2015.
MBO Applied: Visualize Customers on a Map
Salespeople who travel love maps. Sales planning maps help make days on the road more efficient, reduce travel expenses and, best of all, the data included on a business planning map can help replace canceled appointments with new opportunities. Stop your sales people from bowling on the road! Read more.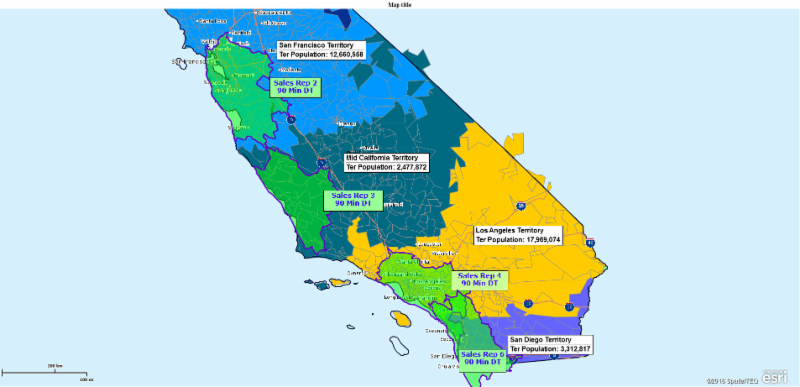 MBO Tips & Tricks - Accessing Demographic Data in MBO
In MBO you can access demographic data in a variety of ways. MBO users can pull demographic layers into their territory analysis using the More Data button or create quick Summaries for export by clicking the Summary button on any map object toolbar. Color code map layers (states, counties, or ZIPs) and territories based on demographic data. Pull demographic statistics into layer or territory labels for map viewer reference.
MBO USA demographic data is compiled from the Census Bureau. In MBO 2016 and 2017 data are projections of Census data, while earlier years are based on the official Census releases. Canadian data is not as comprehensive as the USA data. The UK version also includes government released demographic layers.
Remember you can combine demographic data layers using Calculated Data Columns and you can append marketing lists with demographic data in option 4 of Market Analysis.
Demographic data - it's FREE in MBO!
Lightning Video - Transitioning from MapPoint to MapBusinessOnline
How many businesses used MapPoint? That's a $10 Million question that nobody seems to know the answer to. But we still get calls every day from companies who still need to make the change from obsolete MapPoint to a new business mapping software. Read about what to expect. Here's your video!
MBO Feature of the Month - Quick Data Window Search
When viewing your data in the Data Window you can quickly search all rows using the left most column of your data - typically that's Account Name or something similar, but it could be ZIP codes or Zoo Animals. You decide.
You'll notice the Data Window toolbar has a blank white rectangle with a Binocular Icon to the right of it. That search box only searches the left-hand column of your selected data. So, quick like a bunny, key in a word, a ZIP, or whatever you've got in your data and run that search. You'll see just those rows with that word in the left data record displayed in the Data Window view. Copy and paste the results into a spreadsheet, make a territory or a marketing list out of the results. Have a party!
Share Your Map Story
As always we are interested in ways to make MapBusinessOnline the best mapping software possible. Send us your business mapping software application examples. There are many map users who would like to learn about your application of business mapping.
Referrals
Referrals to friends, relatives or business associates are the highest compliments we receive from our clients. We appreciate your referrals. Please check out our Refer and Get a Gift program.