MapBusinessOnline newsletter – October 2018
MapBusinessOnline Discussion - Team Mapping
Team subscriptions for MapBusinessOnline enable shared mapping with collaboration tools. MapBusinessOnline team map collaboration includes administrative functions that:
Control roles of your map users – assign Viewer, Map Editor, Data Editor or both
Create and maintain collaborative teams
Encourage cross department problem solving
Manage large volume MBO user subscription access assuring map continuity
Team collaborative mapping is used by a variety of MBO customers including insurance companies, finance businesses, franchise organizations, large and small manufacturing firms, real estate organizations, and distribution companies. Popular applications of MapBusinessOnline Team Mapping: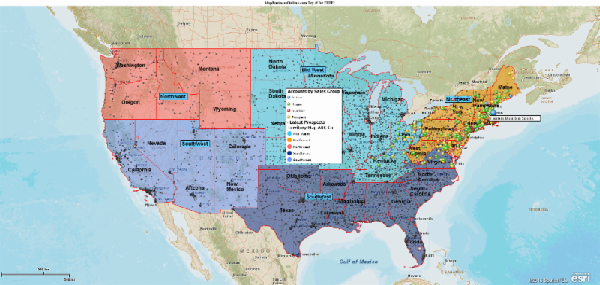 MBO Map Gallery
Be sure to stop by MapBusinessOnline's Map Gallery every so often to view an interactive map of a geospatial scenario. These maps are designed to represent real world situations that translate well into a business map. Feel free to submit requests for a Map Gallery subject. Please include data sources with permissions and perhaps a sense of what the maps purpose should be.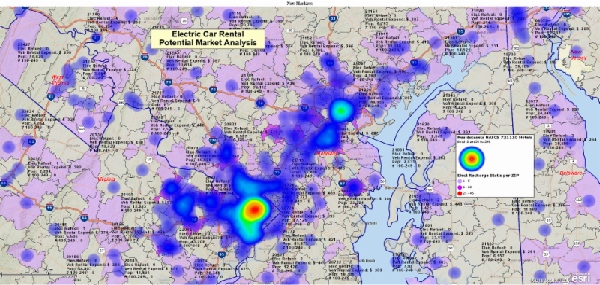 MBO Tips & Tricks - Route Barriers
For those MBO users using the tool to create optimized multi-stop routes. On occasion you may want to avoid taking certain routes to your destination. Maybe the bridge is out, or your mother-in-law works at the toll booth. MBO includes Route Barrier options in drive time and polygon objects.
Draw the object on the map around where your avoidance object is. Stay very zoomed in. Once the object is complete the associated window will have a check box to set the object as a Route Barrier. Once that's checked your routes will avoid the intersection selected. Here's a how to video.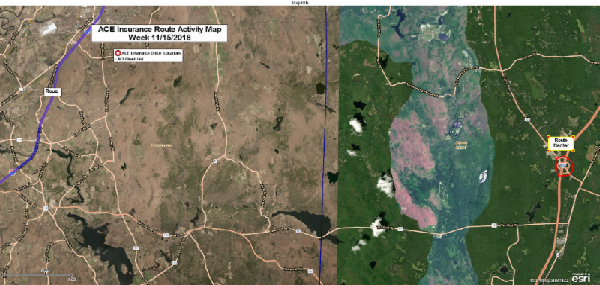 MBO Update - US Census Economic Data for 2016
This month MapBusinessOnline Demographic Data has been updated to include Economic Census Data for the year 2016. This powerful demographic data enhancement is perfect for territory development and market potential analysis.
The current data offering is searchable by county only. More economic data will be added in 2019.
Access this data through the usual Demographic feature options (Data Window, Summary button, or Market Analysis) by scrolling to the 2016 section. You'll find Economic data by Industry, Employees, and Establishments.
Let us Build Your Map for You!
While we focus our development team on making MapBusinessOnline the easiest and most advanced business mapping tool available, we also recognize that some companies with complex sales territories, haven't got the staff to learn, create and maintain their business maps. More and more enterprises are turning their map work over to MBO Business Map for Hire to build territories or map analysis supporting sales, marketing or strategic planning.
Let us review your business map requirement and we'll estimate the project scope which could include supplemental data, test cases, and map generation. Lead times and costs are reasonable. Join the manufacturing, retail, and sales organizations that trust their map requirements to MBO Business Map for Hire. References are available upon request, under a mutual NDA. Contact us!
MBO Feature of the Month - Driving Distance Queries
Many of you are familiar with MapBusinessOnline drive time queries. Simply select the Drive Time polygon button where you see it – in Search tools, Draw Tools, or in the dropped point mini-menus on the map. Within that drive time tool is the option to selecting driving distances as opposed to driving times.
Whereas drive time queries assess driving the road network in all directions over a specific time, the driving distance query assesses driving in all directions from a central point over a specific distance.
A 25-mile driving distance polygon acts like a geofence without any alarms. It displays the polygon that represents a 25-driving distance in all directions. Driving distances could be used to generate territories, collecting all counties or ZIP codes within 25 miles.
Think in terms of allowing your teenager to take the car for the evening. Would you rather he or she had limits of 30 minutes in all directions from your home, or 30 miles in all directions?
Essentially, driving distance queries answer the question, if I drive for twenty-five miles in all directions, from a central point, along the road network, what would the resulting polygon look like? Here's a how to video.