MapBusinessOnline newsletter – September 2017
MBO Discussion - MapPoint Conversion Tool
We have just released a MapPoint map file conversion tool. Use this tool to convert a MapPoint territory or basic map files, saved as .ptm file extensions to an MBO map. Requirements:
The tool is only available for Windows PC machine customers.
And you'll also need to have a 2011 to 2013 version of MapPoint installed on your PC machine to enable the conversion
MBO users must download the most recent release of MBO Desktop (free for annual subscribers). You'll find the MapPoint Conversion Tool item in the MBO Desktop menu.
MBO Community Application Examples - Castle Devices Strategic Planning
At Castle Devices, Strategic Planning can be a painful process. This is not unusual in business. Managers feel threatened as their approach to business processes are openly critiqued. Read More.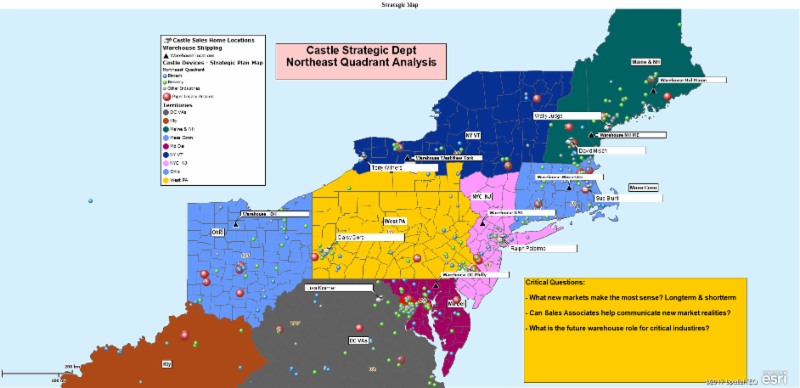 MBO Tips & Tricks - Incrementally Adding Points to the Map
Besides importing a dataset of location records, MBO users can place points on the map incrementally, either by selecting the bottom option in the Draw Tool Button list, or by typing in an address in the address bar. In both cases, take the time to click the map tack/file button to save that location in a dataset.
MBO wants to help you organize every point you plot. It is likely when you plot a point you'll be creating a new dataset, but you could simply add that location to an existing dataset. When choosing to Create a new dataset simply choose New and name that dataset. Don't forget to name your location too. Your newly named dataset will now be listed as a layer in Manage Map &amo; Data. Here's a video!
2017 USA Demographic Data Projections Are In!
Earlier this month MBO Demographic Data options were updated to include 2017 Projections. Projections are based on USA Census releases and then compiled by third party experts. 2017 releases are listed at the top of demographic data options in MBO.
MBO Feature of the Month - MBO for Salesforce.com
Many MapBusinessOnline customers use a CRM to store and track contacts and business opportunities. One of the most popular CRM tools is www.Salesforce.com. MBO users are reminded that if you have a subscription for MBO already you have access to MBO for Salesforce.com. Simply follow the AppExchange link and download the MBO Salesforce widget. The MBO Salesforce integration offers direct import of contacts and accounts from Salesforce and enables easy look backs to contact views from the map. Exported data can be exported directly to campaigns in Salesforce.
Share Your Map Story
As always we are interested in ways to make MapBusinessOnline the best mapping software possible. Send us your business mapping software application examples. There are many map users who would like to learn about your application of business mapping.
Referrals
Referrals to friends, relatives or business associates are the highest compliments we receive from our clients. We appreciate your referrals. Please check out our Refer and Get a Gift program.