Display Your Business Data Using Color Coding and Heat Map Options
A color-coded map using contrasting colors on a map is an excellent way to visually represent critical business data. MapBusinessOnline gives you the tools to use your own data or provided demographic data to create dynamic color-coded maps that can help take your business to new heights. Our affordable business mapping software also gives you the option to color code by heat map, color code points, color code cities, color code ZIP codes and other boundaries.
With MapBusinessOnline.com heat-mapping software you can:
Create color-intensity maps with data points representing numeric data associated with product, sales potential, financial reporting, and other numeric business values
Color code administrative district areas such as ZIP codes, city, county, or census tract using criteria specific to your business
Emphasize areas of customer density with heat maps to reveal market saturation and identify areas of opportunity
Identify and label territories as unproductive or cold (using the color blue), extremely active or hot (red) and everything in between
Create maps with different colored layers of data so you can evaluate and compare several geographic/demographic criteria at once
Use heat-mapping software to print large color-coded wall maps that serve as an effective visual presentation tool
Identify customer density within trade areas
Create interactive maps you can share with colleagues by embedding them in PowerPoint presentations or sending them via email.
Using Heat Maps to Visualize Your Business Data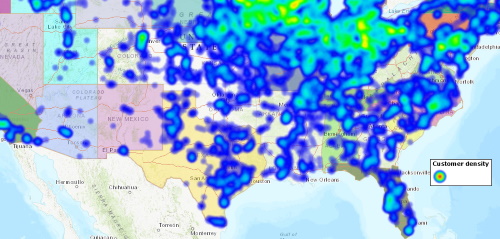 Heat maps make it easy to use color to illustrate customer densities or sales activities. Heat maps can also help you identify and target areas that offer the most and least sales potential, enabling you to maximize the effectiveness and productivity of your sales team.
Our mapping software includes complete heat map color shade controls, allowing you to scale from cold to hot (blue to red) or hot to cold (red to blue). You can even create a ZIP code heat map! Share your heat map views with your salespeople and colleagues as interactive web maps or image links, or print them for wall display in your office or conference room.
Color Code by Administrative District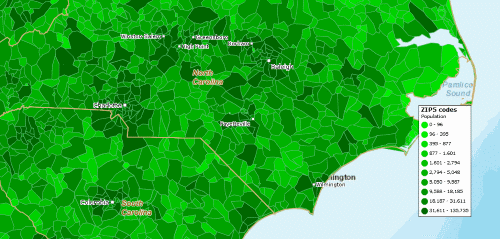 MapBusinessOnline allows you to import business data and color code it by sales/administrative district. That's right; color code states, color code counties, or color code zip codes. And we've added even more administrative districts for you to color code. Choose from census tract, city, county, MSA, state, ZIP 5 or ZIP 3 options to express sales volumes, customer counts, and demographic data. Our software solution can total or average your values by district or territory using flexible range and color assignments. Empower your salespeople by using MapBusinessOnline to identify areas of opportunity within each district.
Color Code by Point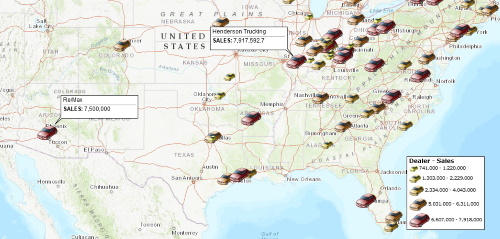 MapBusinessOnline enables you to easily import files from Microsoft® Excel, CRM, accounting, and contact management software programs and color code thousands of data points based on sales potential, customer type, product type or other relevant criteria. Just set up a spreadsheet column and start color-coding! You can even import your own custom symbols to create a color coded map tailored to your unique business or industry.
Transform the meaning of your business data through color coded visualization tools with MapBusinessOnline. Register online for a FREE trial today!
See MapBusinessOnline in Action
Request a demo