Create a Competitor Map to Support Decision Making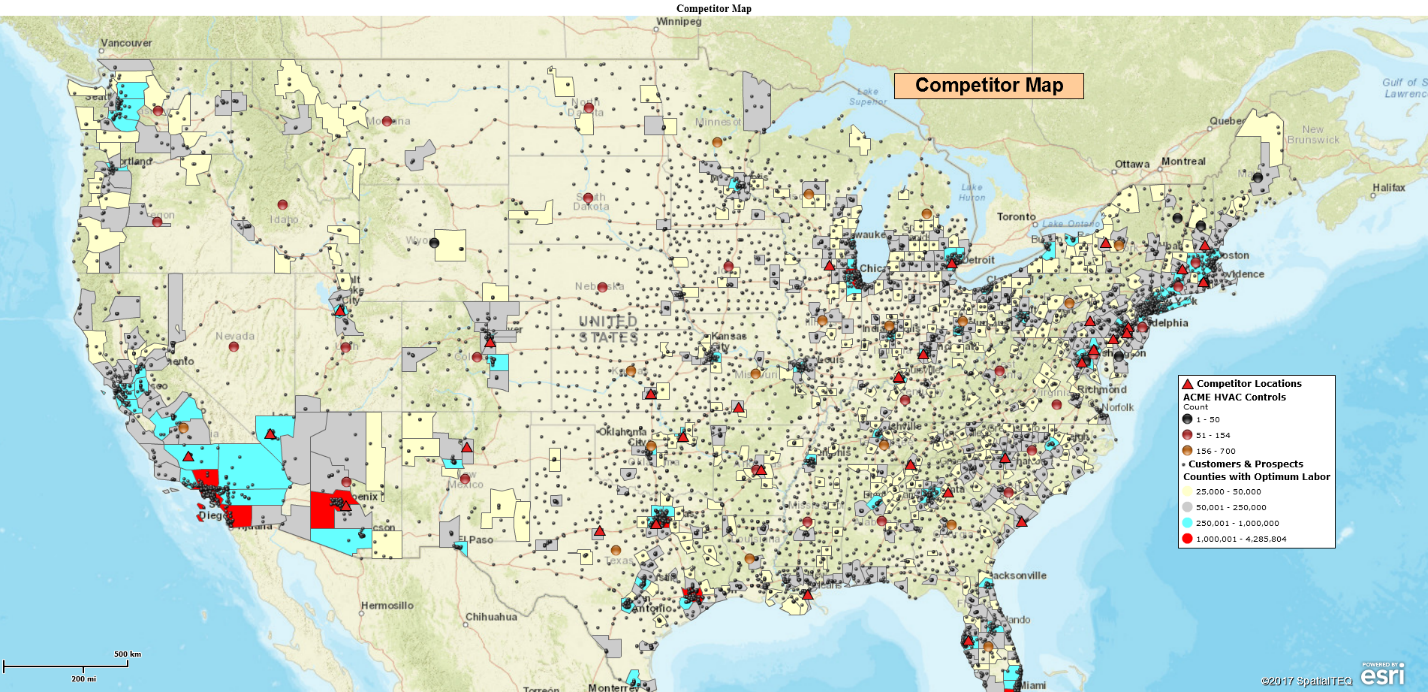 Acme HVAC Controls, distributor of HVAC Control Devices, has a lot of competition. HVAC is a mature industry. The market is settled and tight. The installation and repair customers know what they require and they buy largely based on relationships and reliable part deliveries.
Still, Acme management smells opportunity. "We believe we can grow either through merger or through expansion into two new coverage areas." Consequently, the company pulled their management team together for a business analysis session at headquarters. The time has come for high level decisions regarding the future of Acme HVAC Controls.
Problem: To adequately assess the HVAC market place Acme HVAC Controls needs to visualize exactly where all competitors are currently located and their general sales coverage areas. It would be helpful to view all current Acme customer locations (with sales values) as well as some of the more lucrative target accounts Acme hopes to win over through their expansion effort. In short, Acme requires a competitor map.
Over the past month, the President of Acme has gathered numerous datasets of information to support the planning meeting. Most of the data was already available through the IT Department and Sales Department:
A current customer address dataset with columns for the last three year's sales by account
A list of potential target accounts by address – exported out of the CRM as a CSV file
Finally, the boss had a sales associate spend a morning on Google compiling an address dataset of competitors.
Solution: Find a low-cost, easy-to-use business mapping software and import the above noted location based datasets into a USA map view for color coding, symbolizing and analysis. Focus on the competitor locations looking for areas not saturated with distribution, and with labor demographics that support immediate hiring needs for the expansion.
How to Create a Competitor Map Using MapBusinessOnline
Gather an address database or Excel spreadsheet of your key competitor locations. Include branch locations as well as headquarters. Arrange separate columns with headers for location data: Name, Address, City, State, and ZIP code.
In the MapBusinessOnline master toolbar click the Plot Data on Map button

Browse to your data and click Next. Verify location columns are accurately placed and adjust as necessary
Choose Company Name or a similar assignment for the name column
Assign columns of your choice to the five label flex field options
Process the imported locations points to the map
Color code points by clicking the Color Code with Symbols button

Repeat the import process for additional datasets – Your company branch locations, customer address datasets, prospective customer address datasets

Color code and/or symbolize various dataset for quick identification on the map
Append information as appropriate to plotted point labels.

At your discretion include background demographic analysis by administrative district (typically ZIP code)
Share your competitor map with planning associates as required to secure feedback and ideas

Share as an interactive web map through MBO MapShare
Share as a static image file via email
Share live MBO business mapping via web share services like Join.Me or Skype for Business
At the planning meeting Acme decision makers used their competitor map as a guide to establish five likely new locations for Acme branches. The competitor map served several specific purposes that helped drive the decision-making process forward:
The competitor map made clear where customers and prospects were under served
The competitor map showed definite areas of distribution saturation, in fact it seemed to suggest closing one existing warehouse location that had been under performing
The map stimulated or inspired unexpected suggestions as the team noticed patterns they had not expected
The map helped to establish next steps in the planning process including exploring possible locations for new branch locations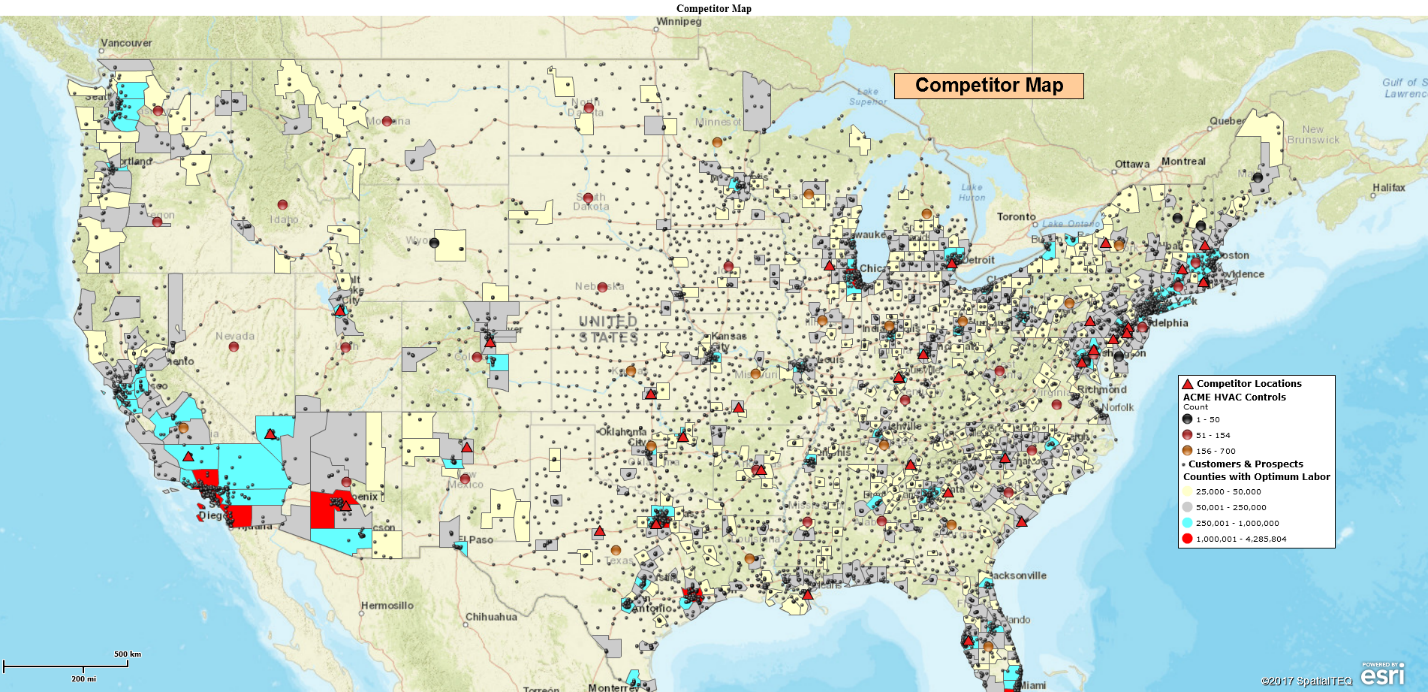 Your competitor map will make sense only to your business.
Thanks to business mapping software, Acme HVAC Controls is moving confidently into the future after solid decisions were made based in part on awareness of their competitors in their existing and future marketplace.
Learn How Our Customers are Succeeding with MapBusinessOnline
A leading provider of automated storage and retrieval systems, Kardex Remstar has a multi-layered distribution network in North America. Mapping regional sales territories and sales districts using ZIP codes and states. Kardex Remstar tapped into MBO territory creation services to make the process quick and easy. Detailed ZIP code tables were converted by MapBusinessOnline into multiple maps describing their distribution network, sales coverage by customer segment, and product maps.
"The product is phenomenal and the support even better."
Sales Manager
Kardex


"I have had the pleasure of using MapBusinessOnline for the past 5 years and it is an excellent and affordable tool for my clients. I am a franchise consultant, and many of my clients are just starting to get into franchising. The first main question many of them have is they don't know the demographics around their current location, so they don't know how to create territories for their franchisees. I am able to easily utilize MapBusinessOnline to draw a prototype territory around their existing location, do a deep dive into the many different demographics that MapBusinessOnline offers, and help the client determine the basics of their new territories, including mileage, population, household count, purchasing habits and age distributions. This tool has been so helpful that many of our clients obtain their own accounts as they begin to sell franchises and grow their business. Thank you, MapBusinessOnline, for providing such a helpful tool that is affordable and easy to use!"
Colette Bell
Director of Business Development
SMB Franchise Advisors
Prison Fellowship — Prison Fellowship® trains and inspires churches and communities-inside and outside of prison-to support the restoration of those affected by incarceration. PFM uses MapBusinessOnline Team Edition to create a variety of maps that track the placement of constituents and describe the demographic background of placement areas for further study and understanding.
"We love MBO, especially the ability to share maps with non-license holders for viewing!"
Business Manager
Prison Fellowship

Popular MapBusinessOnline features