Define New Markets with RealDatasets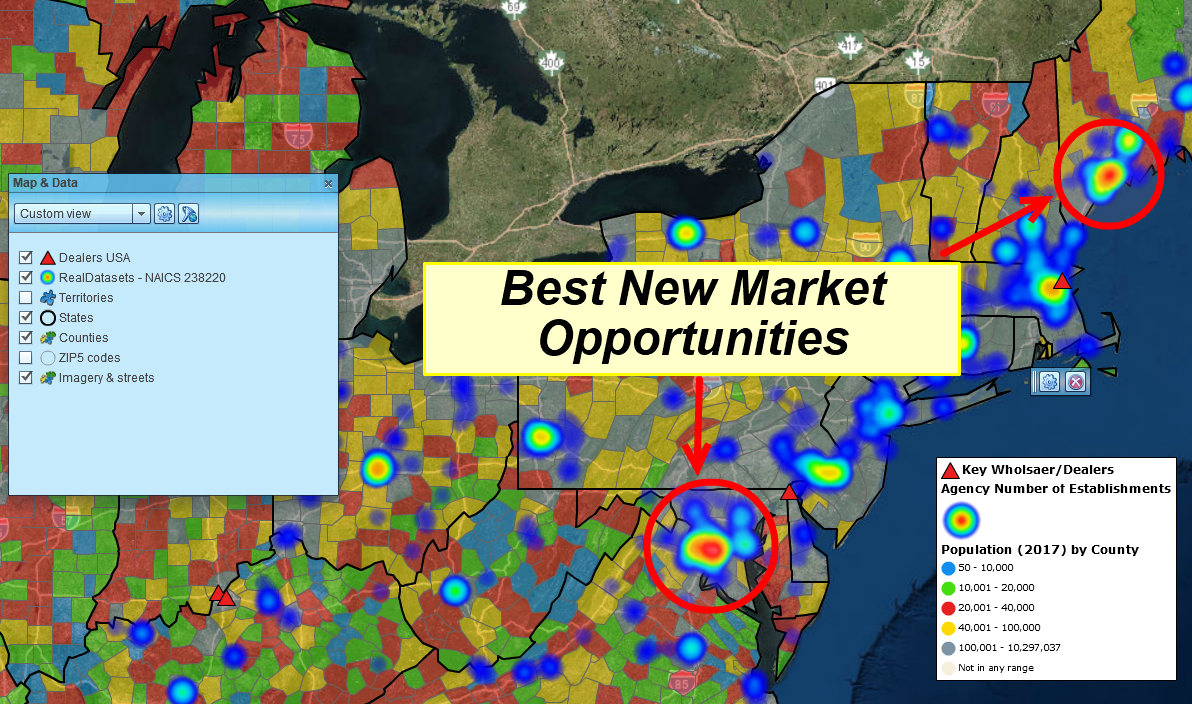 Sales and marketing professionals who desire fast and easy analysis of existing and new markets need look no further than RealDatasets as visualized from within a Map Business Online map. MBO & RealDatasets offer instant visualizations of opportunities across major industries based on NAICS industry data, geographic extent and demographic make-up.
RealDatasets are industry focused business datasets, edited and compiled by data experts.
RealDatasets are designed for use in business mapping programs like Map Business Online
RealDatasets Geodata – Business and Industry Data for Map Visualizations & Planning
Solve business challenges by using Map Business Online combined with RealDatasets:
Identify The Total Addressable Market – Leverage 1,000 industry sector NAICS data layers
Calculate Market Share – Compare existing prospects and customers against NAICS business count by ZIP code
Marketing Campaign Targeting by Location – Focus Ad Words or direct mail marketing campaigns on the market areas with the most potential by geographic area of interest
Design Sales Territories – Combined analysis of existing customers and market potential drives the design or adjustment of sales territory boundaries and assignments
Infrastructure Analytics – Access travel industry data points such as airports, car rental locations, gas stations, electric car charging stations, and hotels and conduct market analysis
Proximity & Distance Analysis - Optimize logistics for sales team presence, sales channel locations, outlets, office locations, support and warehouse locations. Optimize operations to cover areas with highest growth potential
Competitive / Complimentary Analytics - Identify competitive locations and estimate competitive market share. Locate complementary locations (e.g. proximity to a Starbucks location), to identify areas for future growth
Indexing of Market Potential & Sales Performance Leverage all data points and create two running indexes for each ZIP code: Market Potential and Sales Performance. Create new business in areas with high potential. Protect existing business in areas with high sales performance.
Define the addressable market potential before you commit resources and time.
Access business datasets by NAICS industry sector or by business name, then symbolize and color code your data points to emphasize employee count, establishment counts, or other key market indicators. Identify ZIP codes or regions that reflect your best target market potential. Define your markets before committing resources.
MBO offers up to 250,000 location records per map supporting thorough analysis of your best potential markets. RealDatasets.com provides instant geographic market data used to identify a market potential, to create sales territories, to target marketing campaigns, and to improve everyday sales productivity.
Explore the RealDatasets data catalog
How to use RealDatasets market data in Map Business Online
Contact us for non-standard requests
RealDatasets is designed to support Salesforce.com clients. See RealZips app for Salesforce.com. Supplement your CRM, mapping application or other business intelligence tools with RealDatasets.
Learn How Our Customers are Succeeding with Map Business Online
"I use it daily to visualize customers and sales territories, and to plan sales trips. It's so intuitive."
Jeanne Gazlay
Life Brokerage sales Director
Mutual of Omaha

"Map Business Online one of the most powerful tools I have as a Regional Channel Manager. It's a difficult task to visually represent the vast amount of data that I have to present to my customers and team members. MBO makes it easy to represent, configure, and manipulate the data on to an effective map. A picture is worth a thousand words, and MBO allows me to create a perfect picture."
Ed Ku
Regional Channel Manager
ABB
DPS is the leading provider of timely, relevant and motivational promotional materials for automotive dealerships. Their business strategies drive customer loyalty and sales revenues. Their sales manager uses MBO to create and manage sales territories and describes MBO this way,
"The product is phenomenal and the support even better."
Dealer Product Services (DPS)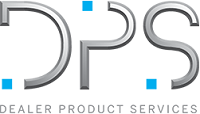 Popular Map Business Online features