Healthcare Mapping Software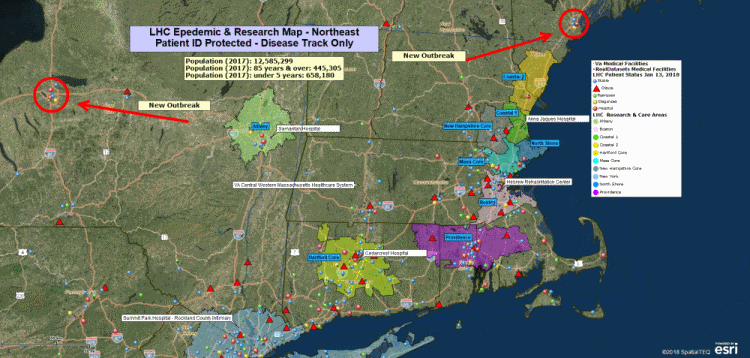 to Visualize Your Patients and Hospitals Today! – Take a FREE 1-month trial
Hospital Systems ● Home Care ● Home Hospice ● Dentistry ● Physical Therapy ● Medical Device Co. ● Palliative Care ● Assisted Living ● Home Aides ● Medical Training
The goal of any healthcare organization is to provide the best possible patient care. Finding ways to make the most effective use of all available resources is essential for optimum quality care. In fact, it can be a lifesaver in an emergency. Mapping software from MapBusinessOnline is an easy-to-use healthcare data mapping solution that can help hospitals and other caregivers make better decisions and allocate resources with greater efficiency.
Healthcare Mapping Software for Efficient Delivery of In-Home Medical Services
As the number of people living to the age of 80 and beyond continues to increase, a greater emphasis is being placed on in-home healthcare services. Our healthcare mapping software can help nurses, therapists and other health aides to more efficiently plan home visits. They'll be better able to manage patient medications, plan in-home therapy sessions, and perform post-operative checkups.
MapBusinessOnline route optimization now includes time windows. Time windows add a whole new level of control to Healthcare business mapping. Now traveling clinicians and aides can manage appointment times and deal with adjustments to schedules.
Import patient and resource address databases for accurate, color coded map views
Import anticipated patient addresses with appointment times and estimated visit durations.
Reschedule on the fly - use MBO map views of coverage areas to fill in canceled appointment and scheduling gaps
Submit expense reimbursement reports with trip mileages and time estimates.
Through improved route optimization, your team will be able to see more patients in the course of a day and keep travel costs to a minimum. You can plan the fastest or shortest routes, or prioritize the order of the visits based on patient need or clinician priorities.
Team leaders or schedulers use MapBusinessOnline to import and view patient and clinician locations. Color coded clinician location points help to organize routine patient call planning and serve as a stepping off point for emergency planning.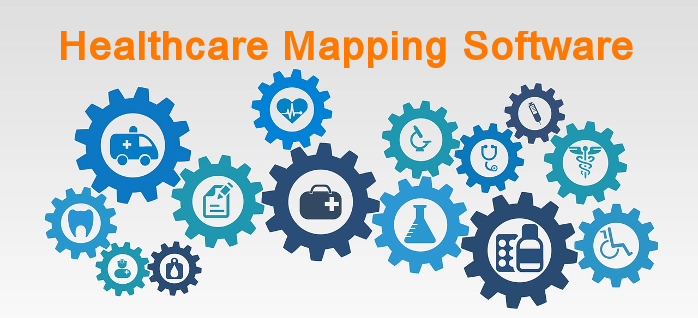 Faster Decisions in Emergency Situations
Healthcare data mapping allows you to know where your patients are relative to your clinicians start locations. By being able to compare your patient census to your staff locations, you'll be able to make faster decisions during the usual hectic hospital release days or during emergency situations, such as mass-casualty incidents, freak storms, or flu epidemics.
Don't waste precious time sifting through Excel spreadsheets to find key location data. Instead, secure the ability to instantly visualize clinician and patient locations on a map. Remember, maps can help when the road signs are down.
Share interactive web maps of critical resources with central and traveling staff
Allow remote mobile clinicians to adjust and create optimized routes on the fly
Design coverage area ZIP codes maps that assist planning decisions and balance loads.
Hospital Systems Planning
Hospitals systems, like all businesses, need to grow to survive. Business mapping can put the amalgam of healthcare related businesses in a surrounding area into perspective. Import multiple health-related business address databases with pertinent patient and profitability information.
For example, view all the physical therapy businesses in the area color coded by insurance partners or by skill sets. Append all the important data you require and then share your business map with constituents for informed decision making.
Shared maps are the perfect center piece for expansion project planning sessions. Secure input from external departments and business partners through shared map editing.
Set-up shared map editing services encouraging problem solving between key project leads
Visualize citywide healthcare services databases for system enhancement planning
Create business analysis maps based on medical services, revenue generation or growth.
Enhanced Site Planning Capabilities
Healthcare mapping software can be an extremely effective tool for selecting a site for building a hospital or clinic. For instance, if you're planning to build a cancer treatment facility, you'll be able to plot data related to where cancer patients live within a specific area over a period of years. This will help you choose the best location for a new facility. Likewise, if you're planning to construct an assisted living facility, you'll be able to select a site that provides easy access to nearby support services.
Some healthcare facilities are better suited to treating specific types of ailments than others. Through efficient healthcare data mapping, it becomes easier to match the patient with the nearest facility offering the most appropriate treatment for their condition. Easily share these medical systems maps with constituents to support patient care services.
Why Choose Healthcare Mapping Software From MapBusinessOnline?
Affordable MapBusinessOnline offers an impressive healthcare data mapping service that features the easiest user interface on the market. Benefit from the most reliable map data compiled by the world's leading GIS experts, so you can make critical healthcare management decisions with complete confidence. We also offer the best technical support in the industry.
Harness the power of where for your healthcare organization today.
MBO Features that Specifically Benefit Healthcare Organizations
Import up to 250,000 location records per map for healthcare systems visualization
Color code field staff by skill set or patient by diagnosis for fast visual identification
Create medical planning maps & coverage areas by market or city district
Create optimized travel routes with time windows to maximize efficiencies
Share maps for collaborative team editing and problem solving
Create demographic map analysis for marketing and business expansion planning
Build dot density maps that describe patient clusters or epidemic extents
Generate market analysis and data segmentation supporting marketing campaigns
Contact Us for a Free 1-Month Trial
A great way to find out if our healthcare mapping software is right for your facility is to take advantage of our free 1-Month trial offer. Register today to receive your no-risk trial!
Learn How Our Customers are Succeeding with MapBusinessOnline

"MapBusinessOnline one of the most powerful tools I have as a Regional Channel Manager. It's a difficult task to visually represent the vast amount of data that I have to present to my customers and team members. MBO makes it easy to represent, configure, and manipulate the data on to an effective map. A picture is worth a thousand words, and MBO allows me to create a perfect picture."
Ed Ku
Regional Channel Manager
ABB
"You guys are awesome! I used the MapBusinessOnline trial to get promoted to a sales position within my company. I showed them how I would work my territory with great MBO printed maps that showed projected sales dollars by account locations. I got the Job!"
Jeff Krieger
Territory Manager
Mizuno USA

"I have been using MapBusinessOnline for about 8 months and couldn't be happier with the services it provides. I have employees and myself who map around 250 routes monthly for our sales team. The interface is easy-to-use and the abilities are exactly what I need. My sales team finds the maps and step by step routes easy to follow and accurate. My store lists change every quarter and the uploading system allows me to quickly upload a new list and categorize the account by priority using colors and shapes. I have also used the heat mapping capabilities and found those easy to customize and quick to use. As with any advanced software, this does take a week or two to learn the more complex features, but it is well worth the time invested. This is the software I would have designed if I was to create one myself. Great job!!!"
Bill Hanavan
Director of Operations
Strategic Retail Solutions