Locate Target Markets with MapBusinessOnline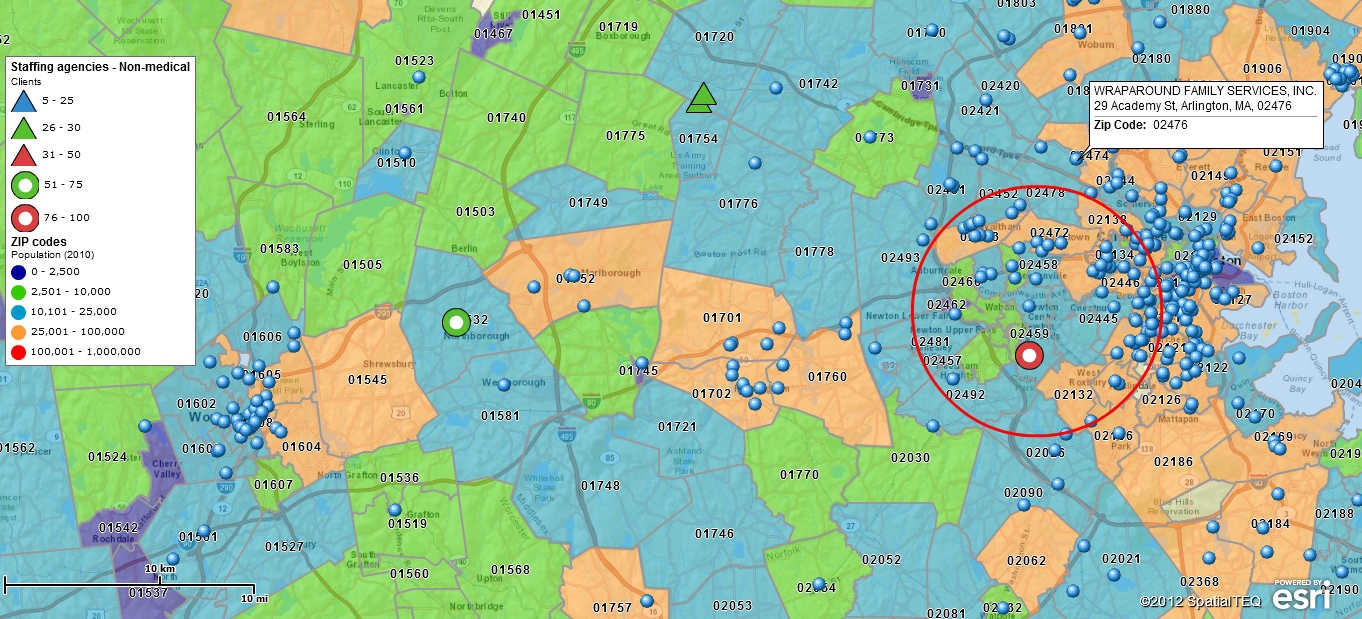 to Use #1 Business Mapping Software to Locate Target Markets! – Take a FREE 1-month Trial
Getting your product or service to the people who need it most is the first — and most important — priority of any business. In the past, marketers and sales teams relied on time-worn techniques, ranging from multimedia promotional campaigns to pounding the pavement. Isn't it time you took a more data-driven approach to this critical task?
Target market mapping isn't a replacement for conventional sales and marketing. Instead, it's a way of making these initiatives smarter and more effective, improving your team's productivity and ultimately delivering the bottom-line results you need to grow.
How It Works
Mapping a target market involves identifying factors common to your desired customer base and putting them in a geographic format. In doing so, you can see where you should be directing your efforts and allocate resources accordingly.
How this works in practice will be different for each business. For example, if your goal is to attract a more upscale clientele, you may wish to create a target market analysis map based on average income or home value. If you want to reach out to repeat customers, you can import your own sales data and refine it by age, sex or other demographic factors.
Why It's Useful
Target market mapping helps you drill down on the core demographics that make up your customer base. If you're an established business, it allows you to see your sales data from a new perspective and can lead to insights that will assist in creating more effective marketing campaigns in the future. If you're launching a new product or rebranding in an effort to expand your clientele, target market mapping makes the process smarter and more effective by showing you where you should direct your efforts.
Target market maps are also useful tools for presenting ideas to upper management, as they showcase sales and demographic data in a visual format that's unbiased and easy to understand. Whether you're brainstorming new ideas, planning the specifics of a campaign or soliciting buy-in from others in your organization, target market analysis maps are a vital part of any marketer's toolkit.
Using MapBusinessOnline to Locate Target Markets
Creating accurate target market maps requires powerful software and up-to-date information. MapBusinessOnline is an intuitive application that imports data from QuickBooks, SalesForce and other enterprise sales platforms, and overlays it with recent census data, giving you an accurate picture of who your customers are and where they live.
MapBusinessOnline is highly versatile while remaining easy to use and affordable enough for any business. Keep browsing our website to explore our mapping software's advanced functionality and discover for yourself why it's the best target market mapping software available today.
To arrange a free 1-month trial or request a demonstration, contact MapBusinessOnline today.
Learn How Our Customers are Succeeding with MapBusinessOnline

"This software is a game changer for me in the workplace. Easy to use tools and a fast system to do the job efficiently and effectively every time. I've been able to build more territories with confidence, bringing my team more growth opportunities for 2019"
Daina C.
Franchise Development Manager
Amada Franchise, Inc.

"We use MBO for event planning at cities all across the USA. It's easy and fast. It blows away the other applications we tried."
Kristine Gates
Strategic Accounts Sales Manager
Extend Health
"You guys are awesome! I used the MapBusinessOnline trial to get promoted to a sales position within my company. I showed them how I would work my territory with great MBO printed maps that showed projected sales dollars by account locations. I got the Job!"
Jeff Krieger
Territory Manager
Mizuno USA
Popular MapBusinessOnline features