Locate Target Markets with Map Business Online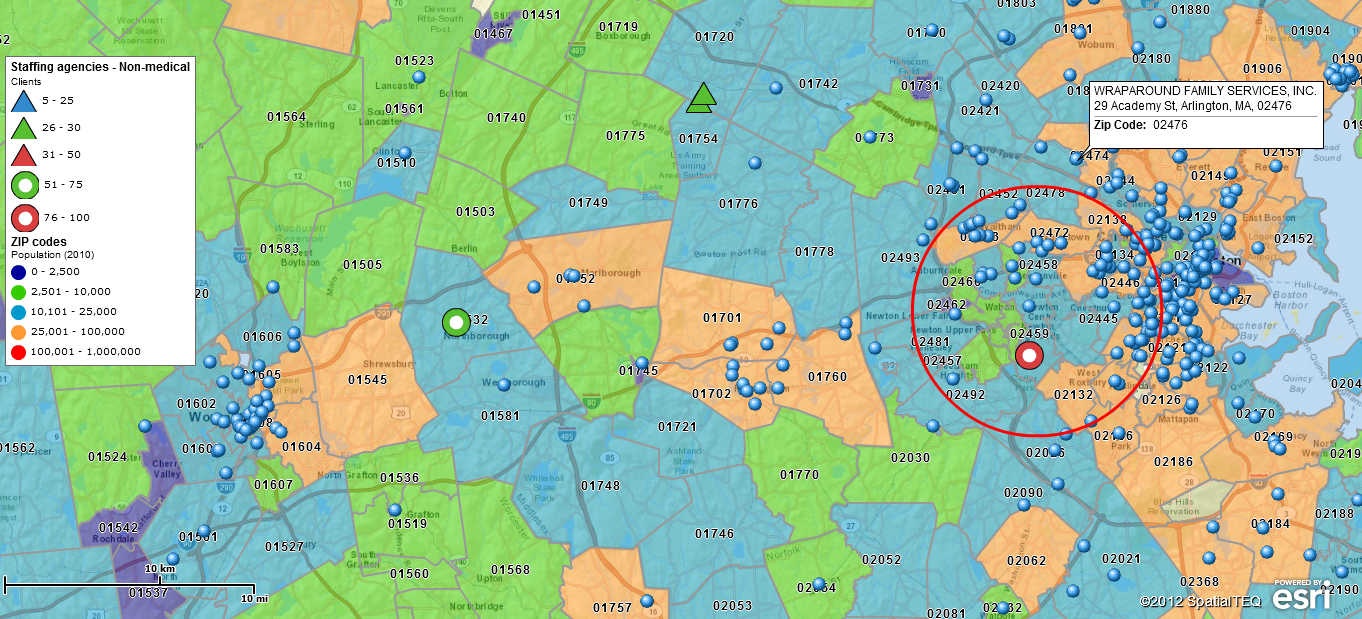 to Use #1 Business Mapping Software to Locate Target Markets! – Take a FREE 1-month Trial
Getting your product or service to the people who need it most is the first — and most important — priority of any business. In the past, marketers and sales teams relied on time-worn techniques, ranging from multimedia promotional campaigns to pounding the pavement. Isn't it time you took a more data-driven approach to this critical task?
Target market mapping isn't a replacement for conventional sales and marketing. Instead, it's a way of making these initiatives smarter and more effective, improving your team's productivity and ultimately delivering the bottom-line results you need to grow.
How It Works
Mapping a target market involves identifying factors common to your desired customer base and putting them in a geographic format. In doing so, you can see where you should be directing your efforts and allocate resources accordingly.
How this works in practice will be different for each business. For example, if your goal is to attract a more upscale clientele, you may wish to create a target market analysis map based on average income or home value. If you want to reach out to repeat customers, you can import your own sales data and refine it by age, sex or other demographic factors.
Why It's Useful
Target market mapping helps you drill down on the core demographics that make up your customer base. If you're an established business, it allows you to see your sales data from a new perspective and can lead to insights that will assist in creating more effective marketing campaigns in the future. If you're launching a new product or rebranding in an effort to expand your clientele, target market mapping makes the process smarter and more effective by showing you where you should direct your efforts.
Target market maps are also useful tools for presenting ideas to upper management, as they showcase sales and demographic data in a visual format that's unbiased and easy to understand. Whether you're brainstorming new ideas, planning the specifics of a campaign or soliciting buy-in from others in your organization, target market analysis maps are a vital part of any marketer's toolkit.
Using Map Business Online to Locate Target Markets
Creating accurate target market maps requires powerful software and up-to-date information. Map Business Online is an intuitive application that imports data from QuickBooks, SalesForce and other enterprise sales platforms, and overlays it with recent census data, giving you an accurate picture of who your customers are and where they live.
Map Business Online is highly versatile while remaining easy to use and affordable enough for any business. Keep browsing our website to explore our mapping software's advanced functionality and discover for yourself why it's the best target market mapping software available today.
To arrange a free 1-month trial or request a demonstration, contact Map Business Online today.
Learn How Our Customers are Succeeding with Map Business Online

"In a large company, with many layers of sales teams, sales management, territories, operations teams and distribution, it is vital to have a solution to quickly and easily display country and regional maps. I have tried multiple other mapping solutions in the past only to be frustrated by their limitations or by their complexity. Map Business Online perfectly fits my need. MBO has the versatility to allow me to build somewhat complicated maps but also allows me to knock out the quick, one-off request. MBO continues to add features and I am excited to see what new features come out next."
Dave Perek
Sr Business Analyst
Schneider Electric


"I just wanted to say thank you for this amazing mapping tool! I've tried a number of sales territory map solutions and this is by far the best. I just (finally!) switched over from MapPoint and this is so much better, I wish I had switched sooner. Your videos and blog are also really helpful, though most things I have figured out on my own. It looks like I also have a lot more to discover as I explore the data visualization tools. Thanks again!"
Andrea Harrison
Business Analyst
Brainlab, Inc.

"Map Business Online has made it easy for DriSteem to locate and compare Rep territories. Every single person in our office has a map from Map Business Online at their desk and refers to it daily. We are thankful to be using Map Business Online for developing our business and outside sales representative team!

Thank you Map Business Online!"
Abby Rogers
Marketing Coordinator
DriSteem Corporation

Popular Map Business Online features