Map Business Online – Your MapPoint Alternative
Enjoy Similar Features, Pricing & Ease-of-Use. Import MapPoint Maps!
Microsoft MapPoint Was Discontinued
For over a decade Microsoft MapPoint has been one of the leaders in the desktop business mapping software market before it was discontinued by Microsoft in Dec 2014. The last version of MapPoint was MapPoint 2013. There will be no MapPoint 2016 or MapPoint 2017.
Map Business Online is Your Best Option to Replace MapPoint
MapBusinessOnline.com (MBO) is the perfect alternative to MapPoint. We bet you will find it very similar and easy with recent maps and data, world technical class support and without complexity of traditional GIS. MapBusinessOnline.com is a Cloud-based mapping service providing business mapping capabilities since 2010. MBO was developed by the same team that originally created Esri's BusinessMAP – a desktop mapping alternative to MapPoint for a decade.
Since end of 2014 many ex-MapPoint users selected Map Business Online as the best replacement for MapPoint because:
Only MBO has almost identical feature set & price. MBO and MapPoint have similar UI concepts.
MBO is one of a few map products that can automatically open your MapPoint maps.
MBO has recent maps, address and demographic datasets.
MBO runs on Windows & Mac. It is available as Downloadable App & Web App.
MBO provides great & personalized technical support. We help MapPoint users to get up and running with MBO.
- Take a FREE 1-month Trial
Three Top Reasons to Stop Using MapPoint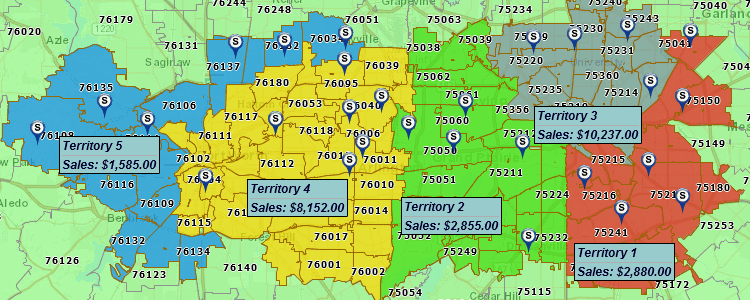 ①
MapPoint maps & data become obsolete. You really want to make accurate business decisions with recent maps and latest demographic data. Recently we helped a former MapPoint customer to migrate a census tract territory map to MBO. Boy, MapPoint still has census tracts older than 2010. But what is even worse and many users don't realize: MapPoint has out-of-date ZIP code boundaries.
②
MapPoint is unsupported. Imagine installing MapPoint on a new laptop running Windows 10. Or trying to figure why data visualization features have stopped working. Nobody from MapPoint support is there to help you.
③
MapPoint is not cloud-based. For some it may sound like a benefit, as you don't need to upload your data into the Cloud. But think again. Guess, who has more power to provide the best security options: a small/medium-sized business or giants like Microsoft running their Azure cloud for millions of businesses? The answer is evident. Plus with the classic desktop app you have limited collaboration choices. Compare it to cloud-based business mapping software: you can access your maps from any device and you can share a map as easily as sending a web link!
What is Map Business Online?

Map Business Online provides a complete set of business mapping features, transitioning your business mapping operations from the desktop to the web while offering most of MapPoint's major business mapping features:
Available as Windows or macOS App and Web App. Our Windows and macOS App utilizes the same famous MapBusinessOnline.com cloud facilitating map sharing and latest maps access.
Runs on Windows (including Windows 10) and Mac. Finally you have a solution similar to MapPoint on Mac OS X.
Automate your business mapping tasks with Map Business Online Automation SDK
Import and display up to 100,000 records in just a few minutes
Create and manage sales territories that drive accountability into your processes. Create territories defined by state, county, ZIP code and other geographies not available in MapPoint.
Includes the most recent and accurate base maps available!
Share or embed interactive web maps – difficult to do with desktop software.
Access your maps from anywhere – just connect in to Internet!
Color-code and symbolize your business data in a variety of ways
Improve sales and delivery productivity with optimized route planning
Access latest demographic data supporting your business expansion plans
Conduct drivetime analysis – search areas and business data by drivetime polygons
Print large format maps – up to 60" by 60"!
Embed map presentation graphics in PowerPoint presentations
Display sales result numbers in district labels, territory labels, or pop-up labels
Compare multiple datasets using our new market Analysis tools
Includes 5 & 3 digit zip codes, Census tracts, counties, states, city limits, & MSA's
Display sales hot spots using Heat Map views
Color code your data by zip, county, city or state
Support address geocoding in the US, Canada and the UK
Supports QuickBooks, Act! and Salesforce.com users
Unsurpassed technical support for the uninitiated user
No other Web-based business mapping service provides this level of functionality at such affordable prices. Our territory mapping tools are the second to none. Sign up for our 1-Month FREE trial today!
Get Started With Map Business Online Risk-Free
Selected Map Business Online features
See more features
to Try MBO – The Best MapPoint Alternative – Take a FREE 1-month Trial