Radius Maps for Business Planning
Event Planning, Marketing Campaigns & Sales Call Planning
What is a Radius Map?
Radius mapping is the process of creating a circle around a specific point on a map, such as a city address or area latitude/longitude point. When it comes to creating a business operating area of interest, you can use a radius map to query imported data or to gather ZIP codes or counties for export.
Here's an example of how radius mapping can be applied to a sales situation. Suppose you're opening a new sales office in a specific geographic region and you want to target your sales efforts within 50 miles of your new headquarters. You can use radius mapping to create a visual circle that extends 50 miles in every direction from your office. You'll be able to easily determine what data points (customers, stores, ZIP codes, counties, cities, etc.) exist within that circle. Consequently, mapping a radius helps you to more easily visualize your sales opportunities, and more effectively deploy your sales staff and marketing resources.
MapBusinessOnline.com Makes Radius Mapping Easy
Easily create radius maps using MapBusinessOnline.com business mapping software. Simply select a center point with the Radius Search tool and create a circle or radius map of your target area by dragging your cursor. Or drop a new point on the map and use the new point toolbar to select the distance of your radius. Save your selected data as a marketing list, market area, or territory and export the data to Excel. To share your Radius map, embed it in PowerPoint presentation, or create a shared interactive web map.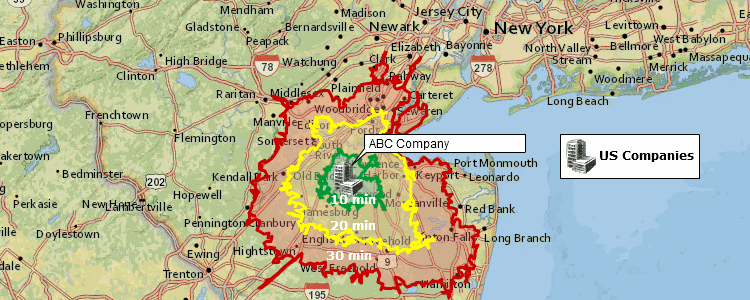 With MapBusinessOnline.com You Can Do More:
Add drive time or distance radius to a map
Insert maps with radius images in PowerPoint presentations or Print large format Radius maps
Search and Segment imported business data using radius maps. Import lists and display customer locations and radius search their proximity to sales rep homes, hotels, or airports
Look up ZIP codes or counties by map radius and export for use in third party apps
Query Census data by radius - collect and export population, income and household info
Generate call lists and prospect lists using radius maps then efficiently route sales reps to customer locations with turn-by-turn directions
Review sales penetration by accounts located within a map radius or circle
Build marketing campaigns using customer and prospect lists radius maps
Plan sales trips using radius map queries – create efficient multi-stop vehicle routes
Share interactive radius web map views with constituents
Benefits of Radius Mapping
Radius maps are powerful tools for business development and strategic planning. When they are properly deployed, using accurate and current demographic data, they offer several benefits to organizations of any size. These include:
Visualizing your competition and customers. ZIP code radius mapping software lets you focus on specific areas to determine whether or not they're adequately served by either your organization or your competition. This, in turn, helps you identify areas that are ripe for expansion and ensures your resources are directed where they will be most effective.
Drilling down on industry or location-specific data. When you create a radius map with MapBusinessOnline, you can populate it with the data of you choose. These map visualizations, using your existing business intelligence, provide a new, geographic perspective that can help you identify trends and assess risks and opportunities more effectively.
Improving staff assignments and route planning. From helping your sales team reduce travel times to having technicians available to respond to incidents faster, a radius map can benefit businesses in a wide range of industries. Mapping a radius helps with route optimization and resource allocation by identifying where your team is needed most and helping you make more efficient and informed decisions.
Radius mapping software is useful for retail operations, franchise businesses, service and maintenance providers, insurance companies, real estate agencies and more. Keep exploring the MapBusinessOnline website to learn about the various features and functionalities that can benefit your organization.
Recent Improvements
MapBusinessOnline is constantly evolving to make business mapping data more accessible to users. The most recent update includes several new and enhanced features, including:
Improved territory design and management, with the option of creating custom regions and divisions that more accurately reflect your business structure
More editing options, with additional labeling, color-coding and transparency tools that allow you to make more impactful and communicative maps
Enhanced tools for developing optimized routes and sharing them with team members in a variety of formats
Updated demographics and market analytics, giving you a clearer picture of the people and businesses within a given mile radius from a ZIP code.
See MapBusinessOnline in Action
Request a demo
Learn how to create radius maps for your business from our support articles below:
Learn How Our Customers are Succeeding with MapBusinessOnline
"We use MapBusinessOnline to prepare for sales meetings. The program's territory mapping enables color-coded sales territories by zip-code helping to define sales responsibilities and keeping our focus on selling."
Christie Shedd
Operations Manager
AFTCO Bluewater
MVP Sports Clubs is a sports and health facility management and development company with operations in Central Florida and West Michigan. MVP uses MapBusinessOnline to construct demographic map profiles of a radius surrounding each of their many sports clubs. Such market analysis helps MBO users develop a better understanding of their business which makes strategic planning more effective.
"MBO users develop a better understanding of their business which makes strategic planning more effective."
Mark Hope
Business Manager
MVP Sports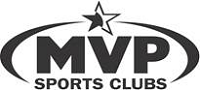 "This software is a game changer for me in the workplace. Easy to use tools and a fast system to do the job efficiently and effectively every time. I've been able to build more territories with confidence, bringing my team more growth opportunities for 2019"
Daina C.
Franchise Development Manager
Amada Franchise, Inc.

Popular MapBusinessOnline features
Related solutions