Sales Planning with Web Maps Sales Preparation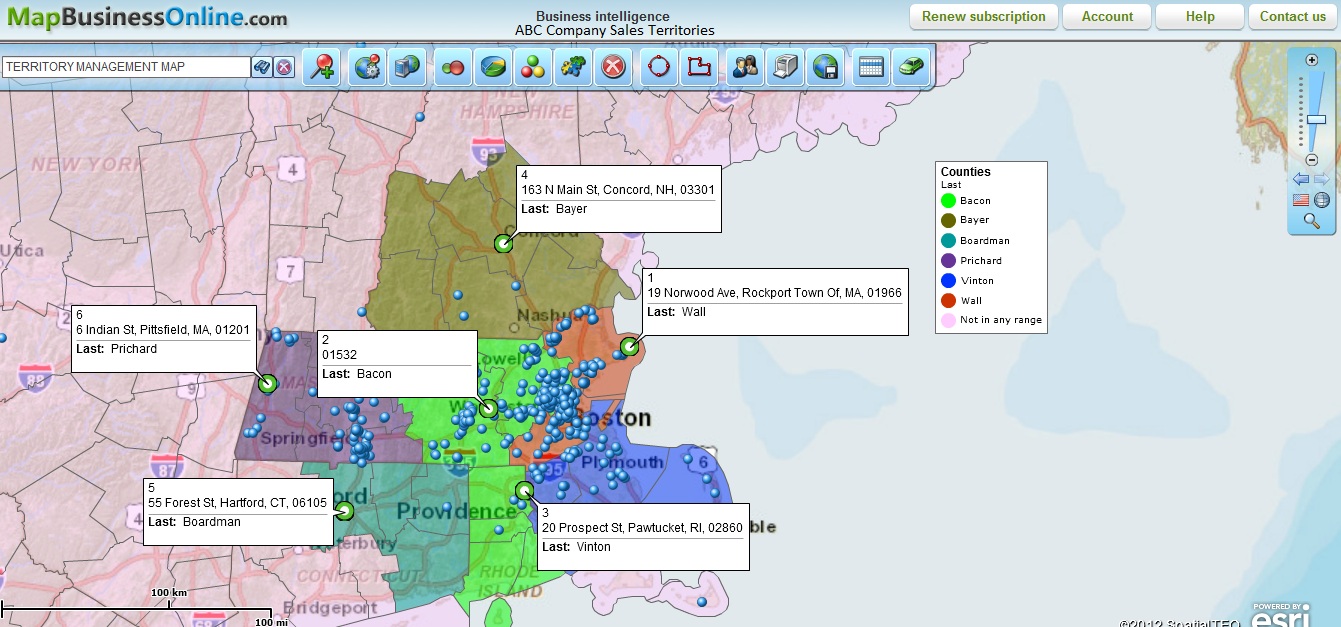 to Add Power of Maps to Sales Planning – Take a FREE 1-month Trial
"Sales is 75% luck and 25% preparation for when luck hits." – A lifelong successful sales executive
Sales projections are subject to change. Sales deliverables are at the mercy of unpredictable factors including the economy, the competitive environment, and the buyer's whim. But there are elements impacting sales that are traceable and predictable, and one of those elements is geography. The location of sales activities, sales territories, and customer areas of operation are knowable. These location points related to selling can be visualized, analyzed and exploited using business web maps. They should be part of a successful sales person's 25% preparation.
Business mapping tools are now common supplements to CRM and sales management software tools. These typically cloud based software services are extremely affordable and have minimal impact on a busy IT department. These map tools convert imported customer and prospect address lists or spreadsheets into patterns and possibilities – the basis for a plan.
Import Your Business Data
First and foremost Web Maps can help visualize a sales plan. Projected sales numbers can be displayed geographically to reflect sales by region or section. When displayed against population data or pertinent product sales information, these map visualizations can clearly show were greater effort might lead to desired results. Thus map visualizations can inform sales planners of potential markets and suggest activities that might be implemented to drive sales.
To make sure sales activities take place in a timely fashion, sales territory accountability can be assigned using web maps. Nothing outlines accountability for sales better than a color-coded area on a web map. Whether the plan calls for state, county or zip-code level activity, common web mapping tools will display sales zones with absolute clarity making sure inside and outside sales people know where their activities will be focused and who is held accountable.
Sales Plans typically include budgets for travel and conferences, scheduled out over a period of time. Web business maps can help define and control both travel and sales activities, like conferences or sales trips, by enabling efficient planning tools.
Sales Planning With Maps
Developing a conference schedule covering a six to twelve month period provides a rough estimate of projected sales travel for an entire year. By using web maps to plan visits sales people can maximize exposure to customers while controlling costs. Web maps let users import both customers and prospects on to a map background for easy visualization of exact locations. Radius searches enable segmentation of customers within a defined radius. Users can save and export subset lists to 3rd party marketing or CRM applications for prospect notifications; let them know you'll be in town or invite them to your conference booth. Based on marketing results, a sales person may decide to stay a few extra days, rent a car, and go visit those key contacts that missed the conference. Be sure to route efficiently to keep fuel costs in line with travel budget projections.
Few things help controls sale's costs better than efficient sales trips. Smart sales people use web maps to display prospects and customer on a map. Choose the customers you will visit based on their proximity to your point of departure - hotel, airport or home. Often multi-stop routing tools can be applied to improve efficiencies and provide the optimum routes based on all factors – schedules, distances, road speeds, and even turn restrictions.
Typically web map views can be saved in standard file formats, like JPEG, PNG or PDF for sharing. Illustrations always liven up a PowerPoint presentation, and colorful maps will inform your audience of the critical elements supporting major presentation messages. Display cost savings for the CFO showing travel cost reductions using maps or, more importantly, show sales increases in the areas assigned at the beginning of the year. Nothing plays better than increased sales numbers and associating them with a colorful map image can make a business map user look like the next sales director. Luck indeed!
Affordable Business Maps to for Sales Planning, right now.
Register online for 1-month FREE trial today!
Learn How Our Customers are Succeeding with MapBusinessOnline

"I have been using MapBusinessOnline for about 8 months and couldn't be happier with the services it provides. I have employees and myself who map around 250 routes monthly for our sales team. The interface is easy-to-use and the abilities are exactly what I need. My sales team finds the maps and step by step routes easy to follow and accurate. My store lists change every quarter and the uploading system allows me to quickly upload a new list and categorize the account by priority using colors and shapes. I have also used the heat mapping capabilities and found those easy to customize and quick to use. As with any advanced software, this does take a week or two to learn the more complex features, but it is well worth the time invested. This is the software I would have designed if I was to create one myself. Great job!!!"
Bill Hanavan
Director of Operations
Strategic Retail Solutions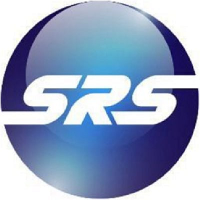 "We've tried the REST now we are using the BEST. After searching and trying other mapping programs for our delivery operations team and finding that we just couldn't get all the features that we required, we finally found MapBusinessOnline. Not only did it have all the features we needed including Longitude/Latitude and optimizing delivery routes, but it provided us tons of other bells and whistles. MBO proved to be a superb tool for our operations team to create routes and territories with the click of a few buttons while also allowing our reporting team to make beautiful maps that help our executive team visualize the story the data was telling. We are using this for the 2nd year in a row and will be renewing when it is time again. We pride ourselves at offering cutting edge applications to our millions of readers and subscribers worldwide and love that MBO helps us stay ahead of the technology curve by continuing to update their product and features. The release of MBO for the Desktop was a great addition and only helps make using the product even easier. To the staff at MBO — Keep up the great work!"
Dow Jones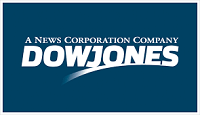 "I have had the pleasure of using MapBusinessOnline for the past 5 years and it is an excellent and affordable tool for my clients. I am a franchise consultant, and many of my clients are just starting to get into franchising. The first main question many of them have is they don't know the demographics around their current location, so they don't know how to create territories for their franchisees. I am able to easily utilize MapBusinessOnline to draw a prototype territory around their existing location, do a deep dive into the many different demographics that MapBusinessOnline offers, and help the client determine the basics of their new territories, including mileage, population, household count, purchasing habits and age distributions. This tool has been so helpful that many of our clients obtain their own accounts as they begin to sell franchises and grow their business. Thank you, MapBusinessOnline, for providing such a helpful tool that is affordable and easy to use!"
Colette Bell
Director of Business Development
SMB Franchise Advisors
Popular MapBusinessOnline features