Map Business Online – A Preferred Alternative to eSpatial
Get More Value using Map Business Online
and Upgrade to Advanced Business Mapping Solution at Reasonable Price - Take a FREE 1-month Trial
Map Business Online is an excellent alternative to eSpatial and other business mapping tools. Customers in a wide range of industries use it to plot their proprietary data in a geographic context. Here's why it's an excellent choice for your business.
Common Features
eSpatial and Map Business Online are industry-leading platforms for market analysis and strategic planning. Both programs offer similar core functionality, including:
Integration with Salesforce and other leading CRM platforms, as well as the ability to import datasets from an Excel spreadsheet
A wide range of editing tools, allowing you to label and color-code different regions and create more attractive maps
Interactive data manipulation, allowing you to draw up sales territories and explore different scenarios for site selection and other tasks
Route planning features that show you where your customers are and help you determine the most efficient way to get to them
Cloud-based architecture that allows for remote collaboration and sharing custom maps, while preserving file integrity and keeping your technical requirements to a minimum
Cross-platform functionality, with support for both Windows and Mac systems
Why Choose Map Business Online Over eSpatial?
While it's clear that Map Business Online shares similar tools and capabilities with eSpatial, two key things set it apart from the competition:
Pricing: Map Business Online is the most affordable business mapping solution available today. Pricing starts at just $500.00/year ($350.00/year for on-time renewal) for a single user plan, which includes cloud-based storage for up to 200 maps and 250,000 locations. Compare that to eSpatial which charges $1,200 for an annual single-user license.
Support: Map Business Online users enjoy access to one of the best support networks in the industry. One-on-one assistance is available by phone or email. There's also an extensive selection of help videos, case studies and other documents that walk you step-by-step through some of the most common mapping tasks.
Map Business Online's low pricing is great for your bottom line, while its world-class support keeps your team productive. Both of these factors contribute to your profitability and ultimately to the sustainability of your business. It's for this reason that more organizations are choosing Map Business Online as their preferred alternative to eSpatial.
See for Yourself With a Free 1-month Trial
The best way to see why Map Business Online is such a good eSpatial alternative is to download it and try it for yourself. Sign up for a free 1-month trial online or contact the MBO head office directly for assistance.
See Map Business Online in Action
Request a demo
Learn How Our Customers are Succeeding with Map Business Online

"Map Business Online one of the most powerful tools I have as a Regional Channel Manager. It's a difficult task to visually represent the vast amount of data that I have to present to my customers and team members. MBO makes it easy to represent, configure, and manipulate the data on to an effective map. A picture is worth a thousand words, and MBO allows me to create a perfect picture."
Ed Ku
Regional Channel Manager
ABB

"In a large company, with many layers of sales teams, sales management, territories, operations teams and distribution, it is vital to have a solution to quickly and easily display country and regional maps. I have tried multiple other mapping solutions in the past only to be frustrated by their limitations or by their complexity. Map Business Online perfectly fits my need. MBO has the versatility to allow me to build somewhat complicated maps but also allows me to knock out the quick, one-off request. MBO continues to add features and I am excited to see what new features come out next."
Dave Perek
Sr Business Analyst
Schneider Electric

This leading North American reseller of hardware and software supports millions of businesses worldwide. We get regular calls from SHI representatives who need to offer a MapPoint replacement or to simply provide business mapping software for a corporate or government account. SHI customers include users of annual subscriptions for the USA and Canada as well as collaborative Team Editing subscriptions for corporate accounts.
Software House International (SHI)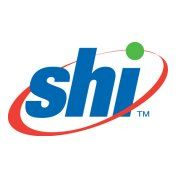 Popular Map Business Online features