Find address
This article describes how to find location on map.

Use MapBusinessOnline search box to find city, ZIP code, or address.
Let's say you want to find Redlands, CA. Enter city name into Search box and click Binocular icon.

Map will center on Redlands, CA and zoom to Streets level.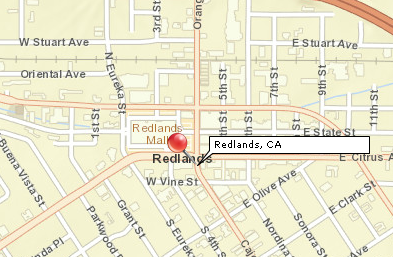 MapBusinessOnline keeps only last found location on map. If you want to see multiple locations create Excel or text file with data and plot it on map as described in this article: Plot data from Microsoft® Excel.
You can clear pushpin and callout for found location. Just click Clear icon to the right of Search box.

Following example shows how to search plotted dataset by name.
Let's say you plotted list of client companies on map and you want to find client with particular name. You can't remember full company name but it contains word California. Just enter California into Search box click Binocular icon.
If only one such company exists then company's location will be selected and Map will zoom to it. If multiple companies with name containing California exist then list of them will popup. Click any of companies in the list to get that company's location selected and zoomed.