Aggregate customer data
This article describes how to count and aggregate customer data for each store in a dataset to create a market area profile. Use the feature, for example, to estimate potential revenue from your stores base on a dataset of potential sales by ZIP code.
Start by plotting your customer and store locations on a map. Read this article for detailed instructions.
Click Market analysis icon on the main toolbar.

In the Market analysis wizard choose the Aggregate customer data option.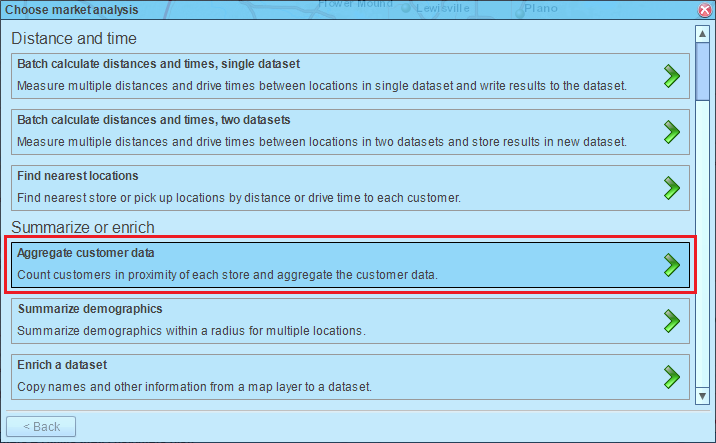 On the next page of the wizard select your customer and store datasets. You have the option to choose a dataset or a marketing list for each position. Select data columns you want to aggregate. Edit column names if necessary. Define market area for each store. You can assign a customer to the nearest store, set a radius for all stores, or select a data column that contains market area radius. In the example below we set 20 miles radius to all store locations. Click Next button when ready.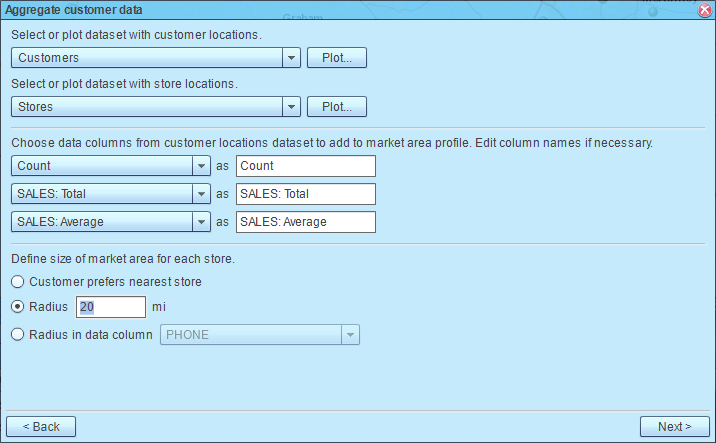 MapBusinessOnline will be showing a progress bar while aggregating your data. Once the market area profile is calculated, you will see the results dialog. Click Done button to exit the dialog.
Now you can see summarized data in the Data window. Use the icon highlighted on the picture below to export the data into a file.