Getting started
Is MapBusinessOnline (MBO) Brand New to You? Please check these simple instructions on getting started.
MapBusinessOnline is a cloud-based application that natively runs on desktop, laptop, and tablet computers operated by Windows or macOS. Start by downloading MapBusinessOnline App's setup program by the link.
Logging In
You'll be using your email address (for example bob@gmail.com) to log into MBO. There's a 'forgot password' link at the login page in case you forget or need to change your password.
Your First Map
Upon opening MapBusinessOnline for the first time you get a map of the United States or Canada, depending on your version. You can Zoom way in or out using the Zoom control in the upper right corner of the map. Notice you can also click the USA flag button to zoom to a full USA view or use the Magnifier glass button to draw zoom rectangles on the map. Click that magnifier off when you are done.

As a business map user you probably want to place business locations on the map. You can input an address in the Address Bar in the upper left-hand corner of the map – edit box next to the binoculars. Click the Binoculars when you're finished entering: Address, Town, State or just key in a ZIP code to zoom to that zip.

Another way to enter a location on the map is to drop down the Draw Tools (small little arrow next to ABC button on the toolbar) and pick the Red Pushpin tool. Now click the map where you want a point placed.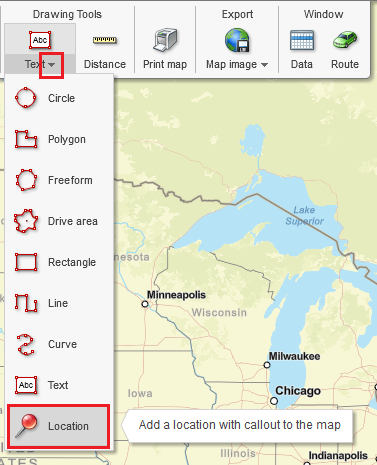 With either address input or pushpin placement a point is placed on the map and a little tool bar shows near that point. That tool bar lets you create a Circle or Drive Time drawing, save the point in a database, or delete the point.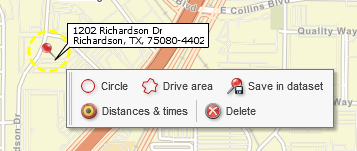 Import a Spreadsheet of Locations
To place multiple points on the map, create a spreadsheet and import it into MBO using the Plot Data button – Red Pushpin with the Plus sign on the main toolbar.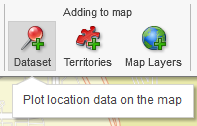 Make sure your spreadsheet is location based with Address split into Street Address, City, State and ZIP code columns, like this (Learn more):
| | | | | | |
| --- | --- | --- | --- | --- | --- |
| Frank Francis | 17 Norwood Ave | Rockport | MA | 01966 | Mow lawn |
| Bill Clinton | 10 Main St | Harlem | NY | 10027 | Find emails |
If your data has nicely named columns like the above example, importing data should be a breeze. After you've browsed to your data you'll just click Plot button to have MBO do the rest of the magic.
Symbolize & Color Code
After you plot data the Data Window appears, so you can see your spreadsheet in MapBusinessOnline. If you like you can color code and symbolize your data at that time. But you don't have to, if you want to focus on other things.
To color-code choose one of several symbolization buttons on the toolbar starting from Green and Red Bubble buttons. Pick your data, choose which column in your data to color code by and select symbols, colors and sizes.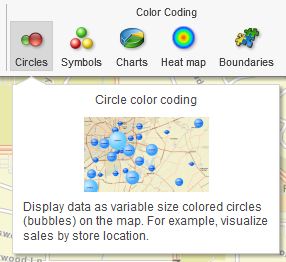 You are now officially a user of MapBusinessOnline. Use the Help button to learn about more processes or go to our YouTube site for video tutorials.