Windows & main toolbar
Map window
Map window is the main MBO window with main toolbar on top of it and Zoom control in the upper-right corner.
Main toolbar
Stop mouse pointer over any button on main toolbar to see its description. That also works for other toolbars. It's really that easy! Note the business or address search box and undo/redo icons on top of the main toolbar.
Map & Data window
Map & Data window contains list of layers (datasets, territory layers and map layers like ZIP codes) available on map. From the window you can:
Switch a layer visibility – check on/off the box on the left of layer name
Reach layer's properties – stop over layer name and click gear icon that will appear
View a layer in Data window - stop over layer name and click table icon that will appear
Delete a layer - stop over layer name and click cross icon that will appear
Change symbol for a dataset – click dataset's symbol
Reposition a layer (change order in which layer appears on map) – press mouse button over layer name and drag it to new position
Map & Data window's toolbar has selection of map views and buttons to access map properties and map filtering feature
To show Map & Data window just click the tab with blue arrow centered on the left side of map.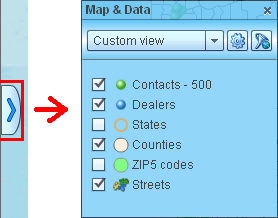 Manage map and data dialog
Manage map and data dialog provides access to all map and map layer properties. Click gear icon at the top toolbar line in order to open the dialog.
Data and Route windows
Read on Data and Route windows by the links below:
Closing windows and dialogs
If you need to hide a window or cancel a dialog just click the cross button in the top-right corner of a window.