Search and segment data from multiple centers
This article describes how to search data within a radius or drive area from multiple center locations.
Related articles: Search data by radius, Search data by drive time or distance
In MapBusinessOnline you can search your customers not only within a radius or drive time from single location but also within radius or drive time (distance) from multiple centers. For example, you can find customers within 20 miles from each store for a special offer campaign.
Start by plotting your customer and store locations on a map. Read this article for detailed instructions.
Click Market analysis icon on the main toolbar.

In the Market analysis wizard choose the Search & segment data from multiple centers option.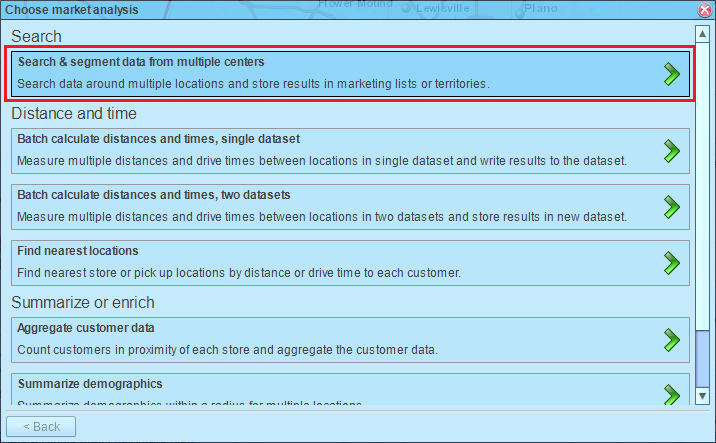 On the second page of the wizard select data with center locations. You can choose a dataset or a marketing list. Select a type of radius between straight distance, drive distance or drive time, and set its value. There is the option to set single radius value for all centers or chose a data column with a radius defined for each center location. For drive time radius you can also choose start time and day of week to tell MapBusinessOnline to use historic traffic data instead of speed signs. In the example below we set 20 miles straight distance radius for all center locations.

If you want a circle or drive area added to each search center on the map, check the respective box and select a drawing style. Click Next button when ready.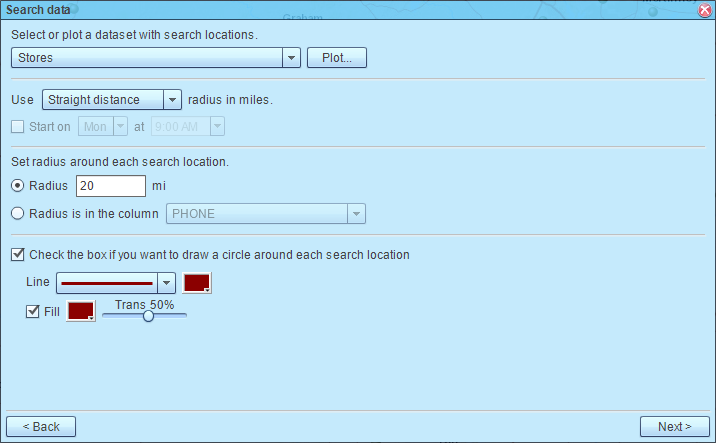 On the next page select a dataset to search. By default, MapBusinessOnline will create single marketing list with all found locations within specified radius from a center location. Check Create multiple marketing lists box to segment found locations by center location instead. Click Next button.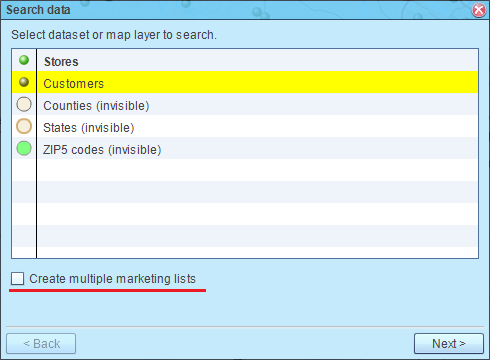 MapBusinessOnline will start searching selected data. Once search results are ready, you will have the options to add found locations to new or existing marketing list, update existing marketing list with found locations, or remove found locations from a marketing list. In this article we choose to create new market list.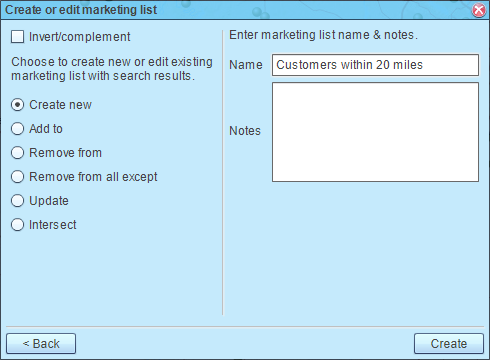 Finally MapBusinessOnline will open the marketing list with search results in the Data window and update the map with search figures.