Segment customer dataset by territory
In MBO you can view the primary territory or territory list for a customer record. In this article we demonstrate how to export segmented customer list into a file that can be then opened in Excel®.
The segmented data export option is available in Data window. Open Data window if it is not already open.
On the Data window's toolbar select your customer dataset.

Click Export button on the Data window's toolbar.

Export data wizard will start. On the first page of the wizard check the "Segment data records by territory" box and choose Territories in the territory layer box. There is also the option to export only records assigned to a territory that you may choose. Click Next button.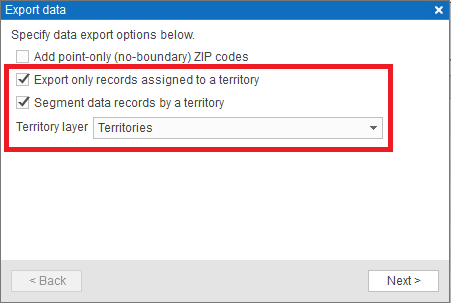 Finish Export data wizard to save the customer record file segmented by territory.