Share interactive map privately
This article describes how to privately share an interactive map with other MapBusinessOnline users.
Related article: Share public interactive map
In Public map sharing you get the map link for a shared map that can be accessed by anybody knowing the link and password on the Internet in the Map viewer without having an account (credentials) with MapBusinessOnline. Map viewer is a limited map app that allows viewing a shared map and performing very basic operations like searching and printing.
On another hand a map shared privately can be opened in fully functional Web App or Windows/macOS App and facilitates advanced collaboration such map editing by a team. To view or edit a privately shared map, one needs a subscription with MapBusinessOnline.
Start by creating a map you want to share.
Once you have your map ready, click Share interactive map icon on the main toolbar.

If the map is in modified state then MapBusinessOnline will save it for you. If the map has never been saved before on the server then Save map dialog will popup. Enter map name and click Save & Share button.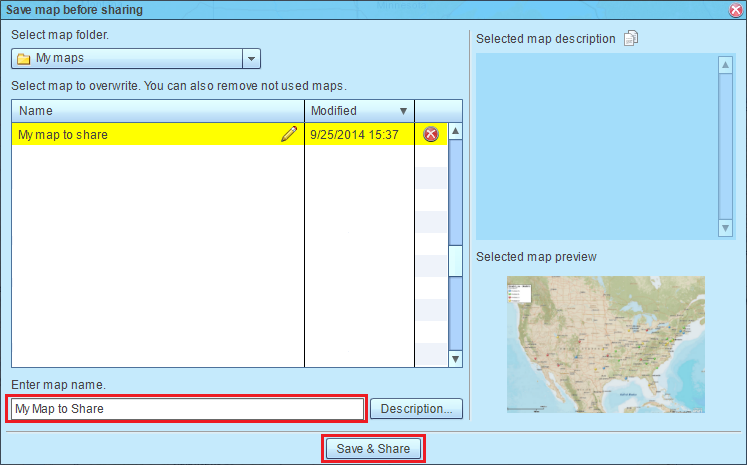 Share map dialog will appear. Choose Public sharing tab and uncheck the Enable public sharing box unless you want to share the map publicly as well.

Switch to Private sharing tab and check Enable private sharing box.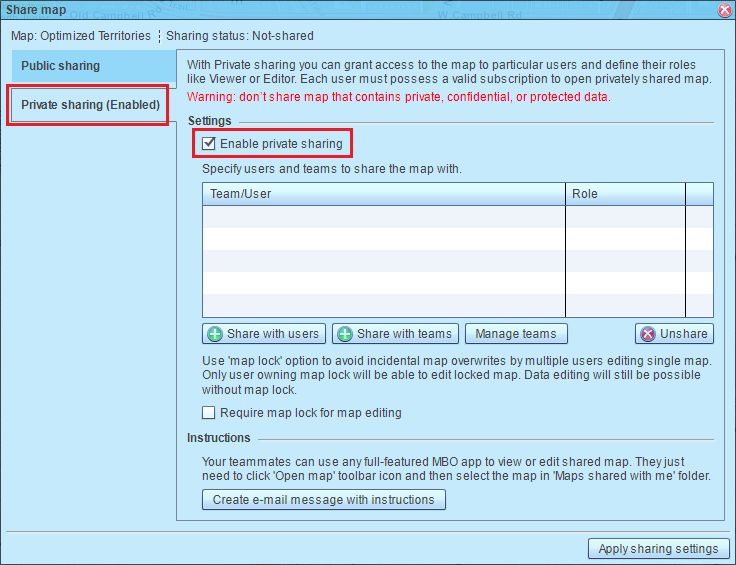 If you didn't setup your map sharing team yet, consult Invite your team article on how to do that.
Click Share with users button to provide map access to specific users. That's the only option available unless you have Team subscription.

In the following dialog select users, desired role, and click Add selected users button.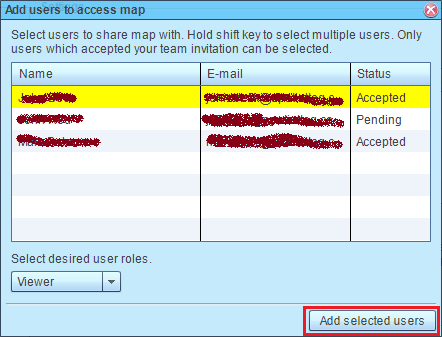 You may want to adjust individual user roles through the list in the Role column.

If you have Team subscription then you will have the option to define map access at the team level. Click Share with teams button to grant map access to a team.

In the following dialog select teams to share map with and click Add selected teams button.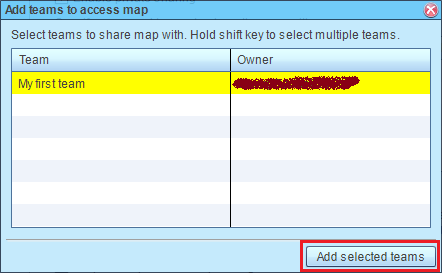 Now you are ready to share your map! Just click Apply sharing settings button in Share map dialog.

Warning: Don't share map with confidential data. Even if you set the map private later, users may have your data captured already.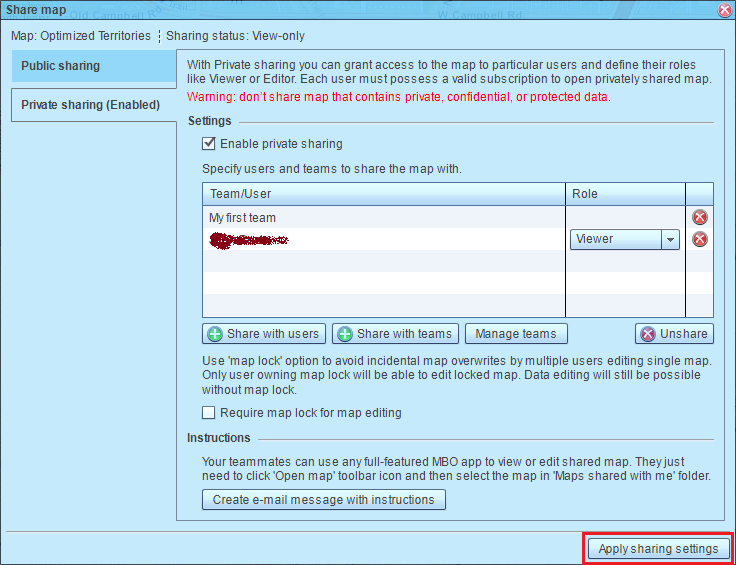 As you can see on the picture above we added short instructions for you on how to open a shared map. For your convenience there is also the button to create e-mail with step by step instructions.