Retail Mapping Software
Map Retail Locations, Customers, Demographics and Logistics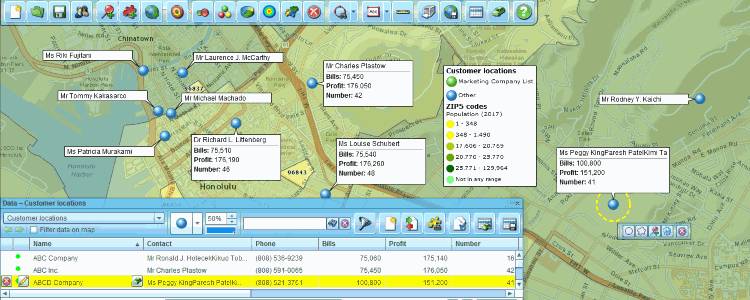 MapBusinessOnline provides a business mapping platform that can be used to analyze retail sales trends and communicate results with team members.
We all know the three top considerations for retail are location, location, location. MBO can help you organize your business spreadsheets and databases into geographic and demographic visualizations that enable better planning for sales and marketing pros. A presentation of all of your business data, displayed against a high-quality demographic map, can make your next location related move a strategic masterpiece.
When you use MapBusinessOnline retail mapping software to visualize your customers, competitors, and expansion options, you'll get an informed perspective on how to grow your business at the right pace and place.
Delivering Strategic Value
Retail mapping software is more than just a map grid with basic information: it's the first step in planning a unique approach for your specific service or product. Build optimized routes across multiple delivery stops or plan incremental stops as orders come in.
Customers love a handmade delivery and will be happy to see your trucks arrive on time, every time. Whether you're delivering custom bouquets on Mother's Day or an industrial oven to the hottest new pizza place in town, retail mapping software from MBO can quickly and easily coordinate all of your deliveries and pre-plan any customer service calls you'll need to make.
Mapping Your Strengths and Their Weaknesses
Understanding your business requires more than just servicing who comes through the door. With smart retail mapping software, you can get an understanding of how many households can quickly and easily drive to your stores and what income bracket those customers fall into.
Creating special deals for your franchisees? Use the MBO business mapping software to target customers based on drive time access to major thoroughfares. Create accurate sales territories for franchise areas based on 5 digit zip codes or 3 digit zip codes.
Once you created a compelling strategic map your business, you can perform the same analysis on your competitor locations. Determine exactly where you have the biggest opportunity to compete without hiring outside analytics consultants. MBO allows you to easily share this with everyone in your organization, from your boss all the way to the CEO. Decide exactly who gets to view or edit your shared maps or who gets to access shared data.
Demographic Data for Smart Retail Mapping
MapBusinessOnline includes up-to-date Census demographic data covering twelve of the most common themes. You can improve your understanding of where and how your business works with access to the following demographic categories:
Age
Commute times
Education
Employment
Ethnicity
Gender
Median income
Households
Housing units
Population
Occupation
Race
Religion
Rental
Vehicle data
Compile your imported data and demographic data by zip code, county, state, Census tract, and MSA. Build retail sales & marketing maps that create the best approaches driving more customers to your locations.
Contact MapBusinessOnline so that you can take full advantage of all the opportunities out there waiting for your business.
to Get Your Copy of Retail Mapping Software Today! – Take a FREE 1-month Trial