I hear it every day.  "I think you guys have a mapping application that can help with sales planning.  I manage a sales force and I need to establish territories that make sense for our business."
Of course, sales territory mapping issues vary from business to business.  Some companies have established territories that are outdated.  Other businesses have a lopsided territory that needs realignment or rebalancing. Others are mired in out-of-the-way travel costs, as remote customer locations force sales people to crisscross the nation to keep in touch with decision-makers.  Still others are brand new to the concept of sales territory management.
Starting the process of designing sales territories is a big challenge.  It requires planning, logic, and in many cases, trial and error.  Sometimes you have to take a chance to make something happen – or at least just start creating sales territories. Sales territory assignment, as a process, will also require justification.  Sales people are motivated by commissions.  If your new sales territories impact existing commission plans – and it is very likely that they will – you'll need to justify your actions or risk losing critical sales' support for your overall sales plan.
MapBusinessOnline enhances the process of designing sales territories by offering an affordable web-based business mapping solution that can provide demographic maps of the USA that support sales territory design decisions. The tool enables easy data imports of relevant sales histories by location.  MapBusinessOnline has tools for map territory creation by ZIP code or county, or offers an easy-import pathway for the creation of your sales territories.
This business mapping software is also an excellent platform for sharing sales territory maps across your sales team encouraging:
A keen awareness of sales goals
Competitive and informative sales result sharing
Best sales practices sharing
New opportunity sharing
Start by Mapping Your Business Data
As a manager, it's your job to lay out a plan. The best way to outline a plan is to start with data. Perhaps you'll use existing sales data, back three years.  Or you could start with population or median income demographics. Every company has a different data focus used for measuring success. The trick is to upload your best location-based sales data to a map – make sure you have a zip code, county, state and/or an address associated with your business data.  Full addresses are more accurate and will lead to better decision making.
In the below map example, a sales director conducts a quick USA wide analysis using US Census population by state from the MapBusinessOnline Census demographics library.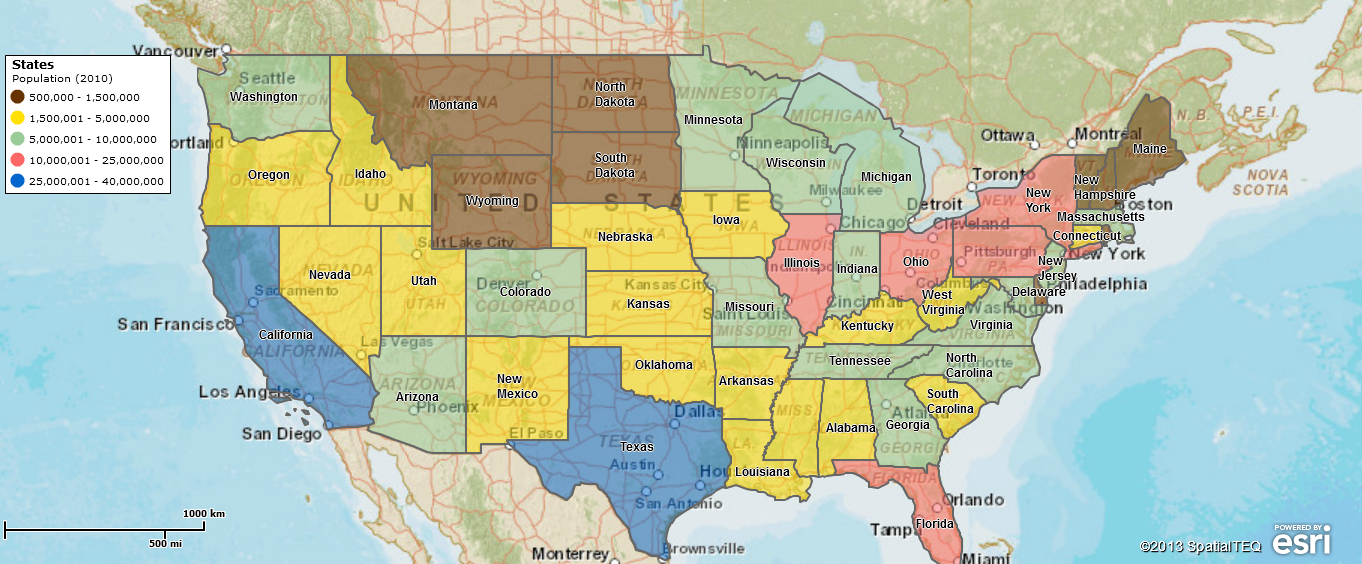 Her sales people are spread out nationwide.  She'll need sales territories established by state – at least for a first pass.  She uses the MapBusinessOnline polygon search tool to select groups of states that conform roughly to population centers. She can then take these territories to her sales managers and discuss details.  Later she can easily  subtract states from or add states to any sales territory to match the realities of sales requirements.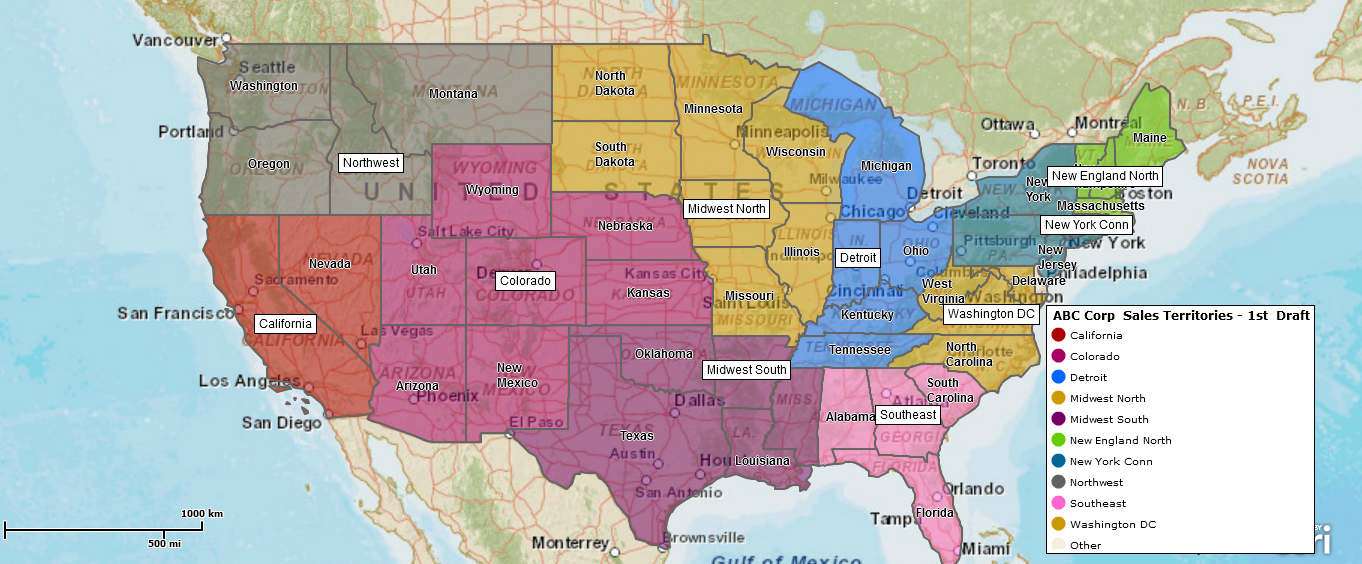 These first draft templates are used as a place to start the discussion.  Issues such as travel budgets, current work loads, customer headquarters vs. remote locations, and 2013 sales quotas will be topics the sales team will review.
In New England, she decides to break up the states into sales territories by county. One of her New England Reps has been promoted to sales manager in California. They'll need to review her accounts and get them assigned to the appropriate rep.  This map can be used to help accomplish that rearrangement.  Here our sales director imports an Excel spreadsheet of pre-assigned territories by county using the Create Territories Button in Map Business Online.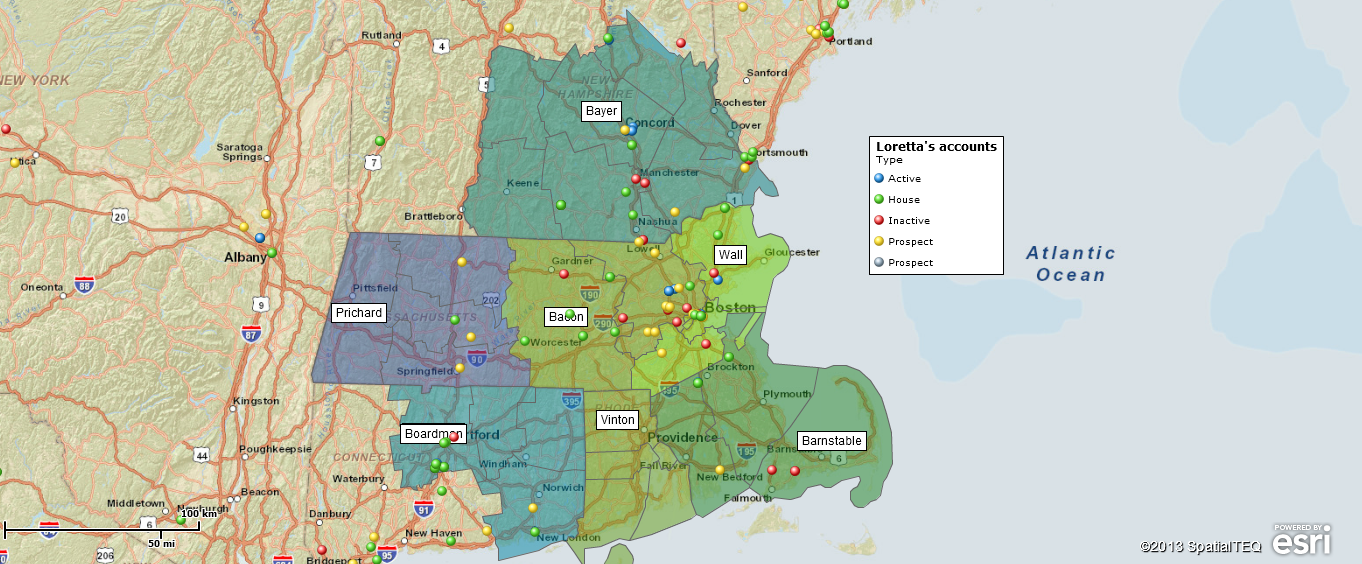 Import business data into a web map to assign accountability by territory.
Once you've established sales territory boundaries and started to discuss these issues with your sales group, you'll generate more ideas about how to manage sales territories in your particular business using business mapping. Other uses of MapBusinessOnline for sales management include:
General Resource Management – Clearly display where all of your resources, stores, or sales associates are located based on imported addresses.
Conduct Radius Searches – Search your data geographically with radius mapping and export results for use outside of the application, in third-party systems.
Share Business Maps – Embed compelling maps in presentations, push interactive map URLs to your constituents, or print large format wall maps to communicate key business objectives.
Visualize Customers – Import a list of customers and prospects and display them on the map. Color code and symbolize by status type or label data points with five key attributes.
Build Zip Code Maps – Create territories by zip code or county, add Census demographic data. Export lists to CSV and Excel files.
Sales Routing Software– Select customer or prospects within a radius of a starting point. Achieve efficient, multi-stop and optimized vehicle routing for up to forty stops per route.
Access Business Listings for sales prospecting and strategic planning
Building a sales territory map that reflects your unique business requires some thought and preparation, in the same way preparing for a major wedding anniversary does. Sure, you can sneak by on the 17th or 27th year with a bottle of champagne, a card, and some flowers, but you better be ready for the 25th. I've still got bruises.
Sales territory design starts by understanding your business's preferred geographic territory unit. Does your sales organization generally plan around ZIP codes or counties? Those two geographies are the most common – some companies use states or even Census tracts. The geographic unit your business talks about the most is probably what you'll use to build territories.
HINT: If most of your territories are state-based, but several states are divided geographically between sales reps, in Map Business Online you're going to build your territories based on counties.
Other things to consider as you prepare your business's territory scheme:
Do you have overlapping territories? Is overlap allowed or not allowed at your company?
Do you have access to customer address datasets that you can import onto your territory map? Get access, this data is critical.
Are periodic sales results data by customer or rep available for import into your territory map?
Are territories assigned based on sales potential, population, household income, or legacy account ownership? It's a good idea to understand why  sales territories are based on specific geographies or demographics in your business.
Most often, businesses think about territories in terms of ZIP codes. For traveling salespeople, ZIP code map groupings often make logical territory geographies. Demographic data, applied at the ZIP code level, enhances the territory analysis for territory optimization purposes. For example, a retail organization might base territories on ZIP codes where 50% or more of the households have incomes over $75,000 per year. At the local level, ZIP codes with Census demographics can be warm and fuzzy justifiers of territory assignments.
Regardless of demographic leanings, business mapping tools are designed to collect multiple ZIPs, counties or states into sensible territories; highlighting these assigned areas by color shading.
Gathering Your ZIP Codes
Collecting target geographies into a territory can be accomplished in multiple ways. You can import a list of ZIP codes (counties, states, etc.) from a spreadsheet that lists ZIP codes in one column and territory name assignments in a separate column. (County-based territory spreadsheets will need to include a state column too.) Importing such a list into MapBusinessOnline means clicking the Import Territories Button and following the bouncing ball.  In other words, it's easy – watch the video.
Easier still, for some users, is the Polygon Search tool approach. The Search Tools are found in the middle of the master toolbar. Look for the circle with the binocular icon and choose the drop-down to its right. The polygon search is the second option down. You'll also find Radius Search, Drive Time search and free-form.  All can be used to create territories.  Watch a video on territory creation.
Polygon search is a great way for beginners to start. Select the Polygon option from the Map Business Online Search Tools. Use your mouse to draw the polygon lines, raise your finger at corners, and run your line through the ZIPs of interest. This drawn line, when brought back to the beginning, will gather a group of ZIP codes into a color-shaded area.
Don't worry about being exact, you can easily edit the territory after it's made. Any ZIP code you touch with your line will be included. Name it sensibly. After you've named it, the Data Window pops up showing a data sheet view of your territory in Map Business Online. More on that below the hint.
HINT: There are other Map Business Online search tools that can work too. Radius search or Free Form search tools will create a territory in the same way as a polygon search. Drive Time search lets you create based on Driving Time or Distance from a home address – this could be a terrific way to connect a territory assignment to where a sales person wakes up in the morning – home or hotel.
Territory Data Layers
When viewing your first territory in the Data Window view, take notice of the data layers assigned by Map Business Online. You probably want your own data there. Click Change Columns in the lower right to launch our easy database management tool. Change Columns will provide a way to remove MapBusinessOnline pre-assigned data layers and allow you to pull in Demographic data (included in MapBusinessOnline) and your own business data into your territory analysis.
Populate your Territory Data view with data you've imported or Demographic data from MapBusinessOnline that supports your business and territory considerations. Your sales data by account, Census household income data, industry data by ZIP code, are all examples of the kinds of data businesses like to use for territory analysis and justification.
Back on the Map View
Once you've created a territory you'll notice a new layer appears in Map & Data (the light blue box with all data and map layers listed).  Your ZIP code territories are now stored in the Territory Layer. Had you made a county territory it would also be stored in the Territory layer.
Feel free to hover over that Territory Layer in Map & Data and click the layer's Edit Gear to adjust boundary size and color, territory fill colors, and labels.  You can also adjust your territory Intersect or Overlap options in Map & Data under Intersections. Alternatively you can select the territory name label which will present the territory edit menu as well.
It's easy to Edit your territories. Under a ZIP code territory scheme, select any ZIP code on the map, choose the ZIP number, and a little menu pops up. Click the Blue Puzzle piece to edit your territory. You can add, remove, update and more. Hold down the shift key to select more than one geographic area at a time.
Selecting a ZIP code with your mouse is yet another way to create a territory. Try it. Once selected click the Blue Puzzle piece icon to name the territory.   What a pro!
Regions & Divisions Support – Pro Only
After a while, you're going to have created many sales territories. Some of you will want to gather your territories in regions and perhaps even gather those regions into divisions. This is especially true of large international companies. Territories, regions, and divisions reflect how sales are managed by many large enterprises.
Before you start, upgrade your MapBusinessOnline Standard subscription to Pro. Grab that polygon tool again. Draw a polygon that intersects all the territories that make up one of your regions. Name that region. Et voila – you've done it. Divisions are created in the same way, except that you gather regions into divisions.
You can change the nomenclature of territories, regions, and divisions too. Map and Data or the Data Window display an Edit Pencil when you hover near those layer names. So, for example, territories could be changed to Sales Rep. Region could be changed to Dealer. Division could be renamed as Corp, League or even Banana.  We don't care. You choose. Here's a related video on territory hierarchies.
To View One Territory at a Time  
Sometimes you need to view just one territory.
In the Data Window drop down select the Territory Layer
In the Data Window toolbar type your target territory name into the White Search Bar
Click the Binoculars to select just that territory
Click Filter Data on the Map in the Upper Left
Here's a video on isolated territory viewing.
If you've followed along this far, you're close to being an advanced user of territory mapping software. But let's go a little further. Let's talk about labeling.
Use Labels to Aggregate Data
We've already discussed how MapBusinessOnline provides a data sheet view of territories. That's your reporting tool.
HINT: Export reports by clicking on the far-right button on the Data Window toolbar.  Files are exported as CSV files which are openable from within Excel.
But let's think about appending critical data – data you want your constituents to view – on the map itself. A territory map users can append or aggregate demographic data, calculated data or imported data to territory labels. This is how your map will clearly display sales results, the demographic makeup of territories or areas, key contacts; anything you've imported into Map Business Online.
In MapBusinessOnline we accomplish appended labeling in various ways.
Any geographic layer – ZIP code, county, state, Census tract, MSA, city limit, territories, regions or divisions – will accept data as inserted into five flexible label fields.  Select the layer in Map & Data and click the Edit Gear:
Choose Labels on the far-right tabs
Now choose Format Labels
For each of the five numbered fields, select the data you'd like to append and assign it to your layers as labels
Click Change Labels
Summarize Buttons – Any map object, including territories, regions, or divisions, includes a Summary Button when selected. The Summary button is the Greek letter Sigma or sideways M on the mini-toolbar associated with the map object. Click the summary button and select up to ten data fields to compile into a spreadsheet that you can drop and display on the map.
Add Text to the Map – At the top of the Draw Tools on the master toolbar is an "ABC" button. Click that button, click the map and start typing. This is nice for adding special notes your audience may have interest in. You can move it around, adjust fill color and text.
Show Map Title – You can also add a Map Title to your territory map.  Click the Map & Data toolbar Edit Gear. On the first page that opens select Shaw Map Title.  This places a title box on your map. Once again, you can move it around, adjust fill color and text.
Report on All Territories by ZIP Code
Finally, a Sales Territory Manager may need to occasionally export a report that lists all territories and all ZIP codes associated with territories, by territory name.
In the Data Window Select the ZIP code layer. In the lower right click More Data.
In the Data Base manager tool, use the Blue Arrows to move the columns of data you don't need to the left.
On the Left side, top drop down, select General, then select Territories and Territory Count and move those two selections to the Right. Click Set Data Columns in the lower right. Nicely done. This sets up your ZIP code database to be filtered by Territory Name.
Back in the Data Window, viewing the ZIP Code layer, click the Filter button (Looks like a funnel)
Once again choose General, and below it, choose Territory Count.
To the right pick the Modifier ">" (greater than) and insert the number "0" in the blank field to the right. By doing this you are telling the filter to select only fields with 1 or more territories.
Click Filter.
This should give you an exportable file of ZIP codes with Territories in CSV format.  And once again, here's a video on exporting a territory list.
Over the last few years I've built quite a few territory maps. It's part of my job. I believe the above territory map outline covers most of the major aspects of building sales territory maps using MapBusinessOnline.
We recommend users access MapBusinessOnline via the downloadable Map App.
The Map App install is fast and easy. The Map App is a cloud-based service, once you've logged in you'll have access to all of your previously saved maps and data. The Map App is a better user experience and provides access to more features than the Web App. The Flash-based Web App link will remain available until December 15, 2020.
The Map App includes the new Map Viewer app for free non-subscriber map sharing.
NEW! Refer a business associate to MapBusinessOnline in exchange for a $20 Amazon Gift Card!
Find out why over 25,000 business users log into www.MapBusinessOnline.com for their business mapping software and advanced sales territory mapping solution.
Contact: Geoffrey Ives geoffives@spatialteq.com or Jason Henderson jhenderson@spatialteq.com (800) 425-9035
MapPoint users please consider www.MapBusinessOnline.com as your MapPoint Replacement.
Please read customer reviews or review us at Capterra, G2Crowd (LinkedIn connected), or at the Salesforce.com AppExchange.