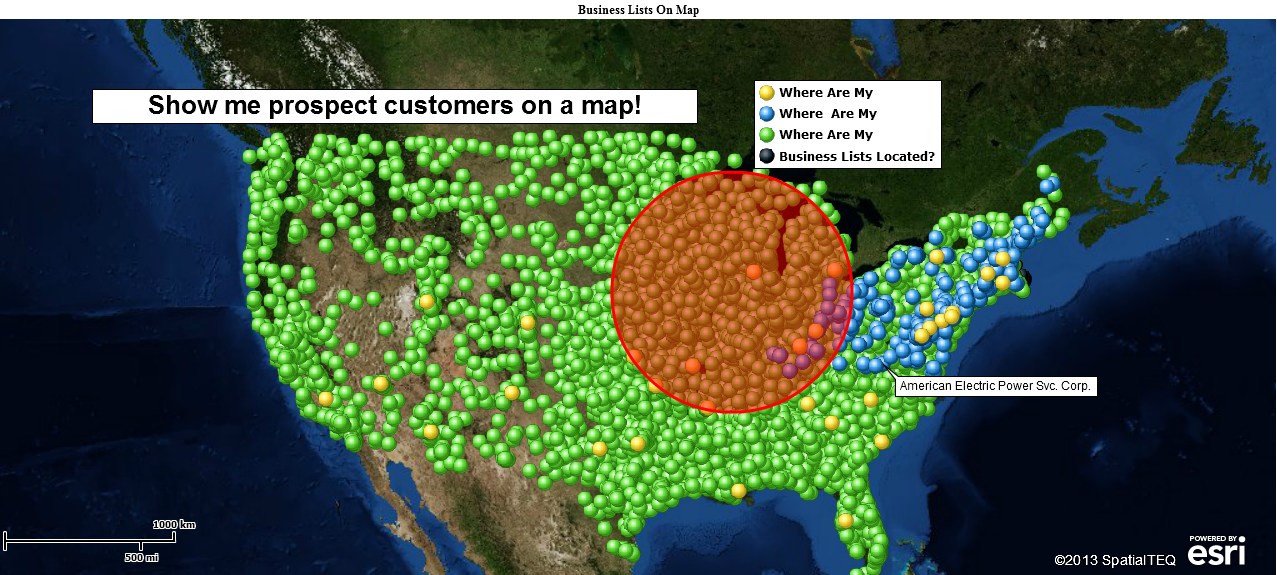 Many of Map Business Online customers try our web mapping software expecting to find harvestable business listings embedded in the product. To date that has not been our business model. Although we do provide Census demographic data associated with zip code, county and state districts, we do not provide business or organizational data.
If a Map Business Online user can find business listings with a location component – an address, a city, county, state or zip – then the user can import that data set for use within our business mapping software in much the same way that you import your customer or prospect lists.
There are companies that offer business lists. In fact, there are quite a few, which at times can be somewhat overwhelming for the professional interested in accessing business data. In general, do not expect business data for free. You might find some teaser datasets out there but user beware, quality business data is managed by data professionals who compile and quality check the data. This means data costs money. If anything is out there for free it's either real old or just plain wrong.
Companies like Info USA, Dun & Bradstreet, Experian, and Axciom are giant data providers that offer business lists. These companies offer online services that enable users to select and upload business data sets in various segments. D&B and Hoovers tend to be more subscription oriented as opposed to allowing one-off purchases. I was able to download a list sample from Experian but these organizations did not respond to my inquiries for more information.
Www.MelissaData.com did respond. Melissa Data is more of a broker than a compiler of business data. They have access to many of the above referenced compiled datasets and allow the user to pick and chose smaller sets of data by SIC Code (Standard Industry Classification) or by geographic segments like county, zip code, or state. Business data records typically include employee size, sales volume, along with key contact information. Obviously address information is there as well.
Melissa data is a one-stop-shop for business data records with more data layers available to you, due to contractual relationships with the large compilers. You will find attentive sales people, and above average geocoding and general data accuracy. My Melissa Data contact told me that business list pricing starts around $0.05 per record. You can ask for more business data criteria but this will add to the price per record.
http://www.melissadata.com/dm/mailing-lists/business.htm You can start at this page by clicking the Getting Started button.
Where ever you get your business data lists, you can import your business data onto a business map and visualize where your prospects are located, segment that list by specific geography, and create subsets of that list – append demographic data, and export these files out to a third party application. Map Business Online supplements business data views nicely by providing zip code maps, sales territory maps, radius maps and polygon searches.
Let us know who your favorite business list solutions are.
Www.mapbusinessonline.com – America's fastest growing business mapping software. Let a map help you answer questions about your business.