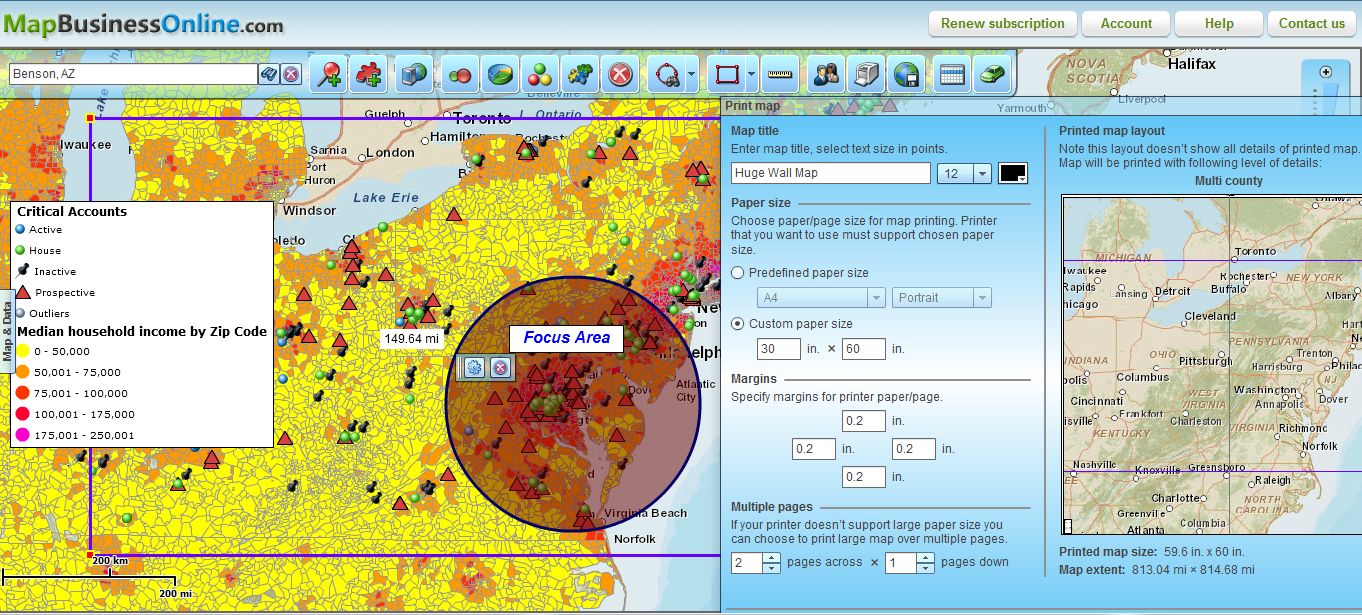 I suppose there are a few map lovers who create new maps just for their own personal amusement. And treasure maps might be maps you would keep to yourself. But in my experience, maps are generally created to communicate information with an audience. Shared business map examples might be:
• Maps displaying coverage areas
• Maps accurately displaying resources and how to reach them
• Maps displaying progress made towards a goal
Business maps convey a message to a target audience. In short, business maps are for sharing with someone else.
Get Your Map Ready
Preparation of your business map is critical. I read through some quotes on preparation. I like Lincoln's the best: "Give me six hours to chop down a tree and I will spend the first four sharpening the axe." Map prep is probably less than six hours, but you get the point.
Make sure your map is ready for sharing. Take your time getting your map data arranged the way you want it. Import and symbolize your business data so it supports your message. Avoid map clutter. Adjust the map to reflect the demographics or highlight the administrative districts you require to make your mappoint. Sometimes you might show just one state or one county. Tweak your map legend to make sure it describes your data layers correctly. Add extra text, where appropriate, to help define or label your map. Be sure your zoom level is appropriate for the map you are sharing.
A word about copyright
Many maps utilize copyrighted materials like street data or imagery that requires legal attribution. That's why GoogleMaps show map sources in the lower right hand corner of their maps. Usually when you see copyright notices it means that the source data is protected. Be sure to read any associated license agreements to make sure you are properly using the map data. In general, you cannot sell or create advertisements with web mapping software unless you have special permission. Translation – you must pay for that kind of use.
A map publisher has multiple ways to share their map message with their audience. Let's take it from simple to complex.
Print Your Map
For centuries people have drawn or printed their maps and then physically shared them with an audience. Today a web map can be published and distributed by simply printing through a personal printer on to an 8-1/2 x 11 sheet of paper. For larger maps, you can print multiple sheets of paper and stitch them together into a big map. Or you can save the map file as a large format PDF image and print to a plotter. These large wall map files can be handed off to graphics business partners or vendors (think Kinko's or Staples) for large plotter prints, up to five foot square.
Printed wall maps are used by a variety of organizations to communicate critical business information in an obvious way. Call center maps might display the location of key customers within sales territories assigned to outside representatives for sales planning. Public safety organizations use wall maps to display search & rescue results, or critical resource locations. If your map audience is usually located in an office where people walk past the same wall many times a day, a wall map can be a great way to keep people up-to-date.
Save Your Map as a Digital Image
Standard web mapping software usually allows users to save their map views as image files. Image file options often include PNG, Jpeg, or PDF, but there may be more options with your business map tool. PNG files are great for presentation graphics. Easily import PNG files into a Power Point presentation. PNG files win over Jpegs because they support transparency and they scale better. Jpegs are smaller files than PNGs and use up less storage space. Jpeg files are probably better for emailing your maps. PNG files can be compressed by services like https://tinypng.com. Large format PDF files can be used but they tend to get very large. Sometimes to transmit larger files you need to invest in a file sharing application like www.dropbox.com.
Image file sharing or presentation maps are great for making specific points about your business status or business plans. By combining your business data with demographic color-coding, and perhaps a specific area of focus, you can bring complex business concepts into focus, fast. Use these map views to support strategic planning or to justify a sales plan.
Share an Interactive Web Map
A very effective way to share up-to-date business information with constituents is through an interactive web map. Pick a business mapping software that lets you easily share your map as a webpage by generating a URL . Once your map is set up to your liking, create a URL and publish it.
Some web map applications keep these shared web page links private. Other web map tools allow you to publish these maps for public display. Make sure you understand how your mapping software provider controls web maps for sharing. Map providers like Google and Map Quest have business models that provide public web maps for store location display – enabling thousands of views. Others offer more confidential business map sharing. There's a big difference in security, and the number of viewers allowed. Most shared maps offer basic querying capabilities. Editing a shared map is a more sophisticated feature and will probably require more advanced business mapping software.
"Interactive" with regard to web maps means the user can pan and zoom on the map. They can often view shared data and perform basic queries and perhaps save map views as image files.
However you choose to share your maps, you should remember, what you save is what you share. A map displays your saved information – especially a web map. If you create and save a map and share it with a constituent you must remember that linked map pages will reflect any saved changes. So if you add data and save it, your original shared map web page will reflect that new view.
So keep your treasure maps to yourself if you want but remember, sharing your business plans via a web map is its own kind of treasure trove.
www.MapBusinessOnline.com America's fastest growing business mapping software.
Let a map help you learn about your business.