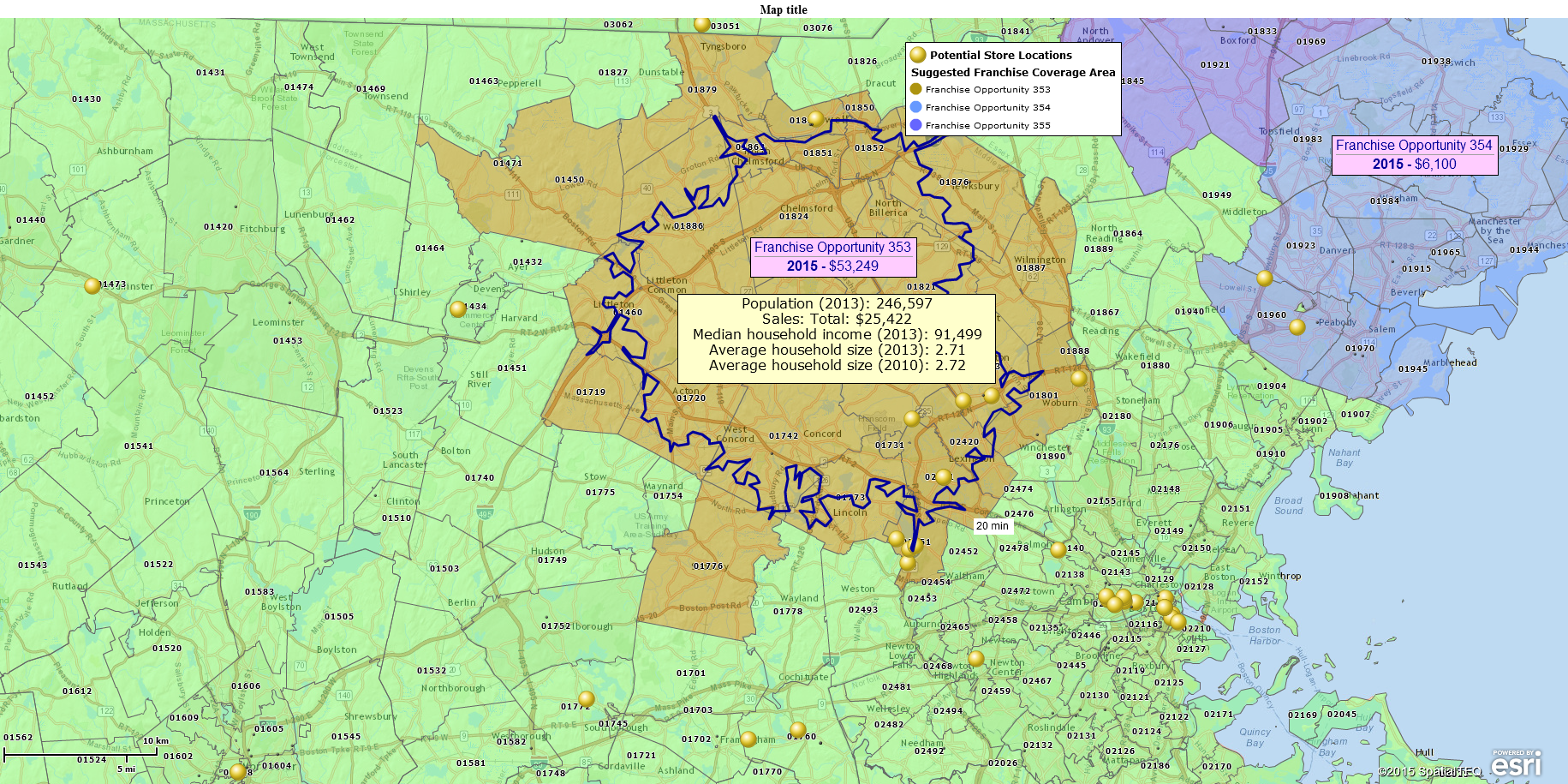 LOWELL, MA (September 10, 2015) — Map Publisher SpatialTEQ Inc., publisher of North America's premier affordable business mapping software, today announced the release of MapBusinessOnline.com 4.6 Map Business Online – enhanced market analysis mapping software for sales and marketing professionals across North America and the UK.  With this release Map Business Online business mapping software introduces improvements to market analysis tools, data summarization reporting, and a variety of additional enhancements, based on user feedback.
All existing Map Business Online subscribers will have immediate access to all new software features when they log into the business mapping application.
Map Business Online 4.6 introduces an enhanced set of draw tools now including free form sales territory creation and editing. Two free form curve draw tools have been added to the list of draw tool options, one for curved areas and another for curved lines.  Existing draw functions have been improved and now allow the user to draw polygon or line objects with a few simple mouse clicks.
With this release the Map Business Online data analysis tools have been expanded to enable the summarization of demographic data by census tracts or block groups.  Map Business Online users will be able to analyze a selected spatial data set against itself using Market Analysis. Market analysis conducted on a list of selected locations will now include the ability to conduct full demographic analysis of any regions defined by a specified radius or drive time polygon. Additionally, Map Business Online market analysis will allow the inclusion of other map layer data in any analysis, enabling the ability to easily combine counties, zip codes, zip3 layers in one analysis. Map Business Online subscribers utilizing the new summarize data by district reporting will now be able to copy the report data to a clipboard for use outside of the business mapping application.
Map Business Online will now include the option to color fill any Zip5 layer holes with full color options. Zip5 postal codes exclude national parks and extremely rural areas, which can leave holes in defined areas of interest.  This new feature allows users to create zip code map areas of interest and sales territories with consistent color shading across the USA.
An area field option has been added to all map layer selections in Map Business Online. This option enables the ability to measure density of imported data points by square mile or kilometer.
Map Business Online will now provide street base map options overlaid on top of included satellite and aerial imagery layers at all zoom levels.
Additional enhancements include the option to choose between kilometers and miles as a measure setting by map, a full set of undo and redo commands for drawing tools, Drive Time analysis has been increased to 300 minutes, and the ability to rename previously saved map files.
About Map Business Online                                                                         
From the creators of BusinessMAP, www.MapBusinessOnline.com has been providing sales & marketing professionals with affordable and intuitive web-based business mapping software for Macs and PCs since 2010. Design, edit, and share maps that reflect your business. Create and manage sales territories that drive accountability into your sales force. Replace discontinued Microsoft MapPoint with MapBusinessOnline. Access optimized multi-stop routes to control travel costs. No other map software solves so much for so little.
Contact: Geoffrey Ives    geoffives@spatialteq.com  (800) 425-9035, (207) 939-6866