On this blog and in our marketing content we talk a lot about the business features and benefits that Map Business Online users experience.  We assure you how easy the product is to use, how our sales territory maps drive accountability, and that our maps and demographic data are up-to-date. These are all great business benefits for you, the user.  But some users actually derive personal benefits through the use of business mapping software such as Map Business Online.
You're A Techie – Like It or Not
For me using business mapping software has helped me become more comfortable with technology overall. I have become much more fluent with tools like Microsoft Excel, and other database management services including CRM tools. Importing data into a mapping application is typically pretty straight forward, but at times one must deal with curve balls, like opening up exported CRM data from one field to many fields, or converting latitude and longitude coordinates from degrees, minutes, seconds, format to signed degrees format
Utilizing "cloud based services" in general has become old hat for me now. I remember when I first heard the term 'The Cloud' a decade or more ago at an esri conference, the term sounded like a mysterious new world. It turned out to be simply another phrase for web-based. This is similar to the term the Internet of things (IoT), which simply refers to the fact that lots of devices and machines are connected to the Internet these days.  Who comes up with these names?
Map Geeks Rule
There are still many offices where business maps are not used but should be. Mapping enthusiasts should look for opportunities to use business maps in such places. Successfully applying technology in new and surprising ways lets you stand out from the pack. Take the initiative and be the one who shows up at the meeting with business mapping slides that display some of the meeting subject matter against a map. Pretty soon the boss will be calling you in to design maps for his expansion plans.  "Get that map geek Allison in here to put a map together for me, see," the boss will say in his gravelly voice. "That doll face is a map genius."  The boss is old school, evidently.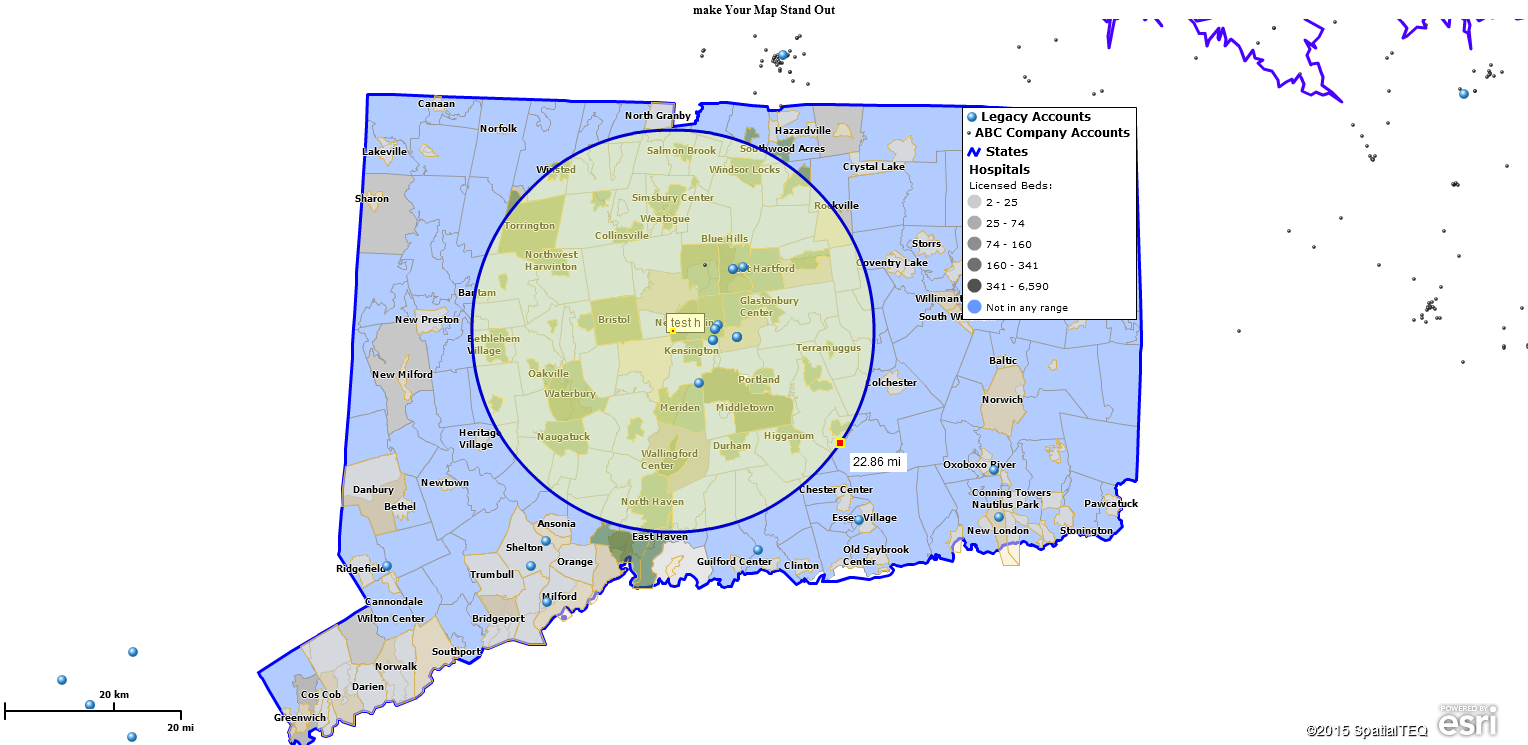 Becoming familiar with business mapping capabilities means you'll be learning about detailed aspects of your business.  While you may still be answering the phone when a new call comes in, perhaps you'll be the one helping to establish territories for the entire organization. By working hands-on with territory management you'll come to understand company goals and objectives.  The various business channels your company sells through will become crystal clear to you as you apply business maps to representing sales by location. Territory creation is a desirable skill and should be listed on your resume or on LinkedIn.
Maps Are Fun
Come on, what's not fun about maps? Maps relate to places on Earth. Using an online map tool is a little like traveling while remaining seated at your desk. Maps can be colorful.  You can design your own color code schemes by a variety of geographic segments and layers.  You get to overlay your own business data, which is always interesting. Every time you use a business map you learn a little something new.
Think of the layers you get to use – zip codes, counties, satellite imagery, and topographic views. I know if I was a private detective (a job I could see myself doing someday) I'd be using business mapping tools all the time. You could discretely follow a target, and track all his stops on your business map. You never know what a tracking pattern might reveal. Maybe you'll get the big payday like Humphrey Bogart in the Maltese Falcon, or maybe you better watch your nose like Jack Nicholson in Chinatown.
Regardless of how your case turns out, business maps can help you visualize more about your personal world than you thought possible. Demographic views can help with your volunteer work just like it does for business. And it your thinking of buying a new house, what better place to keep track of all those open houses you've attended then a business map.
Around home I'll use Map Business Online to plan hiking trips.  We live in Maine so hiking is often on the weekend agenda. Map Business Online provides street map views, two topographic map views (merged Topo Quads and National Geographic maps), and a satellite/aerial imagery view. Using all five of these layers can be helpful in determining which trials are still active, distances you may have to bush whack, or how steep the terrain is going to be where you plan to picnic.  Kayak drop-offs and pick-up points are easily planned based on a business map's details.
As weekend a musician, I used Map Business Online to map out all of the potential gig locations in the Southern Maine area. I could classify the venue location points on the map by capacity or perhaps color code the venues by musical interest – dance music, jazz originals, Lawrence Welk covers.
Whatever your personal activities are, I bet you can find ways to apply a business map towards their greater enjoyment. I was going to create a map showing all the locations where I've been pulled over by the cops, but the mappoint limit is 100,000 locations per map. For additional business and recreational map use ideas be sure to check out the map Business Online map gallery. https://www.mapbusinessonline.com/Map-Gallery.aspx
Find out why over 25,000 business users log into MapBusinessOnline.com
Contact: Geoffrey Ives geoffives@spatialteq.com (800) 425-9035, (207) 939-6866
MapPoint users – please consider www.MapBusinessOnline.com as your MapPoint Replacement.
Please read customer reviews or review us at Capterra, or g2crowd