Sometimes a business map user wants to conduct a radius search on a data base of cities, and to export the query result out of the application. A search result of cities can be achieved using Map Business Online, and other business mapping software applications.  A few tweaks are necessary to set up the city data.
Cities are present in Map Business Online in multiple ways.  The base map data shows cities as part of the background map tapestry that is included with Map Business Online. However, the cities in the base map data are not query-able because they are part of the base map raster image, as opposed to a layer on top of a vector map background.The background base map is a one continuous image that covers the whole world and that image includes cities and towns.
Map Business Online users can make sure their vector layers, like zip codes, states or counties, are set to transparent which will let those cities and towns show through and into your map analysis. Transparency controls are located in your target map layer in Map and Data. Still, that background map raster image will only show certain cites at certain zoom levels. Zoom further in to expose less populated cities and towns.
Premium Map Layers
Additional map layers are available in Map Business Online for annual subscription holders.  Click the Blue Globe button on the tool bar, now located about seven buttons in from the left.  Here you'll find City Limits and Cities, as well as other additional layers of interest.
For developing exportable lists of cities, you'll want to use the City Limits layer.  The layer called Cities is a visual reference of city points only. Users can add the City layer on top of territory or market analysis maps, for reference purposes, but you can't query the City layer.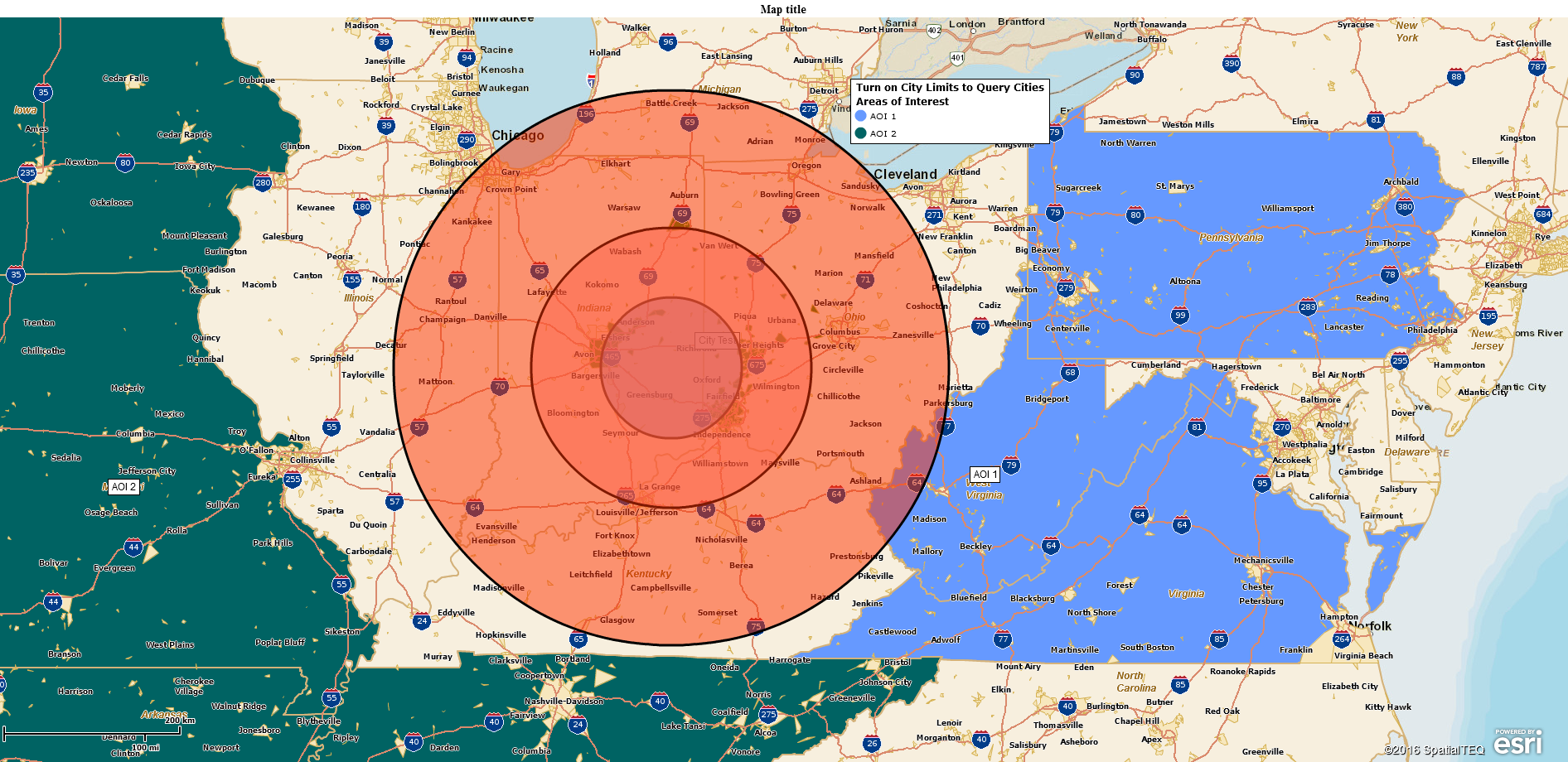 If you Add your City Limits layer to the map you'll be able to build areas of interest and territories based on City Limits, just like you've done using State, County or Zip Code layers. City Limit objects are presented to the map viewer based on city population size – the more populated cities show up at the zoomed out levels.  As you zoom into the map more cities and towns come into view.
City Limit territories and markets areas will include all city limit objects within your designated circular or polygon areas of interest. If you conduct a radius search the resultant dataset will include all the city limits touched by the radius or polygon object as well as all cities included within the circle or polygon.
I love the city limit layer for building demographic maps or for creating map analysis that tends to focus on metropolitan areas.
Adding the City Limits layer to your map lets you build areas of interest and export those city and town names out of Map Business Online as a CSV file. A city limits based areas of interest view is also sharable through interactive map web map sharing, through shared saved image files, or via a printable map. Map Business Online users can also add city names to your zip code analysis as well. Read on.
USPS Zip Codes
When you purchase or try Map Business Online, the application comes setup with Census ZTCA zip codes preloaded.  With ZTCA zips selected, territories and market areas of interest will list zip codes but will not include cities and towns, or placenames in your zip code analysis. To change this, open the Map & Data box.  Choose the Edit Gear on Map and Data tool bar.  You are now in the Manage Map and Data function. Choose the Zip codes tab.
In Zip Codes, along the bottom there is a drop down for Zip Code options.  Choose USPS Zip Codes with Fillers.  Fillers will allow you to fill in territory gaps over national parks; this can be helpful out West or in northern Maine. By choosing the USPS zip codes, your zip code map analysis and sales territory mapping will now include a column for Placename and in this case Placenames refers to a database of cities and towns.
Once you've chosen your Zip Code option, all territories and areas of interest you create moving forward will include a column for Placenames. Please be aware your old maps will not pick up this change.
Import Your Own List of Cities
Now you might think we've got you completely covered in Map Business Online with the various city data options listed above; and for most people, we do.  However, you'll run into the occasional business map user who has a boss who wants to see only certain cities on his map, or perhaps he or she wants a to see certain cities with labels turned on and some with labels turned off. I just thought I'd mention, you can always create a two column spreadsheet of cities and states for manually placing city points on the map. It's definitely going old school for city listings, but it will let you tweak the placement and labeling just the way your boss likes it.
Between the Placenames column and the City Limits option, you should have plenty of ways to get lists of cities for your use within or outside of Map Business Online.
Find out why over 25,000 business users log into MapBusinessOnline.com
Contact: Geoffrey Ives geoffives@spatialteq.com (800) 425-9035, (207) 939-6866
MapPoint users – please consider www.MapBusinessOnline.com as your MapPoint Replacement.
Please read customer reviews or review us at Capterra, or g2crowd