Let's imagine I need a business map of assisted living centers or nursing homes to show my Mom (heretofore referred to as Nana.) I want to display a nationwide provider listing over a demographic map of senior citizens across the USA for Nana to view. We'll use this map to help Nana decide how to move her current home and to a new place of residence that can keep her safe and healthy. How would I go about building such a map using business mapping software?
Find and Prepare Your Data
First I'd find a source for my data online. After searching for a while I found a list through an assisted living informational page and data source on a www.Medicare.gov website. I made sure it included address location columns or latitude and longitude columns, before I downloaded the data to my laptop and then uploaded or imported the data into Map Business Online.
Upon import, the data looks like this in map Business Online.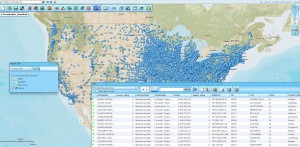 There are 15,000 plus records. To visualize the data in a meaningful way I reviewed the data columns and decided to color code and symbolize this data based on the column labeled Staffing Ratings.
The first pass seemed pretty busy, crowded and not well explained. It's not Nana ready.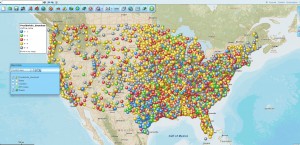 We need the Nursing Home map to be dirt simple. So I went back to the source data and read about Staffing. Turns out the data ranks living centers by a 5 star ranking system. So I adjusted my map legend to reflect this and tweaked the point symbol sizes to show Green & Blue for four and five-star rankings. And I made Red the low star ranking and made those red balls a little bigger. Nobody wants Nana to get assigned to a "Red Balls" nursing home. That might look bad.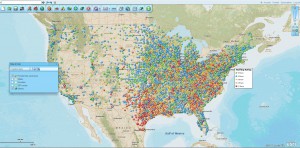 I think our national nursing home map will have a lot more meaning when viewed at a regional level. I decided to display my senior citizen population demographics, included in Map Business Online, by zip code – demographic mapping by zip code. So the first thing I needed to do was consolidate my Census data population by age break downs – which are at least six layers of data from Census – into one calculated or summed data layer representing old duffers.
To do this I turn on the zip code layer in Map Business Online's Map and Data box. I hover over the layer and click the Edit Gear. Next I choose Calculated Data Columns. Here I combine all those older age brackets into one layer called – Grandma and Grampa Types. Hey, I could have said worse. This data layer represents all USA citizens over the age of 59.
Next I turned to the master tool bar and used the Color Code by Map Layer button to color code the zip codes based on my summed demographic layer. I used a graduated gray-scale for color, so my colored ball symbols representing nursing homes would display nicely. I chose a 5 range scale, splitting the population breakdown from up to 250 aging Americans per zip code all the way up to 50,000 per zip code. Plus, gray is the right color for these guys anyway – get it? It's cool, I'm only a few years away from this demographic and my hair is white.
Now I zoomed into the center of the USA to see what my map looks like in the Chicago area. I tweaked my legend again to make sure it stated exactly what I wanted it to say.
Before I run this by Nana I figured I'd eliminate the 1 and 2-star nursing homes. So I filtered my data layer by Staff Rating in the Data Window. I clicked the Filter button, chose Staff Rating as a column and modified the query to show only ratings of > or = to 3. I then checked in the "Filter Data on the Map" checkbox on the Data Window to get rid of the less-than-optimal centers. Here's an interactive web map example:
Now I've got a business map ready for Nana to use to choose her "assisted living center". We'll keep it zoomed into Chicago for now. If we're lucky she'll choose a lovely new home in Illinois and won't remember until later that we live in Maine.
And best of all, because we used Map Business Online, we can share this with Nana at no charge as an interactive web map. No need to visit for a while!
Written with apologies to Nana.
Find out why over 25,000 business users log into www.MapBusinessOnline.com
Contact: Geoffrey Ives geoffives@spatialteq.com (800) 425-9035, (207) 939-6866
MapPoint users – please consider www.MapBusinessOnline.com as your MapPoint Replacement.
Please read customer reviews or review us at Capterra, or at Crowd Reviews.