For centuries maps were used for navigation and planning, as opposed to communicating. Early map addicts included explorers like Columbus, Magellan, and Hudson. The planners of history using maps were people like Napoleon, Richard I, and Thomas Jefferson.
Today we have Internet mapping and we can purpose maps for many more business and personal applications like:
• Sales planning
• Market analysis
• Delivery route planning
• Party invites
• House hunting
• Communication
Maps for Communication
I suppose Napoleon might have sent copies of maps off with runners, to better communicate battle orders through his field commanders. But I'm pretty sure Napoleon never tweeted a map. Using maps to communicate is a more recent development.
The Internet has helped enable software platforms for map creation and sharing. It has also created an audience for the maps we share. You can't spend time on Facebook, Twitter or LinkedIn without running across a map designed to communicate a trend, a bargain or a warning. Maps today are used to communicate all sorts of concepts.
Over the past four days I've read online social media maps that described these phenomena:
• State delegate counts by presidential candidate and party
• Projected presidential election results based on current polling
• An analysis of sports economics
• A description of the best states to retire to related to low taxes
• A map projection of Earth after all polar and glacial ice has melted
• A personal reminiscence of travel to Calaveras Big Trees State Park
• Low Income Housing Coalition map describing USA affordable housing
Maps are ubiquitous in our lives because they communicate large concepts quickly and effectively.
Map Are for Sharing
Business mapping software leverages mapping communication capabilities for your business processes. Looking at my notes back two weeks, I see businesses using maps to communicate for call and dispatch centers, for sales reporting across a network, for market analysis reporting, search & rescue status, capacity planning, business expansion planning, shared status maps for almost any field activity, insurance claim management, competitor analysis, non-profit donor analysis, media report generation, and home care clinician staffing.
You have choices in how you communicate using maps. You may deliberately set about building a map to communicate a concept, or you may have created a business map to assist with your business workflow and suddenly realized that by sharing the map you could improve your process tenfold. Either way, you have concluded that a shared map beats a private map; Maps are for sharing.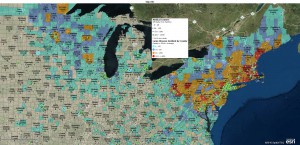 A Static Map
It's possible that a static map is all you'll need to share to get your point across. A simple PDF, Jpeg or PNG file can provide a world of information for your map audience. Maps usually include map legends, as well as area and data labels to help explain critical aspects of your business map. Often these static references provide all the information your map audience needs.
A political map describing projected voting results is a great example of a successful static map. State labels and projected voting results adequately describe your map's intent. But for some business processes more layers may be required along with several map layer options. Consider an interactive web map to support such cases.
Sharing an Interactive Web Map
A franchise organization that allocated sales territories by zip code may want to show multiple layers:
• A state layer for map orientation – making your audience aware of placement
• A zip code layer shaded by color to denote available or sold territories
• Point layers that show store or distributor locations
A variety of layers could be selectively turned off and on by map viewers, enabling more or less data for decision-making processes as required. Call center phone reps could conduct zip code look ups to view specific coverage areas in detail, perhaps to recommend stocking store locations to consumers who call in.
Interactive maps can alert your traveling constituents, sales people or field technicians, of business priorities through color coded rankings in addition to providing efficient travel routes. By creating effective business maps through data layering your constituents will become more location aware.
These situations are imminently solvable through interactive map sharing:
• What additional account possibilities exists along a sales person's route?
• Where are all of the bad guys located within ten miles of our crime scene?
• Where is my closest clinician home compared to critical patient locations?
• Show me the largest concentration of older Americans with the highest levels of expendable income?
All of these map sharing examples are achievable by map users who are no more adept at technology than jamokes like me, who manage to create, save and edit Excel spreadsheets on a semi-regular basis.
So remember – Map are for sharing and even you can do that.