This week SpatialTEQ Inc. updated Map Business Online to include time windows in its optimized routing functionality. This feature had been requested by many users of our business mapping software, especially users who came to us from Microsoft MapPoint. We believe the time windows enhancements, coupled with the new freely available Software Development Kit (SDK), makes Map Business Online the best replacement for MapPoint on the market today.
Time Windows
We added time windows because some users are routing field techs or clinicians in time sensitive workflows like delivery windows or patient care time-frames.  Many stops on a given route may be allowable at any time of day, but certain stops may be required at a specific times. For instance, furniture deliveries at one location can only happen at 2:00PM, or a certain patient will only be available in the afternoon between 1:00PM and 3:00PM.
Optimized routing functionality in Map Business Online will now include the ability to set arrival time, departure time and required stay duration for a stop. This new time window functionality will allow dispatch managers, drivers, and traveling sales people to more accurately plan, document and share their driving routes. Time estimates by stop will now be included in Map Business Online turn-by-turn direction output.  Users will be able to export estimated time durations per stop in addition to total trip time.
New Buttons in the Route Window
Time-based route functionality is user selected by  simply turning on Trip Planning in the Map Business Online Route options window. Please note the Edit Gear on the Route Window toolbar. Map Business Online users will also find a new button for exporting route files (PDF, CSV, GPX, HTML & ITN formats). Route file export is perfect for saving route information for later review or sharing route data with drivers, managers, or accounting.
Route Barriers
Sometimes the bridge is out or perhaps you never want to drive by your old girlfriend's apartment ever again. Well, for a while anyway. Well now Map Business online lets you create a barrier around places you'd like to avoid. Map Business Online users will create a polygon defining that avoid area, and reroute around the obstacle or girlfriend, as the case may be.
Be sure to zoom into the avoid area, if you're too far out the reroute calculation becomes too unwieldy for practical purposes. Now create a map object barrier – a radius or a polygon – around the target to be avoided.
For example, I might draw a polygon, the shape of a crucifix, around Jane's house. I could color shade that map object blood-red to make sure it's highlighted and obvious. I could add text to the polygon telling my map audience exactly what Jane did to me. Oh yeah, in the polygon edit box you'll notice a check box labeled: Set as route barrier.  I check that box. No more Jane! or someone similarly named.
When adding barriers to existing routes, after checking the Set as route barrier box you'll be asked if you want to recalculate. The route around barrier functionality is a great tool for clarifying routes for field services systems with many traveling employees. it can serve to clarify areas of responsibility.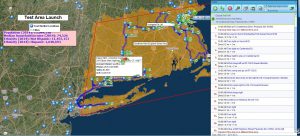 Traffic Aware
Map Business Online route functionality with time windows will automatically factor in historical traffic patterns. This will provide extra time for routing legs through high traffic areas at high traffic times. Both historic and real-time traffic information is added to optimized route calculations improving route time estimations and providing the opportunity to recalculate routes through areas that are less obstructed by traffic.
Based on my discussions with Map Business Online customers, below are examples of customer types that will use time windows with optimized routing:
Bus transportation route planners
Retail store product delivery and shelf/display managers
Traveling sales people
Fuel truck delivery services
Home care and home hospice care organizations
Any field service organization
Public safety organizations and disaster planners
Guys who just broke up with someone like Jane
With this product update Map Business Online once again adds customer requested features to an affordable Cloud-based service at no additional fee. Updates are just part of the deal. No downloads or installations required. You just roll out of bed and start routing with time windows. Because with Map Business Online it is all about customer convenience, no matter what Jane says.
Map Business Online – Easy, affordable, advanced and we'll help.
Find out why over 25,000 business users log into www.MapBusinessOnline.com
Contact: Geoffrey Ives geoffives@spatialteq.com (800) 425-9035, (207) 939-6866
MapPoint users – please consider www.MapBusinessOnline.com as your MapPoint Replacement.
Please read customer reviews or review us at Capterra, or at the Salesforce.com AppExchange.