One might answer, "It's pretty far and it will take a while." Put another way, the question might be, "Are we there yet?" Before you muzzle your children, read on.
Distance and time measurements are at the core of what business mapping, or any map software provides. "How far is it?" can be answered quickly using business mapping software by simply drawing a crow flies line from point A to point B. Look for the ruler on the toolbar in Map Business Online.
So yeah, a line from point A to point B answers the question of distance, but it does not address time. And for us non-crows, traveling on roads, timing is going to entail a more complex calculation. In business mapping, driving time calculations accommodate:
Road classifications – highway, secondary roads, dirt roads
Turn restrictions – many cities don't all left turns into traffic. This impacts route times
Speed limits – related to road classifications and zoning
Traffic – historical traffic data can be a critical aspect of the calculation, especially for high traffic areas at commuting times
Business mapping driving time calculations are applied to point-to-point routing estimates and to drive time polygon calculations. Point-to-point route calculations simply compile a list of stops (in Map Business Online the limit is 100 stops per route) and sum the segment distances and times into the overall calculation. By choosing to optimize the overall route calculation the user is requesting the most efficient route from start to finish, disregarding stop order input.
Thus, route calculations can be a great way to estimate the amount of time a field technician requires to get from one location account to another. Map Business Online users use optimized routing to build estimates for jobs, to plan efficient routes for driving, and to verify mileages from expense report submittals.  In other words, routing tools aren't just for drivers.
So, if a driving technicians ever calls to ask, "Am I there yet?" tell him to quit whining or you'll give you something to whine about – Copyright Rick Ives (my Dad, 1972-ish).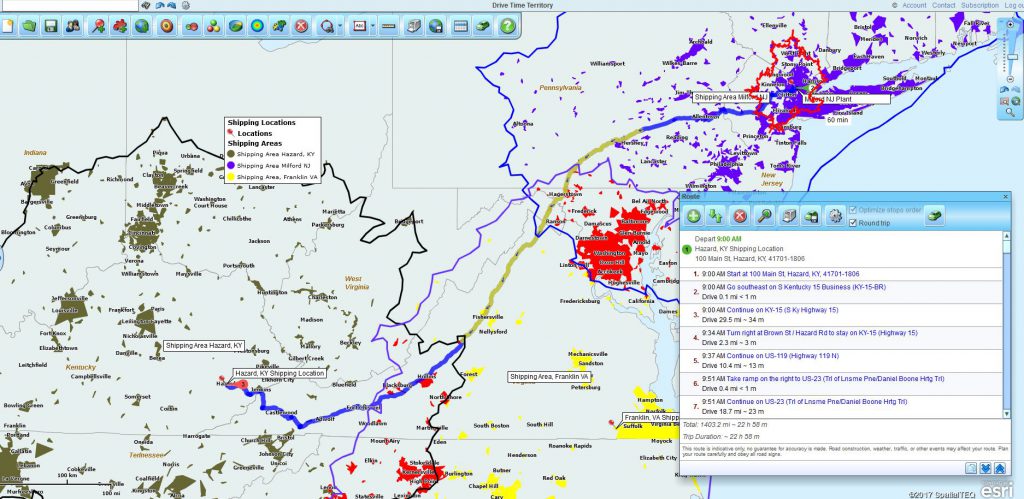 Drive Times
Classic drive time calculations in business mapping software, like Microsoft MapPoint, expand upon point to point route calculations.  Drive time calculations begin at a central point and then proceed outward from that point in all directions, along the road network. The result is usually a jagged a polygon describing the furthest extent a vehicle could drive in all directions, in the time allotted, from the designated central point.
In Map Business Online the drive time tool calculates driving distance as well. It's the same process expect the vehicle drives a set distance from the central point, in all directions. In either distance or time calculations the results are derived from the inherent road network data of the mapping application.
In Map Business Online drive time calculations can be initiated from the Search Tool by selecting the Drive Time option and placing the start point on the map. A user could also begin by inputting an Address and clicking the Drive Time polygon tool in the mini-toolbar associated with your location point. Either way, a drive time or distance calculation can be initiated.
Driving time and driving distance polygons are effective ways to estimate market potential, to gauge consumer interest based on the demographic realities inside of a drive time polygon. If you have a sense of how far people are willing to drive for an event, and you have the population of that area,  then you can estimate attendance.
An example could be a seminar on retirement planning held at a major hotel event center. Based on earlier research the seminar team knows people will drive up to 40 minutes to attend the seminar, any more time and attendance drops off. The seminar's target demographics are all ethnicities, male and female, ages 55 and up. A quick drive time polygon will establish the size of your potential audience. From there, advertising costs can be calculated for reaching the seminar audience.
Drive time area calculations are also great ways to define coverage areas and territories. Insurance claim field work is often assigned by area and using drive time estimates to define those areas make sense because time is related to capacity. A claim's agent will get more accomplished in areas where driving times are short, between claims.
Are We Done Yet?
In business mapping software, and in Map Business Online specifically, the user can estimate distances and drive times:
For quick rough estimates – simply draw a measure line and use the crow fly distance. "Jim it's ten freaking miles. Quit whining and go, or I'll give you…"
Create a point-to-point optimized route to generate exact distance and time estimates.  "Ed you submitted an expense for 30 miles. I show 15 here in Map Business Online. Educate me."
Create a drive time or driving distance polygon that will define an area based on driving time or distance from a central point in all directions. "Sir, the car wash is being held on a Saturday morning. No father is going to drive more than 15 minutes with screaming kids in the car. That's your audience."
It helps to explain to your map audience how these various approaches yield varying degrees of accuracy in the results. That way, instead of asking, "Are we there yet?" over and over, they might just fall asleep.
At least they're not whining.
Map Business Online – Easy, affordable, advanced and we'll help.
Find out why over 25,000 business users log into www.MapBusinessOnline.com
Contact: Geoffrey Ives geoffives@spatialteq.com or Jason Henderson jhenderson@spatialteq.com (800) 425-9035
MapPoint users – please consider www.MapBusinessOnline.com as your MapPoint Replacement.
Please read customer reviews or review us at Capterra, or at the Salesforce.com AppExchange.