Last month I presented a webinar on Advanced Territory Mapping. I began by showing how to manage ZIP code Fillers to merge non-ZIP code areas into a territory color scheme. (Map & Data ZIP code Tab.) In preparation for the webinar and in testing Map Business Online 5.0, I must have run through that process a dozen times. Here are a few pointers I learned as I went about the ZIP code filler process, in essence using Map Business Online business mapping software for (what we call in the biz) heads-up digitizing – or digitally editing an online map.
Most often I use the Polygon tool to select ZIP code and Filler areas. When you select and use the Polygon Search tool you draw a line by dragging your mouse, lift your finger up, and draw another one. Bring that line back to the beginning to finish the search. It's like a lasso. The ZIP codes are your dogies. and you are the cowboy or cowgal. Tidbits:
I left my ZIP code map layer turned on with boundaries colored a light blue – just enough to see them.
Keep in mind, ZIP codes often cross state boundaries. I assigned ZIPs to the state territory that carried the most ZIP area. You'll see some jagged state territory boundaries that reflect this.
Keep the Allow Overlapping Territories or Intersection function turned on to catch overlapping ZIP codes. Black is a great color for displaying overlap. Once you've completed a territory it's easy to rectify overlap by selecting the ZIP(s) and choosing to Remove from or Add to a territory.
State boundaries along a river can be tricky for selecting ZIP codes. Use the State Boundary line as a guide for collecting ZIP codes. In Map & Data move the State layer above your Territory layer. Beige is a nice soft color allowing the state boundary to show through but not overwhelming the map. Consider using the incremental selection method in these boundary areas – especially where a river is involved.  Select one ZIP and hold down the shift key. Now select as many as you need to.  Create a Territory. Now go back and grab the whole state's ZIP codes using a Polygon Tool.
When using the polygon tool to create territories you can finish your polygon outline, close the search function and easily adjust your drawn polygon to accommodate line errors. Just mouse select the line and move it.
Once you're work feels done, look for straggling ZIP fillers across the country, especially along the Mississippi River. Try zooming in to a regional level and panning across the map to find unfilled ZIP code stragglers. Or Create a USA Wide Division (territory) with thick dark boundaries, which will make unfilled ZIP code holes glaringly obvious.
To deselect a selected ZIP code – click in open bodies of water, hit the Escape button on your keyboard, or try holding the Shift key and click the selection.
At some point in your process you'll think you're finished but you're probably not finished. That's life, right? Review your work. Take a step back with your zoom tool and look the map over. Make a cup of tea, smoke a cigarette, or twiddle your thumbs while you view your nice online mapping work and look for errors, label placement issues or cranky colors that could use adjustment.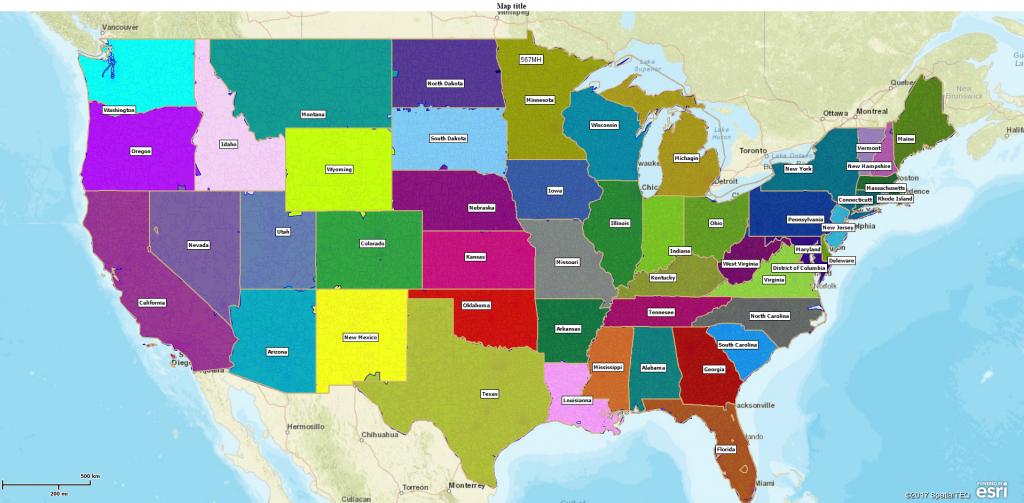 I really felt the NEW territory select tool came in handy – just click the territory label to adjust names and colors. I think I created a really nice looking map of state territories by ZIP code. What started out as a tedious mapping task, when I had other things I could be doing (like writing a blog), turned into a fun business mapping project.
Sales Territory  Haiku
We gaze at my map.
Colors define our sales role.
Is vacation here?
Find out why over 25,000 business users log into www.MapBusinessOnline.com for their business mapping software and advanced sales territory mapping solution.
Contact: Geoffrey Ives geoffives@spatialteq.com or Jason Henderson jhenderson@spatialteq.com (800) 425-9035
MapPoint users please consider www.MapBusinessOnline.com as your MapPoint Replacement.
Please read customer reviews or review us at Capterra, or at the Salesforce.com AppExchange.