New users of business mapping software choose Map Business Online for a variety of reasons. Some are brand new to business mapping and choose Map Business Online based on their return results from a Google search for business mapping software. Our FREE Trial is there for brand new users to test out the application for thirty days. A user can import up to 1,000 addresses or lat/lon records at no cost – no credit card required.
Often, people who have used Microsoft MapPoint are landing on our web page, looking for a MapPoint replacement for the 1990's era desktop mapping program canceled two years ago.  We're happy to assist with this transition, be it a one user opportunity or five-hundred users.  MapPoint was great while it lasted, but time marches on.  We believe Microsoft had bigger fish to fry and decided this market, of less than 1 million users, just wasn't their future. We beg to differ.
We get a fair number of customers on the rebound from our direct competitors too. Maybe we didn't do a good enough job convincing them of Map Business Online's ease-of-use or affordability and they selected one of our competitors. Generally, they return to us for these reasons:
Ease-of-Use – They seek more direct, less complicated mapping with a non-GIS user interface
Import Location Allowance – They require the ability to import up to 100,000 address records per map
Affordable & Advanced Sales Territory Mapping – Hierarchical territories, now included in Map Business Online for $300, are killer
Cloud Based Software – Access your maps from any computer – Mac or PC, receive automatic data updates, no installations
Awesome Support – We're here in the USA ready to respond to emails and phone calls
We Listen – Like our features? That's because we react to customer feedback
The most common use-case application of Map Business Online is basic address spreadsheet import and data visualization. At the simplest level, this means viewing your customers, patients, or prospects against a map and noticing where locations are grouped. But beyond a simple import and view, the application enables:
Symbolization Options – Chose from a growing library of symbols or import your own symbols
Color Shading – Color code symbols or geographic regions based on your imported data. Import data and color ZIP codes.
Heat Maps – Visually depict your critical location datasets as color shaded heat maps
Optimized Multi-Stop Routing with time windows – Manage your field staff
Advanced Territory Mapping – Now with hierarchies supporting regions and divisions
Market Analysis – Isolate markets by geographic area, compare prospect data
Drive Time Analysis – Create retail polygons by driving times and driving distance
Demographic Analysis – Define your markets with comprehensive Census based demographic maps
Combine Datasets – Create data calculations from imported data and included demographic layers
Export Map Images for presentations, wall maps, reports, and marketing graphics
Share Maps for collaborative editing or view only information sharing
Build Maps – competitor maps, expansion plans, market analysis, territories, field asset portfolios
Plan Your Family Vacation or your 'alternative' Thanksgiving Day placement this year
Introduce your associates to business mapping – Be that Map Geek!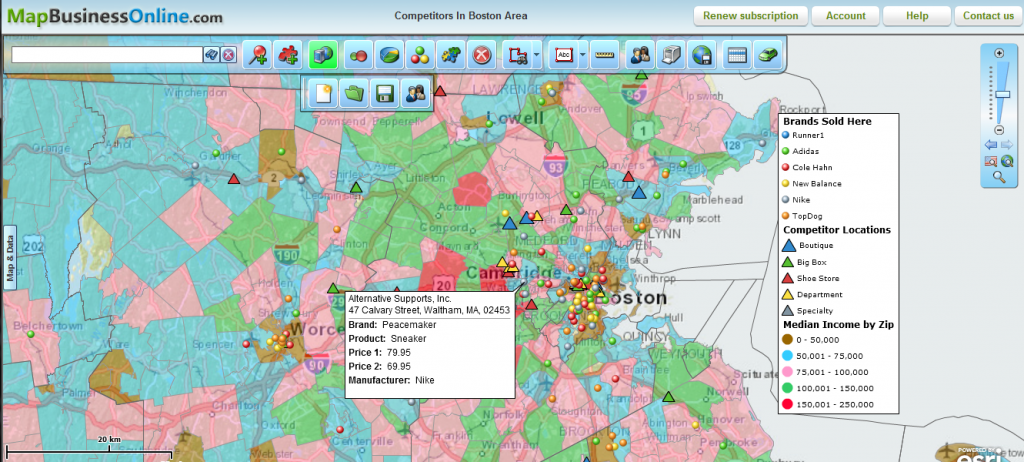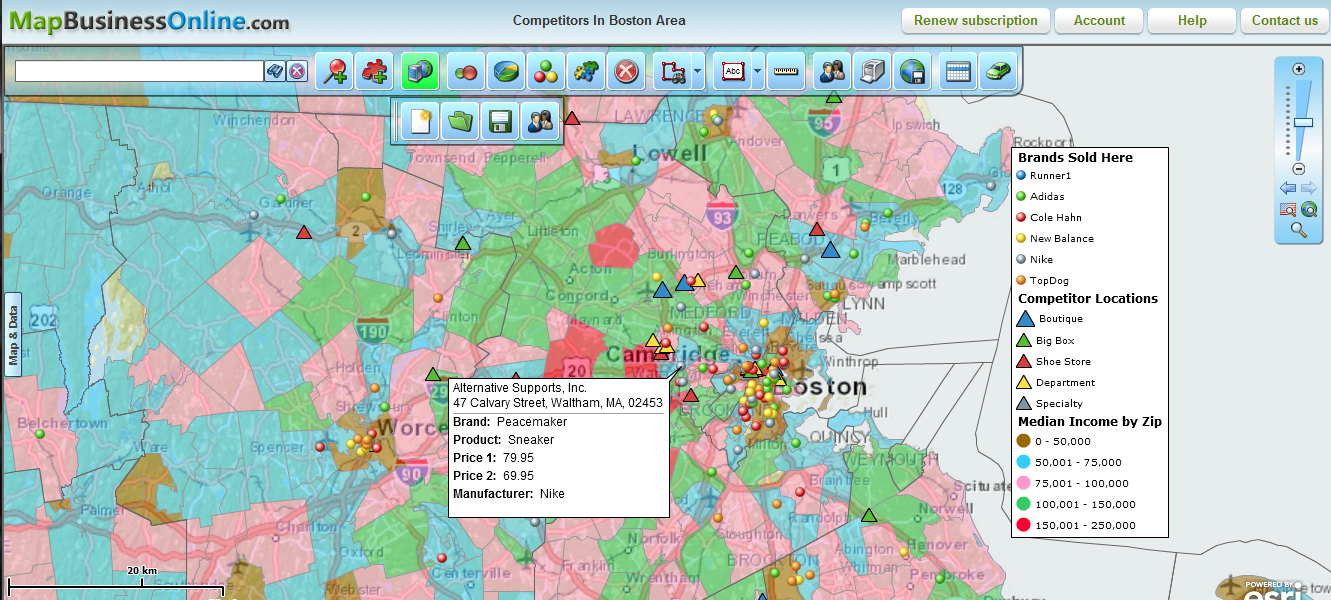 So, whether you're new to Map Business Online or returning, we'd like to welcome you to the platform. Join our newsletter. We'll keep you updated on new features and Map Business Online news in general. And we love your feedback. Please don't be shy.
NEW! Refer a business associate to Map Business Online in exchange for a $20 Amazon Gift Card!
Find out why over 25,000 business users log into www.MapBusinessOnline.com for their business mapping software and advanced sales territory mapping solution.
Contact: Geoffrey Ives geoffives@spatialteq.com or Jason Henderson jhenderson@spatialteq.com (800) 425-9035
MapPoint users please consider www.MapBusinessOnline.com as your MapPoint Replacement.
Please read customer reviews or review us at Capterra, G2Crowd (LinkedIn connected), or at the Salesforce.com AppExchange.