Industrial manufacturers and large service organizations derive significant benefit from business mapping software.  From territory management to field staff management, these varied businesses and industries each use online business mapping for their own particular applications.  These are a growing segment – the business mapping enterprise.
Often, business mapping is applied as supplemental software for sales and marketing departments – typically for sales territory management or some sort of market analysis. However, Map Business Online applications in industrial manufacturing and services industries are not limited to just sales and marketing.
Many large-sized companies apply business mapping to the management of field staff, to C-level strategic planning support, and even to product planning. As the world grows smaller and more and more businesses compete globally through online presence, the importance of relating your business directly to geographic realities becomes paramount. No competent business should expand into a new country, state or ZIP code without a business map visualization of their current and future client demographics.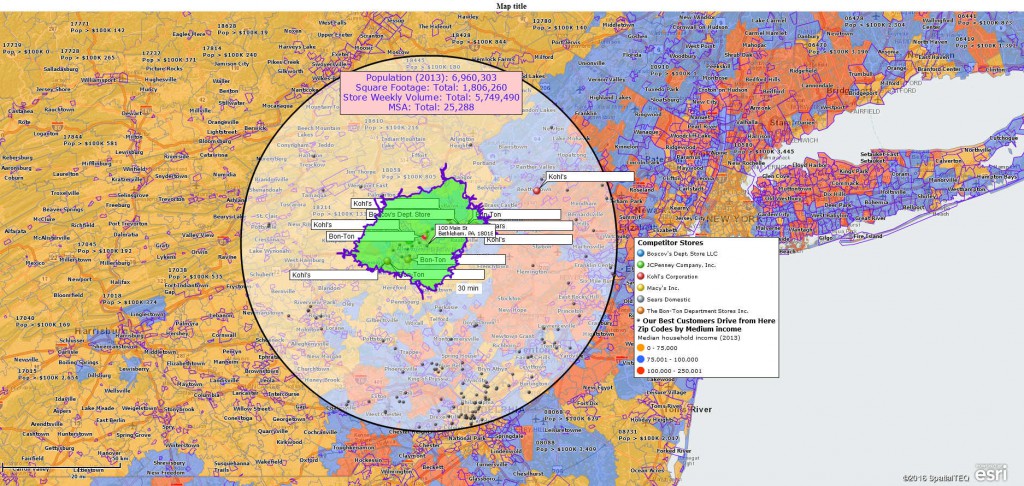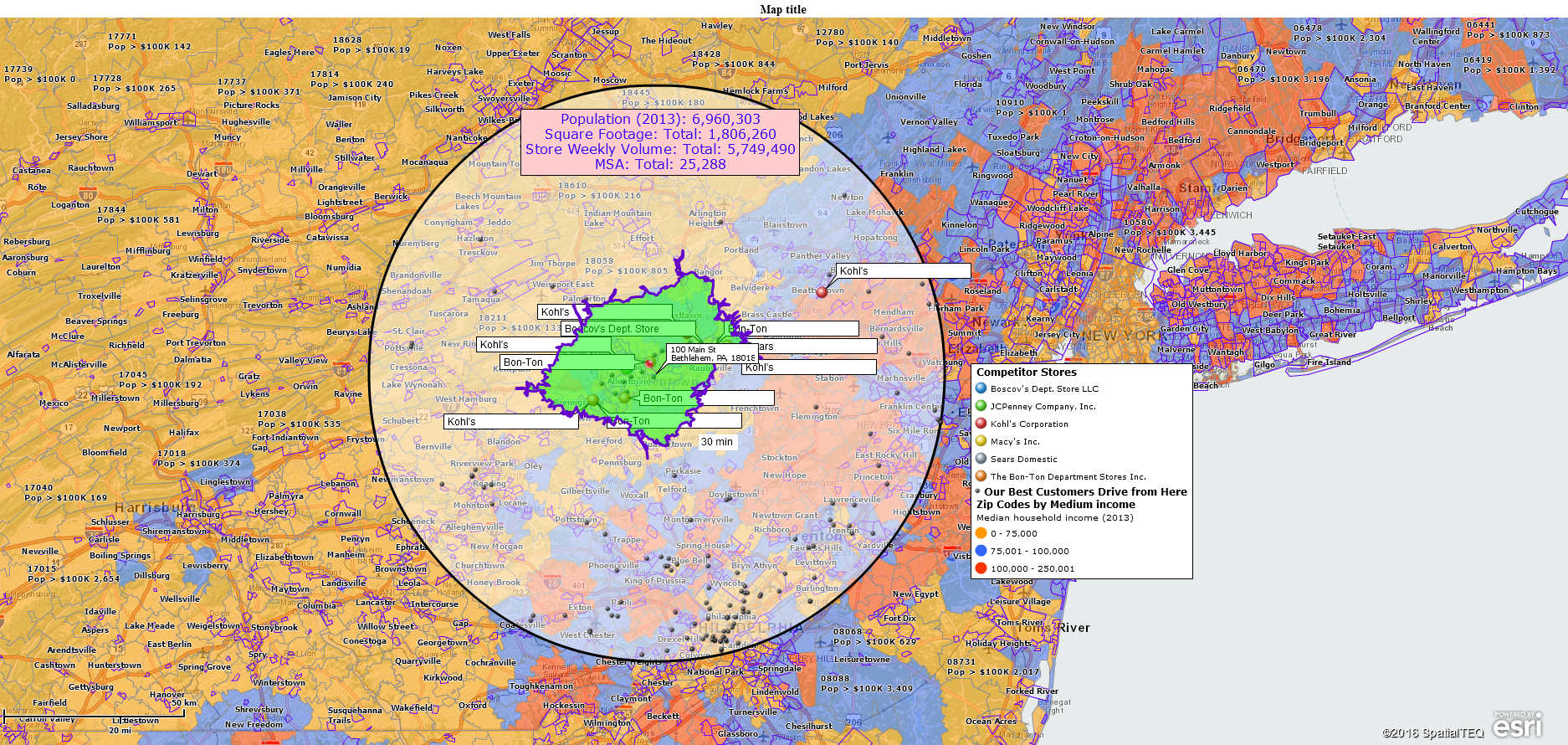 Map Business Online Industrial Customers
USA manufacturing often gets a bad name from environmentalists and progressives, perhaps in isolated cases for good reason. But, for me (a progressive), industrial manufacturing has always carried a certain fascination.  Regardless of the specific industry, most factories are focused like a laser on turning out a quality product, reducing waste, improving output, and complying with regulations as required. They must do these things to be compliant with laws and profitable for investors and stake holders.
When you work in manufacturing you see that balancing act from the inside. Will we meet production quotas? Will our sales goal be achieved?  Will the new scrubbers pass the inspection requirements? How will the manufacturing staff get rid of that pile of waste material in the back yard?
Manufacturing facilities are there for a reason, to fulfill a demand for a product, to turn a profit, to ship on time, and to provide jobs. The specific business may be metal manufacturing, chemical production, textile extrusion, or plastic forming; they all face similar challenges. Each business does their best to maintain production quotas largely through the efforts of tough-as-nails production staff, working a myriad of problems every day of the year.
Business mapping gets applied to a variety of challenges in manufacturing. Map visualizations most often help focus the outside sales team, but these tools are sometimes applied to production requirements. Maps defining raw material and finished goods warehousing networks can be critical to establishing Just-In-Time (JIT) delivery processes.
Chemical production companies have utilized Map Business Online business maps to describe product sales by territory, region and division. Such maps supplement a sales and marketing effort while supporting mature industry market requirements. Fulfilling consumer demand for paints or automobile tires is perhaps less sales driven and is instead subject to very predictable market demands.  Car tires get worn out – the consumer requirement is quite predictable. Business maps can help visualize such demand and fulfillment systems.
Solving a waste stream issue should begin with a business map describing at-risk areas, possible recycling opportunities and compliant transportation routes for scrap load deliveries. Recycling or proper disposal of any substance in large volumes is definitely a geographic problem that can definitely use a mapping solution.
I believe that conducting strategic planning without well thought-out supporting business map visualizations, is a huge mistake. Nothing inspires out-of-the-box thinking like a new map visualization.  Interesting strategic data layers for manufacturers might include nationwide networks of reseller locations, Amazon.com ship-to locations, or unemployment statistics divided by population and visualized by county or ZIP code.
Advanced Enterprise Business Mapping
Consider identifying the enterprise's best new market potential with a combination of business maps and business geodata. The combination of industry location-data (NAICS points, employee information, sales stats) with an accurate and demographically enhance business map is powerful. We can demo this for you.
Enterprise customers using Salesforce.com CRM software should pay close attention to Map Business Online market analysis tools and sales territory design software. You won't find such a generous an import allowance (100,000 location records per map) and advanced territory visualization tools in competing products.  You just won't.
That MapPoint Problem
Lately, a major enterprise level business map challenge is replacing Microsoft MapPoint.  Moving to cloud-based mapping services like Map Business Online, can be a paradigm shift for a slow-to-change manufacturing culture. Take heart that thousands of businesses have already made the change and are thankful for it.
If you're business is still MapPoint strapped, you should look forward to its replacement. New features, updated data, conversion tools await.
The Services Industry
Services as an industry category covers a broad range of business types. At Map Business Online, we never know what service may be calling seeking online business mapping. The list is endless but includes repeat business types like copier repair, swimming pool maintenance, dentistry services, and fuel delivery companies. How many of you service guys are there out there?
General tradespeople catering to various kinds of home repair often seek maps to organize their sales and marketing. The plumbers who think about advertising by creating a demographic profile of their best ZIP code are the plumbers managing rapid growth. Demographic profiling sounds complicated; it's not. Choose your best ZIP code and study its demographic break down, then look for similar ZIP codes. That's all inclusive in Map Business Online.
Service businesses usually must manage field staff and will utilize optimized vehicle routing software and field staff visualization maps to organize their coverage areas.
Elder home care agencies have a staggering challenge when it comes to the daily routing of clinicians and aides. Business mapping can help to organize agency census home locations and assist in matching clinician skill sets to patient needs.  Imported business data can be used to inform traveling staff of appointment times, schedules, or even which homes have intimidating dogs. "Don't pat Skipper."
Most services industries cater to customers that, as a group, can be analyzed as a demographic category. Swimming pool companies will seek areas with a certain amount of expendable income. Orthodontists will try to reach families with multiple children.  Some businesses might combine more than one Census category to analyze their customer base.
For instance, a remedial reading service might seek higher incomes and multiple children as a general market.  Business mapping can define your audience using a calculated demographic formula and then display highest potential areas – color shading those ZIP codes that reflect your most fruitful demographic profile.
These two general business categories – Industrial Manufacturing and Services – represent the fastest growing segments of Map Business Online's business in 2017.  The variety of business types, large and small, are a delight to support. Though many of the mapping applications are similar each industry has its own twist on mapping requirements.
Every day is a new adventure.
NEW! Refer a business associate to Map Business Online in exchange for a $20 Amazon Gift Card!
Find out why over 25,000 business users log into www.MapBusinessOnline.com for their business mapping software and advanced sales territory mapping solution.
Contact: Geoffrey Ives geoffives@spatialteq.com or Jason Henderson jhenderson@spatialteq.com (800) 425-9035
MapPoint users please consider www.MapBusinessOnline.com as your MapPoint Replacement.
Please read customer reviews or review us at Capterra, G2Crowd (LinkedIn connected), or at the Salesforce.com AppExchange.