A retail business sells a particular widget that home owners use. The retailer has determined, based on tracked data from advertising offers, that many consumers who live within a 15-mile radius of a store are willing to drive up to 15-miles to the store to buy the widget at a discounted price. Time for some retail demographic mapping.
The retail chain has a little over 290 store locations across the USA, and would like to understand more about their target audience.  They want to better understand the demographic make-up of the ZIP codes within a 15-mile circle surrounding each store. Census categories such as median income, ethnicities, and specific age groups are of interest.
Business mapping software, specifically Map Business Online, can be used to conduct the market analysis described above. In this case, Map Business Online become retail mapping software.
Setting Up the Market Analysis Project
In Map Business Online, the first step to a project like this is to import an address spreadsheet; one that includes all store location addresses across the USA (CA & UK too if necessary). Do this using the Plot Data button on the master tool bar. This location data import places a set of almost 300 data points on the map representing all store locations.
A next step could be to use the Market Analysis tool (option 1 – Search Data from Multiple Locations) to search the ZIP codes within 15-miles of all stores at once. This analysis, applied to those 300 store locations, can be set to include all ZIP codes with 15-mile radius of each store; essentially generating a list of all ZIP codes surrounding all stores out a distance of 15 miles. The result will be a marketing list of ZIP codes that can then be converted into a Territory and named appropriately.
In Map Business Online the concepts of sales territory and market area of interest are the same.
That named territory is then selected and viewed in the Data Window. Here the Map Business Online retail user can click the More Data button located in the lower right of the territory analysis view, to add all the demographic layers to the territory analysis.  This works great for most of the demographic layers in Map Business Online. But, to get a selection of population layers, like a set of specific age ranges by population, into that mix, Calculated Data Columns (CDC) should be applied.
Calculated Data Columns
In Map Business Online some of the demographic data is segmented into layers. For instance, population by age is grouped by age ranges:
Population (2017): Under 5 years
Population (2017): 5 to 9 years
Population (2017): 10 to 14 years
Household Income is group by income ranges:
Households (2015): Income $15,000 – $19,999
Households (2015): Income $20,000 – $24,999
Households (2015): Income $25,000 – $29,999
These ranges can be combined into one data layer using Calculated Data Columns. This combination makes your market analysis easier to digest and comprehend. To combine these data layers the Map Business Online map creator will need to set up a calculated data column for the target data layers to be combined and specifically for that map layer – in our case ZIP codes.
In Manage Map & Data, the Map Business Online user hovers their mouse cursor over the ZIP code layer. They click open the Edit Gear and, under the General tab, choose Mange Calculated Data Columns.  In the CDC Wizard they click the Add Data Column. The number format is selected and then the demographic options are reviewed to find the segmented demographic ranges they want to combine.
Once the target layers are found in the drop down list, the user selects the ones to combine and clicks the arrow to move them to the top right side. (Notice the ability to multiply and divide exists in CDC too. Think ratios, which can come in handy in market analysis.)
Finish Up Your Analysis
Once a Calculated Data Column is saved, the user returns to the Territory Analysis view in the Data Window.  The retailer once again clicks More Data and in the drop down selects Calculated Data to add the combined demographic segments to the market analysis.
Once a territory analysis is complete, the user can filter the Territory view to review specific ZIP code groups, or City areas.  There are many ways to filter a data project like this. Use the Filter Data on Map check box in the upper left of the Data Window to isolate these groups on the map.
This market analysis now shows the pertinent demographic makeup for all ZIP codes within 15-miles of a target store. So for stores not stocking the widget yet, decisions can be made based on a certain amount of analysis.
Additional visual data layers like a heat map layer describing sales information and drive time polygon analysis may be valid compliments to this type of analysis. Just make sure the additional data adds value to your map audience before you add too much clutter to your market analysis.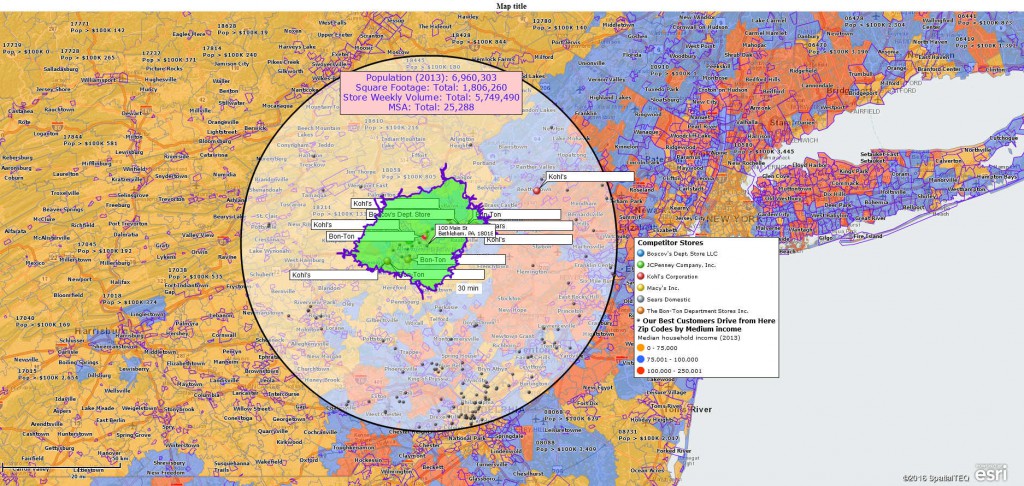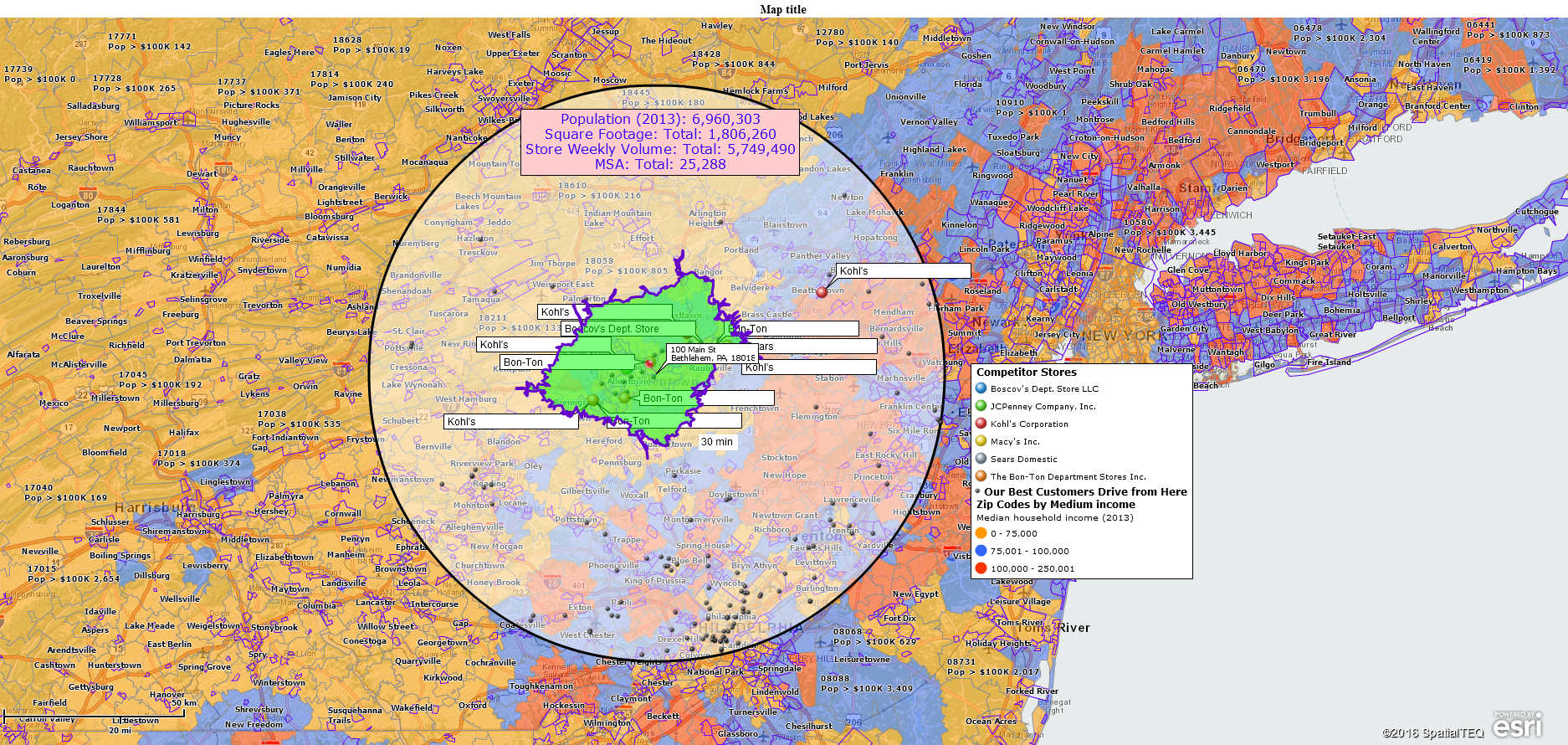 Completed Use of Market Analysis
Once a market analysis project is complete, a user can export the file for use outside of Map Business Online.  The export button is the far-right button on the Data Window tool bar.  Thus, Map Business Online generates Market Analysis reports which are exported as a CSV file.
Market Analysis users can also save and export map views as PDF, PNG or JPEG files. These are great for Power Point presentations or overhead projector meetings. If you feel comfortable with Map Business Online, use the tool itself to present your market analysis results.
Retailers will make use of Map Business Online market analysis, but the tool is used by database analysts, sales managers and analysts, and of course market analysts.
NEW! Refer a business associate to Map Business Online in exchange for a $20 Amazon Gift Card!
Find out why over 25,000 business users log into www.MapBusinessOnline.com for their business mapping software and advanced sales territory mapping solution.
Contact: Geoffrey Ives geoffives@spatialteq.com or Jason Henderson jhenderson@spatialteq.com (800) 425-9035
MapPoint users please consider www.MapBusinessOnline.com as your MapPoint Replacement.
Please read customer reviews or review us at Capterra, G2Crowd (LinkedIn connected), or at the Salesforce.com AppExchange.