A commonly used business mapping software feature is color shading an administrative district, think ZIP code or county.  In Map Business Online we call these jurisdiction areas map layers.  These map layer areas include: Census Tracts, city limits, counties, MSA's, school districts, states, and ZIP codes (5 & 3 digit.)
Map Business Online offers two ways for color shading map layers, like ZIP code mapping, from an imported dataset.
Use the Color Code Map Button (three puzzle piece icon). This process lets you select the map layer you'd like to color code and then asks you to decide on the dataset you'll use to apply the color shading
Use the Create Territories Button – Import a pre-defined territory or area of interest spreadsheet using the Create Territories button. Your spreadsheet will have a Territory Name Column and columns for ZIP code. (In the case of county) you'd include a County column and State Column)
As most of you know, Map Business Online lets you process color shading from several locations within the application. For instance, the same dialogue for color shading you just used in the Three Puzzle Piece button – Color Code Map – is also found in Manage Map & Data.  Hover over the map layer, click the Edit Gear and choose Color Code Map layer.
These various approaches to color shading jurisdictions gives the Map Business Online user multiple options for visualizing territories and areas of interest by imported data, demographic data, or RealDatasets NAICS industry sector data (coming in February 2018).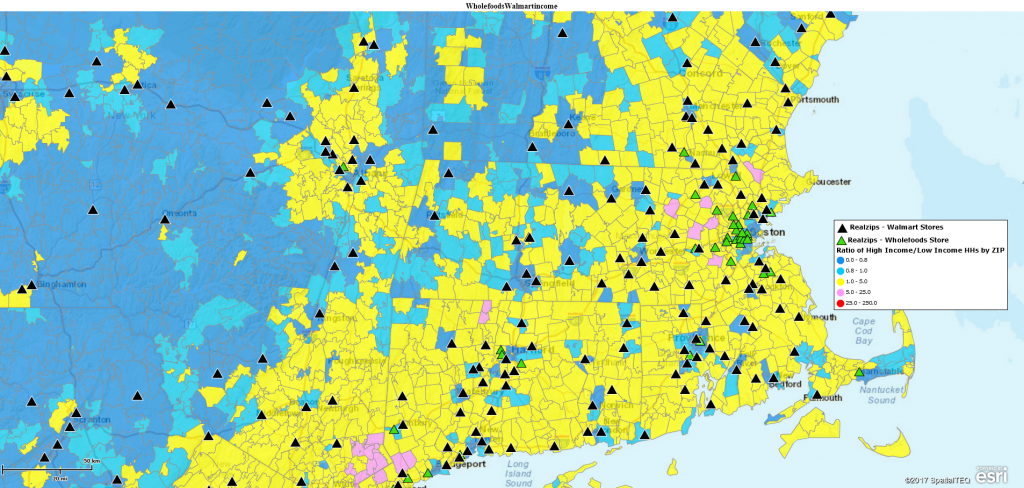 Examples of why Map Business Online users color shade by map layer or area of interest:
Sales Manager – Color shade by imported sales data to show sales activity by ZIP code or county, answering the question, "Where are my sales?"
Franchise Marketer – Color-code ZIP codes by franchise availability, answering the question, "What franchise areas are available for sale?
Retail Sales Analyst – Color shade territories by population or house hold income, or a calculated result using multiple demographic layers. This process helps to define successful market area characteristics for profiling.
Political Analyst – Color-code Census tracts by eligible voting population. Helps politicians to determine which districts to gerrymander to insure future instability. (Did I say that out loud?)
County Clerk – Color shade counties to show year-over-year population growth. Helps with tax planning.
Marketing Analyst – Color-code ZIP codes based on periodical and newspaper circular add results by retail store to determine campaign success rates.
Color shading by map layer is some times referred to as heat mapping because the map maker could define the color shading in such a way that hot areas of activity are highlighted. In Map Business Online the Heat Map button is used to create heat maps and does so by accessing numeric data in imported point data layers and converting this data to color graphics denoting activity. Map Business Online heat maps have an adjustable color scheme that looks like a tornado map from weather reports in July.
Regardless of what tools you use in Map Business Online to visualize your business data, try all the different approaches to make sure you find the easiest and most informative views for your business audience.  Testing a map view is easy and wicked cheap (very inexpensive.)
Win a $20 Gift Card! Refer a business associate to Map Business Online in exchange for a $20 Amazon Gift Card!
Find out why over 25,000 business users log into www.MapBusinessOnline.com for their business mapping software and advanced sales territory mapping solution.
Contact: Geoffrey Ives geoffives@spatialteq.com or Jason Henderson jhenderson@spatialteq.com (800) 425-9035
MapPoint users please consider www.MapBusinessOnline.com as your MapPoint Replacement.