First time Map Business Online users might be interested in a brief description of how to build their first business map. That's the intent of this blog, at any rate. I'm putting myself in your shoes and going through the process of building a basic map.
Do this exercise first, then go back and create your desired map.  BTW – the attached video is a marketing video showing overall capabilities and Map Business Online can nicely replace Microsoft MapPoint.
Assuming you are starting from the company website www.MapBusinessOnline.com, you first need to register for a free trial or subscribe for 90 days or a year. Once you've completed that process, go back to MapBusinessOnline.com and from the website click the word Map towards the left of the main menu bar. This will launch Map Business Online, which takes about thirty seconds to load.
Once the application is up you will be looking at a map of the United States (or Canada or the UK depending upon your subscription.)
Click the left most button on the Map Business Online Master Toolbar which will let you Create a New Map.  Choose the USA or Canada option when creating your first map. A new map template will now load. You'll see the map of North America and you will also see Map & Data.
Notice Map & Data – a light blue box floating over the west side of your map. Map & Data controls which map layers (ZIPS, counties, states, or your imported data) are turned on. Here's a video explaining the Map and Data box. By hovering over those layers, the user can access editing features including:
Color shading of map layers
Border thicknesses
Transparency adjustments
Layer labeling options
Using Map & Data, turn the State Layer on by clicking the State Layer check box. Hover over that layer in Map & Data and click the settings gear. Try a few of the tools in Settings.  Move the transparency bar to the right to see its effect on the map. Uncheck the Fill Box.  Play with the map layer outline controls. Then close the Map & Data settings box. Now close Map & Data. Where did it go?  To reopen Map & Data find the light blue arrow button at the far left of your map screen right in the middle of the left side panel. Click that arrow to open Map & Data.
Take a moment to move your cursor to the upper righthand corner of the application. This is the Navigation Tool. Drag that vertical slider up and down to watch the map Zoom in and Zoom out. Click the American Flag to zoom to a USA wide view. Use the back and forward arrows. Lastly, click the magnifying glass and drag your cursor from left to right across the map. That is a handy zoom tool.
Import some of your own map data. Click the fifth button in from the left on the Master Toolbar. Navigate to where your data is stored on your laptop, desktop or Mac, and import your address or lat/lon dataset. Make sure your dataset has separate columns for each data component – Address, City, State, and ZIP. Here's a video on importing data into Map Business Online. 
Master Toolbar buttons (from the left) 9, 10, 11, 12 and 13 are sybolizing and color shading controls that can enhance your imported data. Try each one. You can always undue the changes – see deletion options at button 14.
If you have a territory spreadsheet, try importing it using the 6th button in from the left on the Master Tool bar. If not, use a polygon search tool at button 15 to select a group of ZIP codes or Counties and create a sales territory.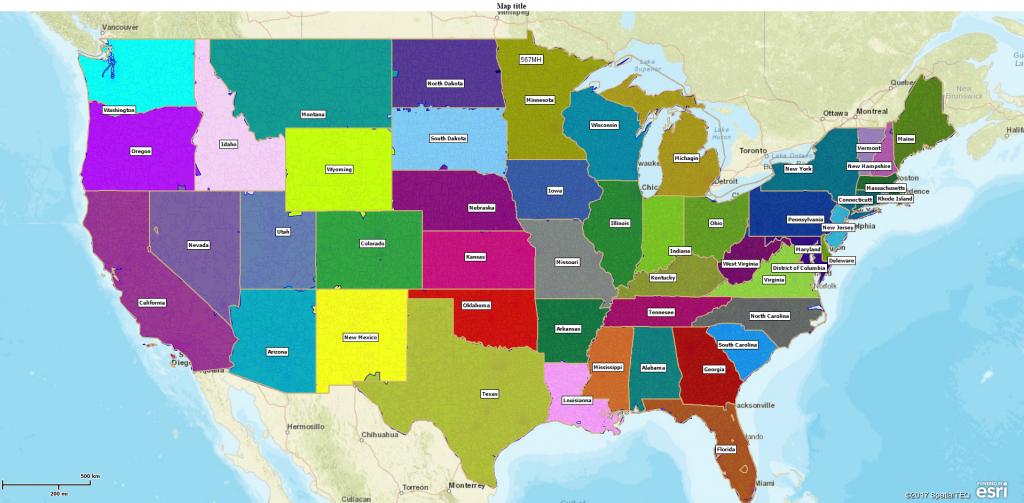 Saving Your Map
Once your map is created, save it by clicking the Save Map button three buttons in from the left side on the Master Toolbar. A word about saving your map. Map Business Online always opens to the map you exited from when you closed Map Business Online. But your map is not saved until you hit the Save Button. Don't be fooled by this. Map Business Online makes it convenient to pick up where you left off, but it's not saved until you hit the Save Map button.
Once your map is saved you can retrieve it by clicking the Map Library file folder icon, second button from the left. When you save you can choose to save as a map file or as a template. Templates are great for repeat map work.
These are the two most common ways people lose saved maps:
By not paying attention when saving and forgetting to save a map with a new name.
By letting someone else log into your account and create or edit maps. That violates the subscription terms, but it also puts your saved maps at great risk.
Try Other Stuff
Once your basic map is saved, try the following commonly applied processes to fine tune your expertise:
Creating a business map may feel intimidating at first. Most software processes feel that way. But, once you've mastered the basic processes of online map creation you'll have added a whole new tool set to your work persona. You've stepped over the line into the realm of Map Geek.
Welcome to Map Business Online!
Win a $20 Gift Card! Refer a business associate to Map Business Online in exchange for a $20 Amazon Gift Card!
Find out why over 25,000 business users log into www.MapBusinessOnline.com for their business mapping software and advanced sales territory mapping solution. The best replacement for Microsoft MapPoint happens to be the most affordable.
Contact: Geoffrey Ives geoffives@spatialteq.com or Jason Henderson jhenderson@spatialteq.com