First time user to Map Business Online?  Do the below actions first, to become familiar with our business mapping tool:
Log into Map Business Online by clicking Map on the Www.MapBusinessOnline.com toolbar.  Allow Flash Player to load, Flash will be gone eventually. You can always download the Windows or Mac Application to avoid Flash Player.  Apps and web browser access – its all included with the Free Trial or the Subscription.
Map & Data
When your Map Business Online map shows up, notice the map view. That's our street Map Layer. You'll see it checked on in Map & Data.  Map & Data, that light blue check-list hovering over your map,  has many map look and feel controls embedded.
In Map & Data uncheck the Streets box. You'll see nothing but blue. Now, say out loud, "Let there be map!" and check the box back on. Boom! Now there's a map.  That's your Map background control.
You'll notice if you hover your mouse over the Street layer and click the Edit Gear, you have background map options for your map. In the drop-down, try Satellite and Topographic views. After you've played with these options, go back to Streets.
Now, still using Map & Data, check on the State layer checkbox. You'll see states populate the map.  The State Layer also has editing features. You'll see them there in front of you, or click the Edit Gear to get to the editing panel. within that Editing Panel view:
You can adjust line or boundary colors thickness
Uncheck the fill button to see the map clearly (I prefer this setting for states) but you could simply adjust the transparency scroll bar to adjust the color opacity
Click Color Code Map Layer to consider color shading based on Demographics. Go ahead, try some of those schemes. There's a button on the master toolbar (three puzzle pieces), right in the middle, labeled Color Code Map. It does the exact same thing. Now you're getting it
The rest of the stuff in that State Layer Edit Panel is a little more advanced. Play with them if you want but I suggest you close the edit panel now and move on
All of the other map layers listed in Map & Data are editable in the same way as the State layer – ZIP codes, Counties, or any additional layers available through the Add Map Layer button on the master toolbar.
Add Business Data to Map Business Online
Every map user, at some point, will want to add business data by address to Map Business Online. Read this helpful blog about adding data points into Map Business Online. That gets you familiar with manually dropping in location points via the address bar or the draw tools. Then read about importing spreadsheets of location data.
That's a lot of information adding location data, and it gets you familiar with the major features of Map Business Online. Now take a breath. Watch a funny pet video.
Map Navigation
Here are a few quick tips about map navigation:
In the upper right corner you can use the vertical Scroll Bar to Zoom in and out. Notice the map layer labels as you scroll in and out – County, City, Blocks. These reference zoom levels may come in handy at times
Click the USA Flag to Zoom out to the national map view or the World icon to Zoom way out
At the bottom of the Scroll Bar panel is the Magnifying Glass zoom tool. Use it to drag rectangles on the map that Zoom into areas of interest
Finally – notice the blue back and forward arrows just under the scroll bar. Very handy. At the top of the application, above the Master toolbar are two more Blue Arrows for undo and redo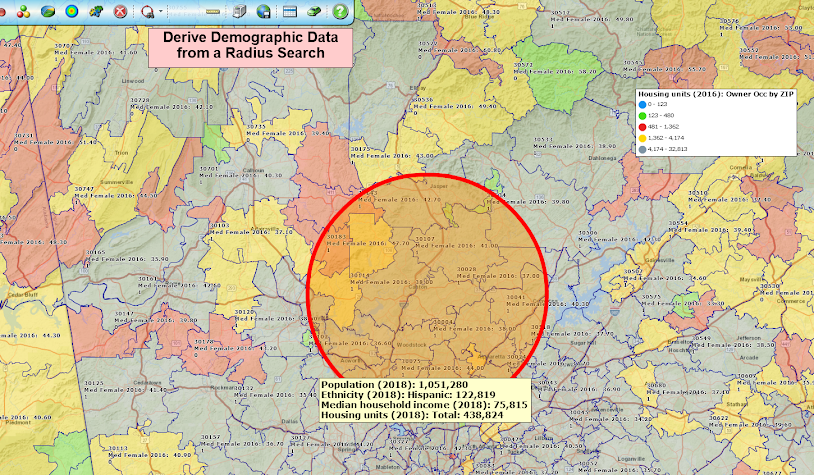 Building a Territory
Alright, let's just do this.  Many users come to Map Business Online for Sales Territory Mapping.
Turn on the Zip code layer. In the Search Tool drop down, 8 buttons in from the right, drop down and select the Polygon Search Tool. As you select the button, it turns green.
Click on the map and run your line across a series of ZIP codes. Lift your finger and press again to make a turn. Bring it back to the tiny circle at the beginning of the polygon.
Budda-bing! Up pops a dialogue asking you to choose your map layer – Choose ZIP5 codes
Budda-bang! Name it and click Create
Behold your Territory in the Data Window. Your specific selection of ZIP codes are listed here
You could export the list of boundary territories by clicking the right-most button on the Data Window toolbar.  Know your Data Window.
These tips will get you started using Map Business Online.  For a great list of helpful videos read this blog that I posted a few weeks ago – the Top Ten Map Business Online Help Videos.
And here's another key blog about the subject of Extracting Data from within Map Business Online.
By following the suggestions on this blog, new users will become familiar with the Map Business Online user interface and many of the major features of the tool.
Win a $20 Gift Card! Refer a business associate to Map Business Online in exchange for a $20 Amazon Gift Card!
America's best geo mapping software.
Find out why over 25,000 business users log into www.MapBusinessOnline.com for their business mapping software and advanced sales territory mapping solution. The best replacement for Microsoft MapPoint happens to be the most affordable.  Discover Map Business Online – tools for making maps by map makers.
Contact: Geoffrey Ives geoffives@spatialteq.com or Jason Henderson jhenderson@spatialteq.com