Every software application is regulated by a terms-of-use legal agreement or license. Map Business Online is no exception. Most of us 'click to agree' without reading software agreements. Some of us click after visually scanning the agreement. And a few of us read the whole agreement before clicking "I agree."
There are a few allowances and restrictions in the Map Business Online Terms-of-Use agreement that are important to Map Business Online, and some aspects of the agreement offer generous allowances users should be aware of. Below is a plain language review of the agreement's key components.  For IT managers, Enterprise mapping use is described here.
Legal Access to Map Business Online
Map Business Online subscriptions are a single user license agreement. This means each Map Business Online licensed user pays for and is allowed access to one instance of Map Business Online. Each individual paying user is allowed access to the business mapping software and accesses the tool by logging in with the specific licensed user email address.  The license does not allow second and third users to access the tool by using the registered user's email and password. Sharing login email credentials for logging in is a violation of the license agreement.
The single user who pays for the license may access the tool through multiple machines, but this is not the same as another person accessing the tool using the subscriber's email address.
Multiple users using Map Business Online to create and edit maps should own multiple licenses or team subscriptions. If your organization has multiple users logging in to the application using one shared email account and password, you are violating the terms-of-use agreement. Any non-registered users should stop accessing the tool in this manner.
For example, if ABC Company buys one Map Business Online full-year subscription and allows multiple employees to access the tool using a general log-in email such as Sales@abccompany.com, they are in violation of the terms-of-use agreement. Or if Frank@abccompany.com allows other people in the office to log into his  Map Business Online account and do map work, that too is a violation of the software license.
In addition to license non-compliance, multiple users who access the tools using one registered email address often override each other's map data, and map adjustments. Misuse of the software in this way is risky. Maps and data get lost. We get panic calls from users who's "maps have disappeared." Retrieving lost maps gets expensive for the user. The tool is not designed to support multiple user access in this manner.  Team sharing is designed to support collaborative map editing.
We politely request that customers who allow multiple users to access one Map Business Online subscription, please assess your business mapping requirements, and consider purchasing more subscriptions.  If someone is editing maps, buy them a subscription. They are probably map-subscription-worthy.
Free Map Sharing
Map Business Online MapShare functionality allows non-subscribers to view shared maps as interactive web maps. This is the best way to share maps for view-only applications. MapShare allows up to 100 publicly shared map sessions per month at no charge. Publicly shared maps allow map viewers to:
Share routes and generate optimized vehicle routes
Query data and export the results
Pan and Zoom all over the world map
Save image files
Print maps
Not everyone loves maps, but if some of your shared map viewers are asking to edit and create maps, the company should consider buying them subscriptions. As mentioned above, they are map worthy folks.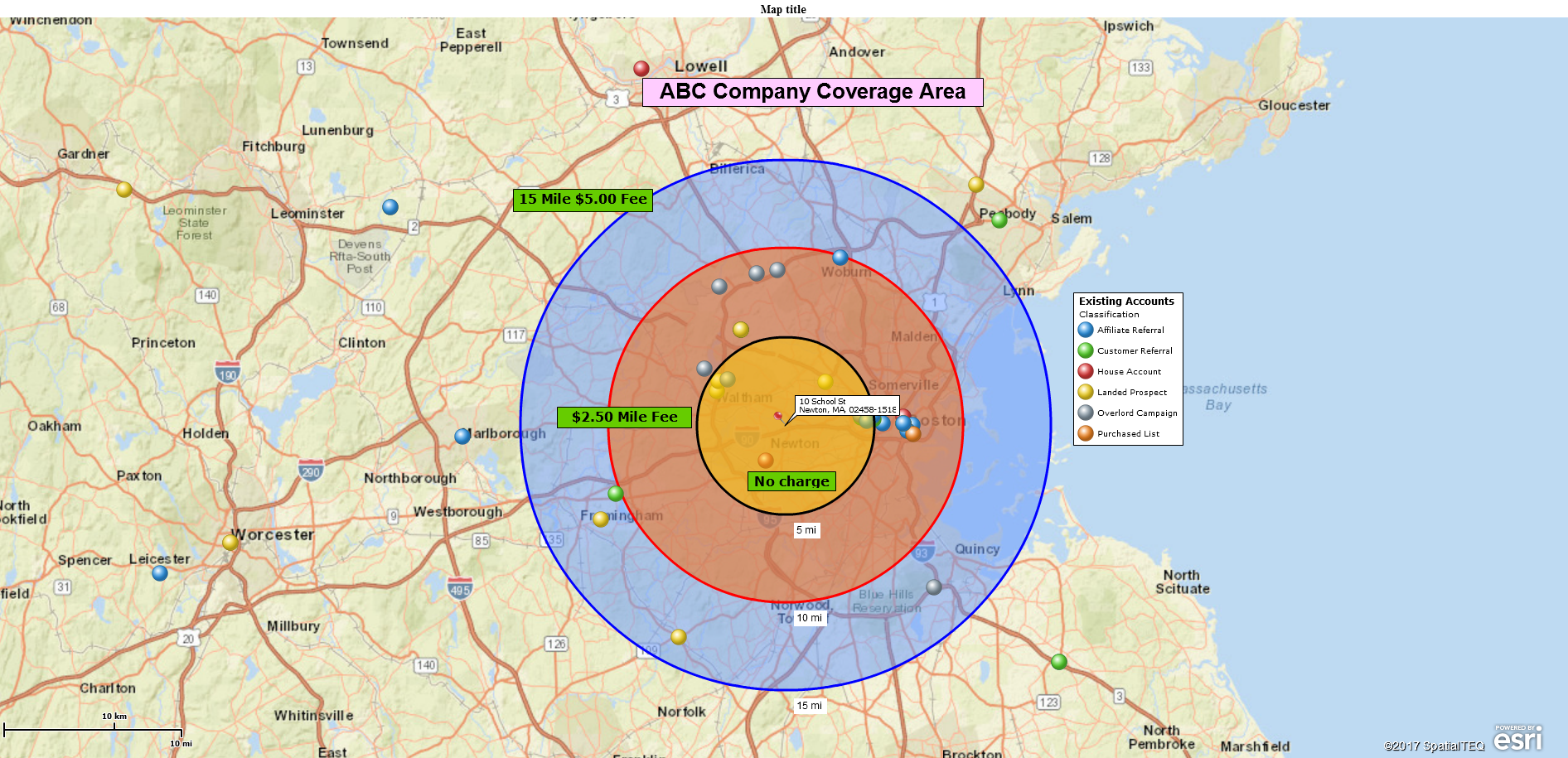 Key Application Allowances
SDK and API tools are available for users to leverage programmable access to data and maps services. Read more about Map Business Online API and SDK services here.
Subscribers may include map images, printed maps, driving directions, and business data in presentations, reports, marketing studies, and academic publications for personal or internal business use – not for resale. Subscribers can print up to, but not exceeding, 5,000 copies of sales collateral containing Map Business Online maps or output.  So far, I know of no one printing more than 5,000 maps.
Subscribers can display or post on externally accessed Web sites, only to promote subscriber's own products and services, or to display business locations and market areas.  This is fine to do as a consultant or value-added reseller. Just don't try to resell the web maps without permission.
Map Business Online includes a growing demographic data library.  Demographic data may be used to generate informative maps and map images. The data may be exported for use outside of the application. Do not resell the demographic data or set up automatic download access to Map Business Online demographic data.
Business listings are also available through Map Business Online.  Business listings are purchased by Map Business Online users. They can be exported for use in marketing outside of the application.  Users are not allowed to resell the downloaded business listings.
Vehicle routes are also generated in Map Business Online and may be exported for use in other devices or for routing reference, outside of the application.  Map Business Online is not a fleet tracking tool and should not be used as such.
In general, all these services are included in Map Business Online for the user to use in their business processes. Just don't try to resell the datasets, routes, or map views. If you have questions about the license agreement or a business idea, please call us to ask questions or discuss the idea.
Value Added Resellers – Offer the tool to your customers as a reseller. Make money on training and consulting. Contact us with further interest in reselling Map Business Online.
Win a $20 Gift Card! Refer a business associate to Map Business Online in exchange for a $20 Amazon Gift Card!
America's best geo mapping software.
Find out why over 25,000 business users log into www.MapBusinessOnline.com for their business mapping software and advanced sales territory mapping solution. The best replacement for Microsoft MapPoint happens to be the most affordable.  Discover Map Business Online – tools for making maps by map makers.
Contact: Geoffrey Ives geoffives@spatialteq.com or Jason Henderson jhenderson@spatialteq.com