Scenario: You're the new salesperson for an industrial construction products company. Your boss has handed you your territory. You will cover all of Orange County, Florida, East of highway I-4. "Gulp." Cue the beads of sweat on your brow.
Problem: How do I effectively represent my sales territory on a business map by ZIP code in relation to a geographic object like a highway or a river?
ZIP codes are a nice way to build territories. ZIP codes help aggregate sales figures and demographic data nicely and they are the next logical step for defining your territories when the boss cavalierly cuts a whole freakin' county right in half.
I hate when that happens.
But the boss is also responsible for controlling travel expenses across his team. "I don't want Harry Callahan traipsing across Orange County, spending half the day crossing and re-crossing I-4 just because ServCo needs another set of heater-elements. We've got budget targets to meet. Sally can handle ServCo."
Ok. It's when Harry Met Sally all over again except it's Where Harry Meets Sally, territory-wise. But there is a manageable solution for addressing this awkward sales territory situation.
Drawn Map Object Are Not Territories
Business mapping software does allow the users to draw areas, like all of Orange County west of I-4. But these drawn map objects and the resultant sales analysis views are limited in scope. Harry may want to conduct some market analysis on his territory area and a simple polygon drawn on the map won't provide the same capabilities as a ZIP code based territory – and it's ability to maintain scale at all zoom levels may be restricted as well.
Create ZIP Code Based Territories
Using MapBusinessOnline, Harry establishes his area of interest. By typing 'Orange County, FL' into the Address Bar in the upper left of the mapping application suddenly Orange County, FL takes up his whole screen. He pulls back out a few clicks on his scroll bar to give himself room to breathe, geographically.
Harry also decided to overlay his map view with the Highway Layer available in the Add More Layers button. This gives him a clear view of I-4 as it drops like a guillotine hacking away the West edge of his Orange County territory.
Next, Harry addresses the county and ZIP code layer look and feel, to provide visibility for his map work. Hovering over each layer in the Map and Data box, he hits the Edit Gear and then adjusts the fill transparencies under the General Tab. He moves the scroll bar to the right to 10% opaqueness or 90% transparency. And he thickens the borders of the ZIP code layer, coloring it a dark black or blue. On counties, with the fill mostly transparent, he thickens the border even more and paints it a bright red. This is so that the Orange County boundary clearly defines the area for the ZIP code territory work he's about to undertake.
With ZIP codes visible against the County border Harry selects a polygon search tool from the MapBusinessOnline Master ToolBar Search Tool dropdown and quickly draws a polygon following the inside of the county border. Harry is careful to stay inside the I-4 corridor to the west. Completed, the polygon operation presents a dialogue with choices. Harry chooses the Binocular search icon, and a list of Map Layers is offered. Harry chooses the ZIP code layer. The resultant dialogue begs for a Territory Name, Harry chooses the incredibly creative and clever name of 'Ter 1.'
"In line for a Pulitzer, Harry is." Said Yoda.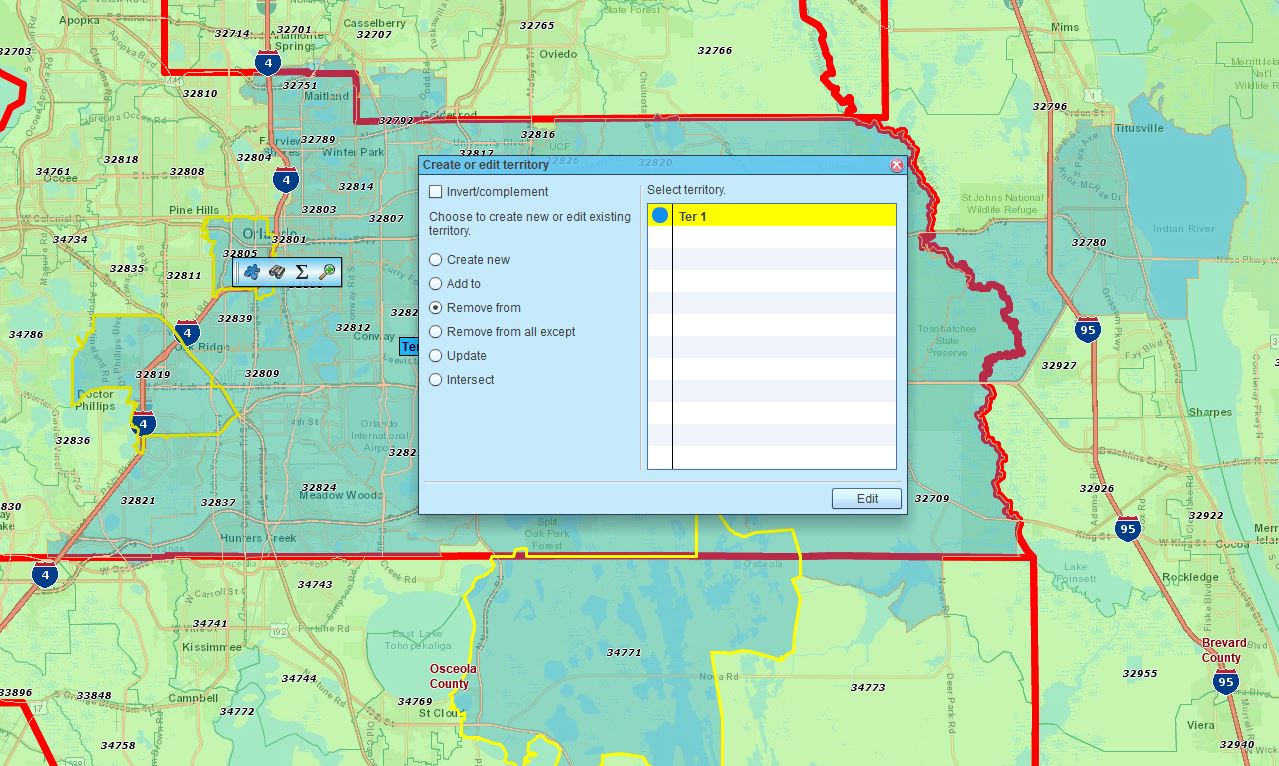 Harry deletes that polygon he just created because it is no longer useful. The territory is Opaque with an assigned color of blue. He quickly adjusts the transparency on the Territory layer in Map and Data, just like he did for the ZIP code and County layers. He also adjusts the boundary of the territory to be dark and clearly visible.
Now, remember, Harry's territory is made up of ZIP codes covering Orange County east of I-4. But some of those ZIP's on the West side of Orange County, overlap the I-4 corridor, going beyond the highway and fall, to some degree – more or less, into the county to the west of I-4. That's right, ZIP codes, counties, and major highways don't always line up. Is there no God?
Hey, life is like an onion. You peel it off, layer by layer, and sometimes you weep. (Lipton Tea Bag, 1980.)
Anyhow, Harry views those highway crossing ZIP codes this way. I-4 cuts a swath between 7 and 13 miles wide off of the west edge of Orange County. A good chunk of the westernmost ZIPs in his territory follow the I-4 boundary. The others are overlapping with some showing a sizable percentage of area to the west of I-4, split roughly 50/50, and others showing about 10 or 15% western overlap.
Harry figures he should be the good guy on this, so he selects all those territories with large areas west of I-4 and removes them from his territory. He clicks one ZIP code, holds down the shift key and clicks the rest, then in the dialogue, with his territory preselected, he removes those ZIP codes from his territory and saves his work.
Solution: Now with Harry's territory addressing 95% of the I-4 issue, he is ready to import a dataset of customer addresses and see if that doesn't fix the problem. What are the chances there's a major account in those thin overlapping areas? Murphy's Law says its guaranteed, but he'll work it out with Sally. She'll have what he's having, territory-wise.
Are you using the MapBusinessOnline Desktop App for MAC or PC? It's hipper than Instagram and it comes with your subscription. Impeach Adobe Flash Player!
Value-Added Resellers – Offer the tool to your customers as a reseller. Make money on training and consulting. Contact us with further interest in reselling MapBusinessOnline.
Win a $20 Gift Card! Refer a business associate to MapBusinessOnline in exchange for a $20 Amazon Gift Card!